10 memorable NCAA men's tournament moments in Seattle
Finally, it's back.
Sixty-six years after the NCAA men's basketball tournament was played for the first time in Seattle, the madness returns this week for another run at KeyArena. If Seattle's history as host offers any hints, it is bound to be another wild, unpredictable week.
The city has rich roots in college basketball, with the men's national championship contested here five times. This will be Seattle's 16th time hosting NCAA tournament games, but first since 2004.
In 1949, Seattle's opening tip as host, Adolph Rupp led Kentucky to its second title at the University of Washington's Hec Edmundson Pavilion. Three years later, Kansas won its first national championship in the NCAA's first true Final Four bracket, also at Hec Ed.
In the 1980s and '90s, the tournament was a fixture at the Kingdome, which hosted the Final Four three times and regional rounds on four other occasions, regularly drawing crowds of 37,000 or more.
Gonzaga returns with the tournament this week, and with the Bulldogs come memories they will forever cherish and some they would like to forget.
As the Bulldogs and seven other teams get ready to compete here this weekend, here's a look at the top 10 moments in NCAA men's tournament history in Seattle, listed in reverse order.
Scroll to continue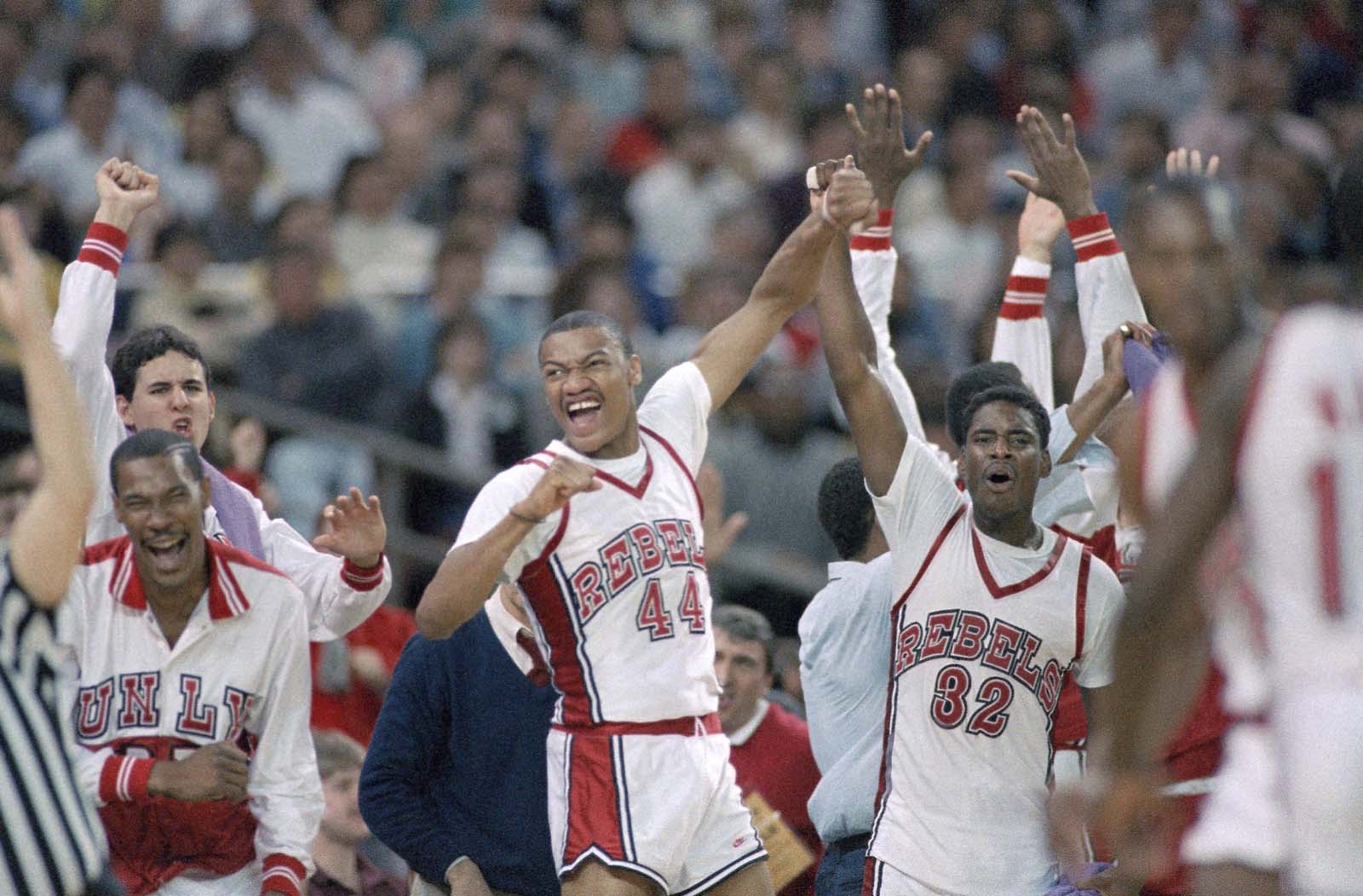 #10: 1987 region final
In the West Region final at the Kingdome, top-seeded UNLV rallied from an 18-point deficit to beat Iowa, 84-81, and advance to its first Final Four in 10 years. "It was a miracle the way we came back," UNLV coach Jerry Tarkanian said. "I thought we were living on borrowed time. You just don't come back against a team like that."
Photo by Jack Smith / AP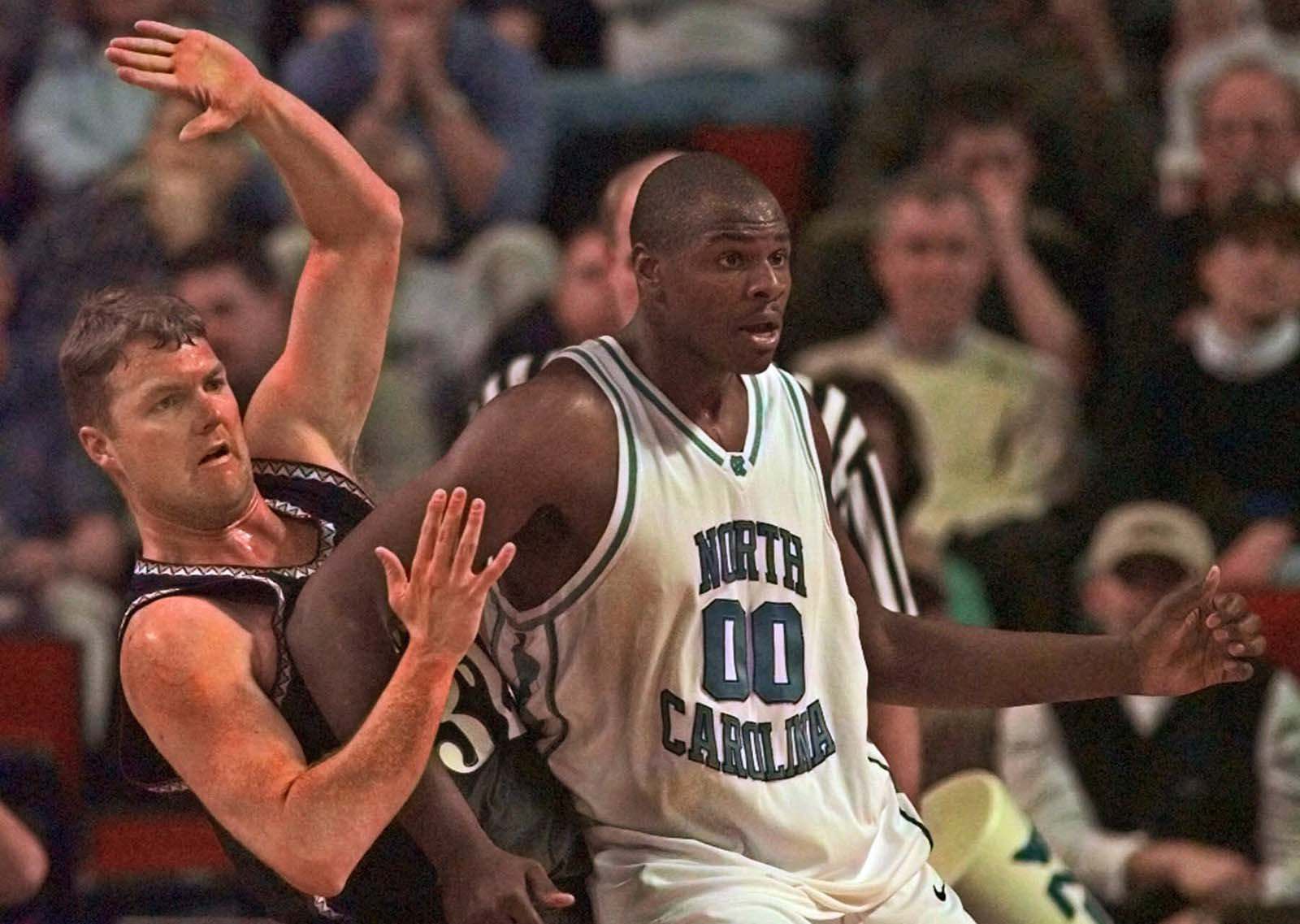 #9: 1999 first round
An unheralded team from Ogden, Utah, pulled off a major upset at KeyArena, as Harold "The Show" Arceneaux led No. 14 seed Weber State to a 76-74 victory over No. 3 North Carolina in the West Region. It was the first time in 23 years that the Tar Heels had lost in the first round. "Ever since I got here, people have been asking me: 'Where is Weber State?'" Wildcat guard Eddie Gill said. "If you watch basketball, you're not going to ask where is Weber State anymore." Arceneaux scored 36 points on 14-of-26 shooting. "We probably messed up a lot of people's office pools, but so what?" Arceneaux said.
Photo by Elaine Thompson / AP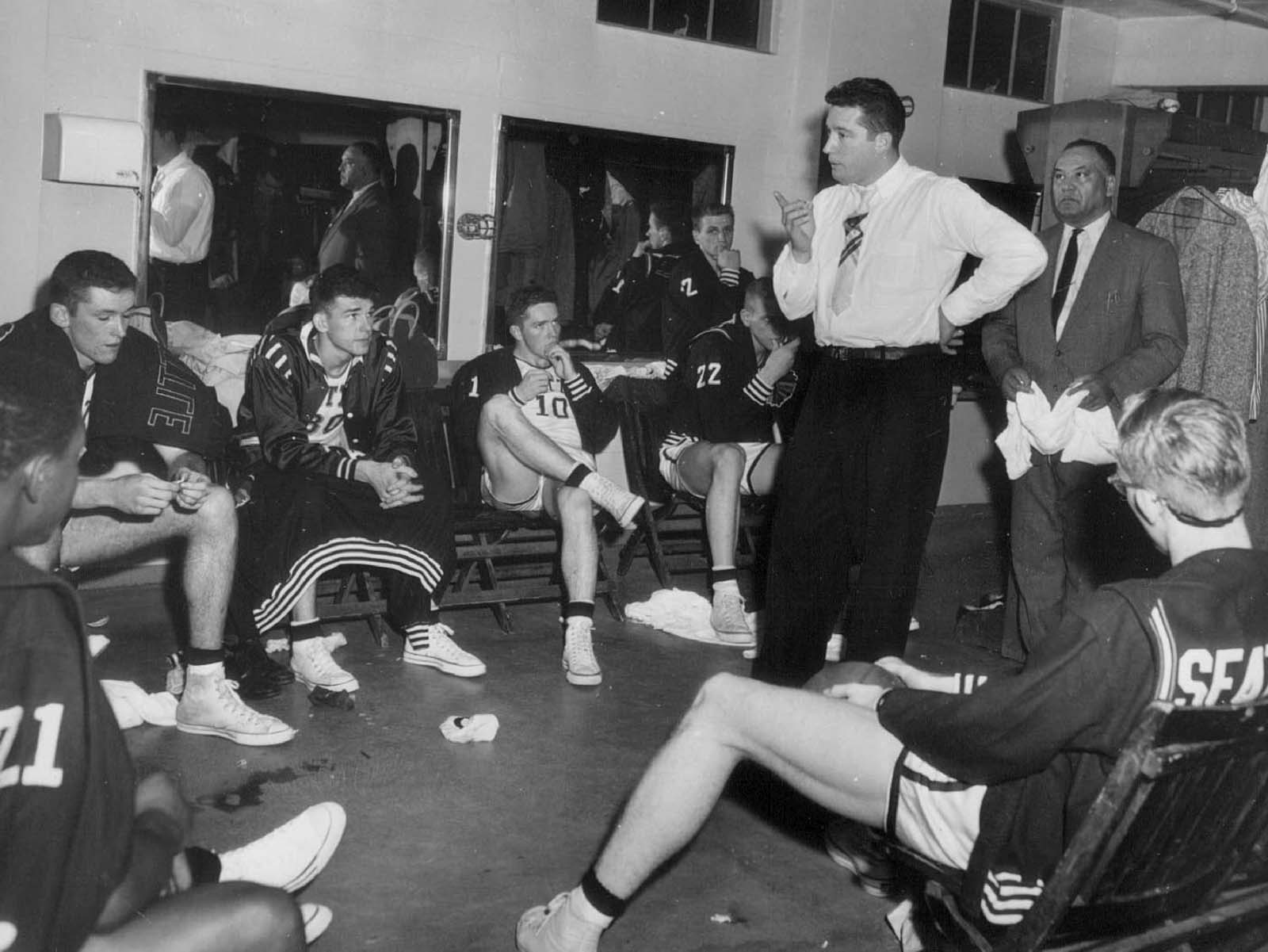 #8: 1956 first round
Seattle University, making its fourth consecutive NCAA tournament appearance, defeats Idaho State, 68-66, at Hec Edmundson Pavilion in the first round. (Tickets for the game were $1.) It was the final victory at Seattle U for coach Al Brightman, who in eight seasons compiled a 180-68 record for Seattle. He remains the winningest coach in program history. (Two years later, Elgin Baylor would lead Seattle U to the NCAA championship game against Kentucky.)
Photo by Seattle Times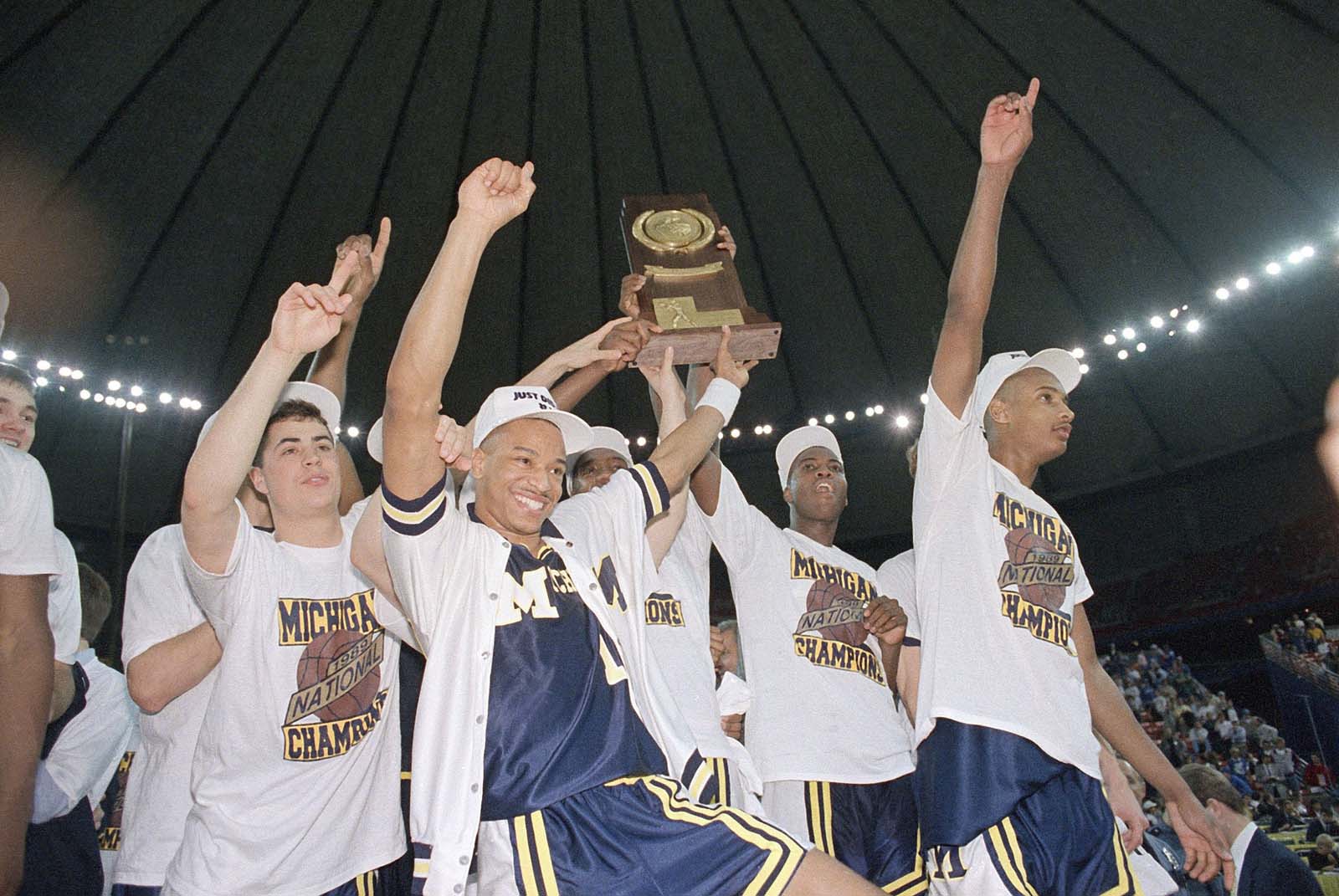 #7: 1989 NCAA title game
In an overtime thriller at the Kingdome, Michigan beat Seton Hall 80-79 to win the national title. Michigan sharpshooter Glen Rice had 31 points in the final and broke a handful of scoring records en route to being named the tournament's most outstanding player. "Almost indescribable," Michigan interim coach Steve Fisher said about Rice. "He has been as good as there is." Rumeal Robinson sank the winning free throws with three seconds left. Seton Hall, after two timeouts, got one last look after a full-court pass, but Daryll Walker's three-point attempt bounced off the backboard, then off the rim and into Rice's hands as time expired.
Photo by Bob Jordan / AP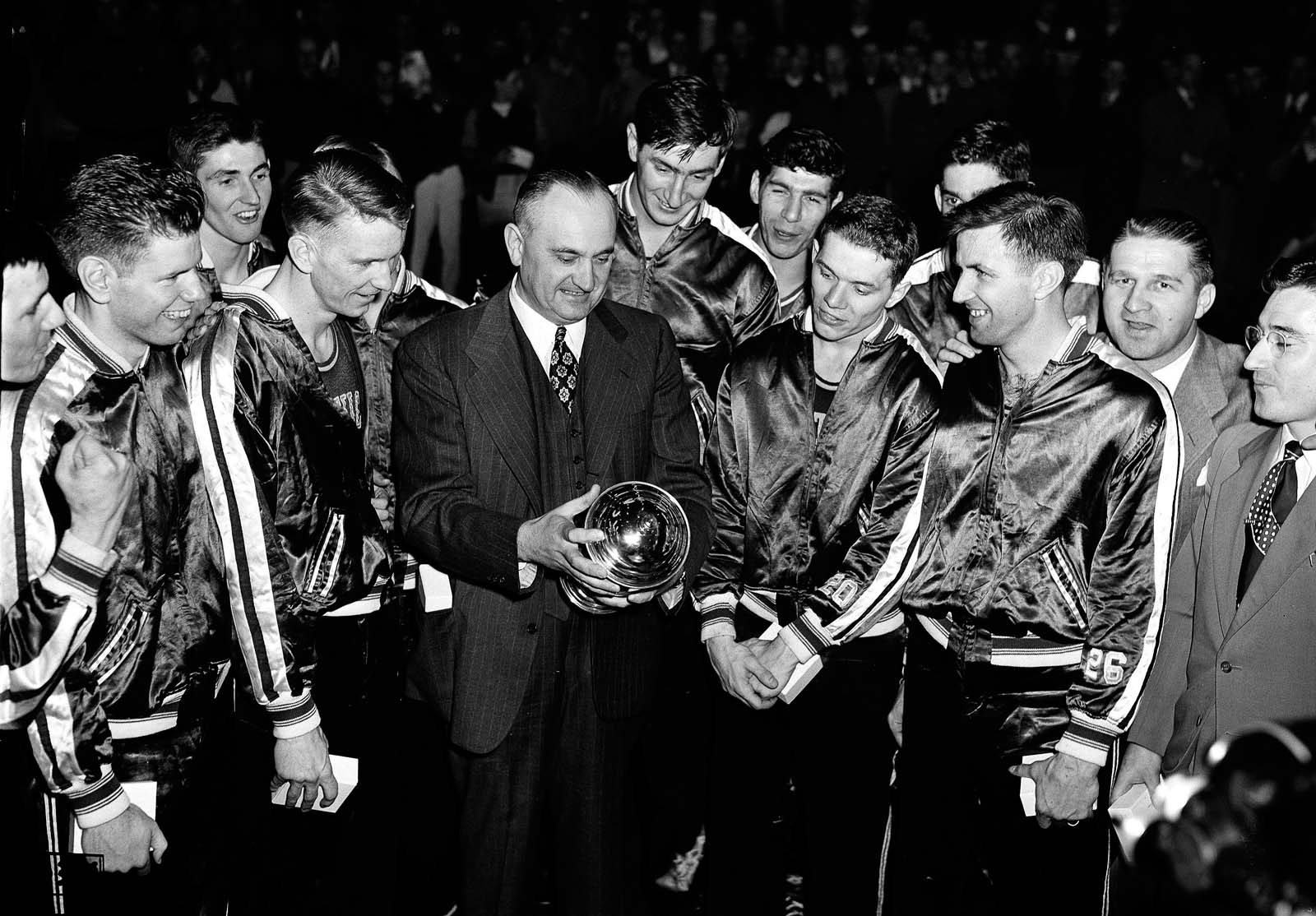 #6: 1949 NCAA title game
In the first NCAA championship game held in Seattle, Adolph Rupp coached Kentucky to its second consecutive title with a 46-36 victory over Oklahoma A&M at Hec Ed. Kentucky's 6-foot-7 All-American Alex Groza, "big, hulking bear of a man," as described by the Associated Press, scored 25 points, despite fouling out with five minutes left, and was named the tournament's most outstanding player for the second year in a row. "It was a tough game all the way," Rupp said afterward. "We had to play this one the hard way, almost to the finish. We beat a good team and we're mighty happy about it."
Photo by Paul Wagner / AP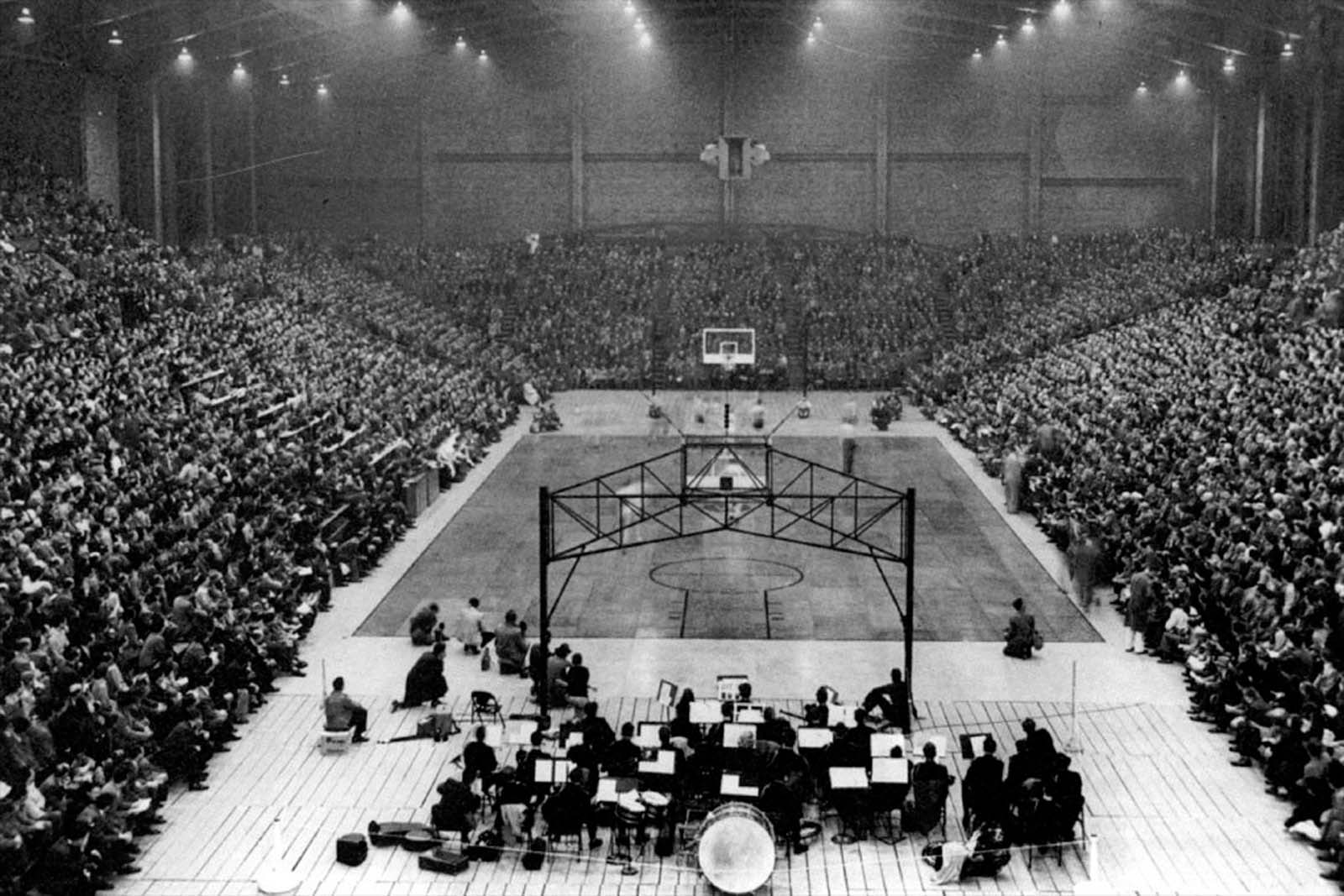 #5: 1952 NCAA title game
This was the first time the NCAA tournament had a true Final Four at the championship site, and it was held at Hec Ed on the UW campus. Kansas, led by 6-9 All-American Clyde Lovellette and coach Phog Allen, won its first NCAA title, knocking off St. John's 80-63 in the championship game. "I was the biggest baby ever born in Pike County (Indiana), and the record still stands," Lovellette told The Seattle Times' Georg N. Meyers on a walk in the University District the morning of the title game. "When visitors leaned over my crib, they didn't say, 'Oooh.' They said, 'Oh, no!'" Wrote Meyers: "More recently, the cries of 'Oh, no!' have been uttered by anguished opponents of the Kansas basketball team." Lovellette set a championship-game record with 33 points. Fun fact: The Jayhawks had a 5-foot-10 reserve guard named Dean Smith, who would go on to win two more national titles as the head coach at North Carolina.
Photo by University of Washington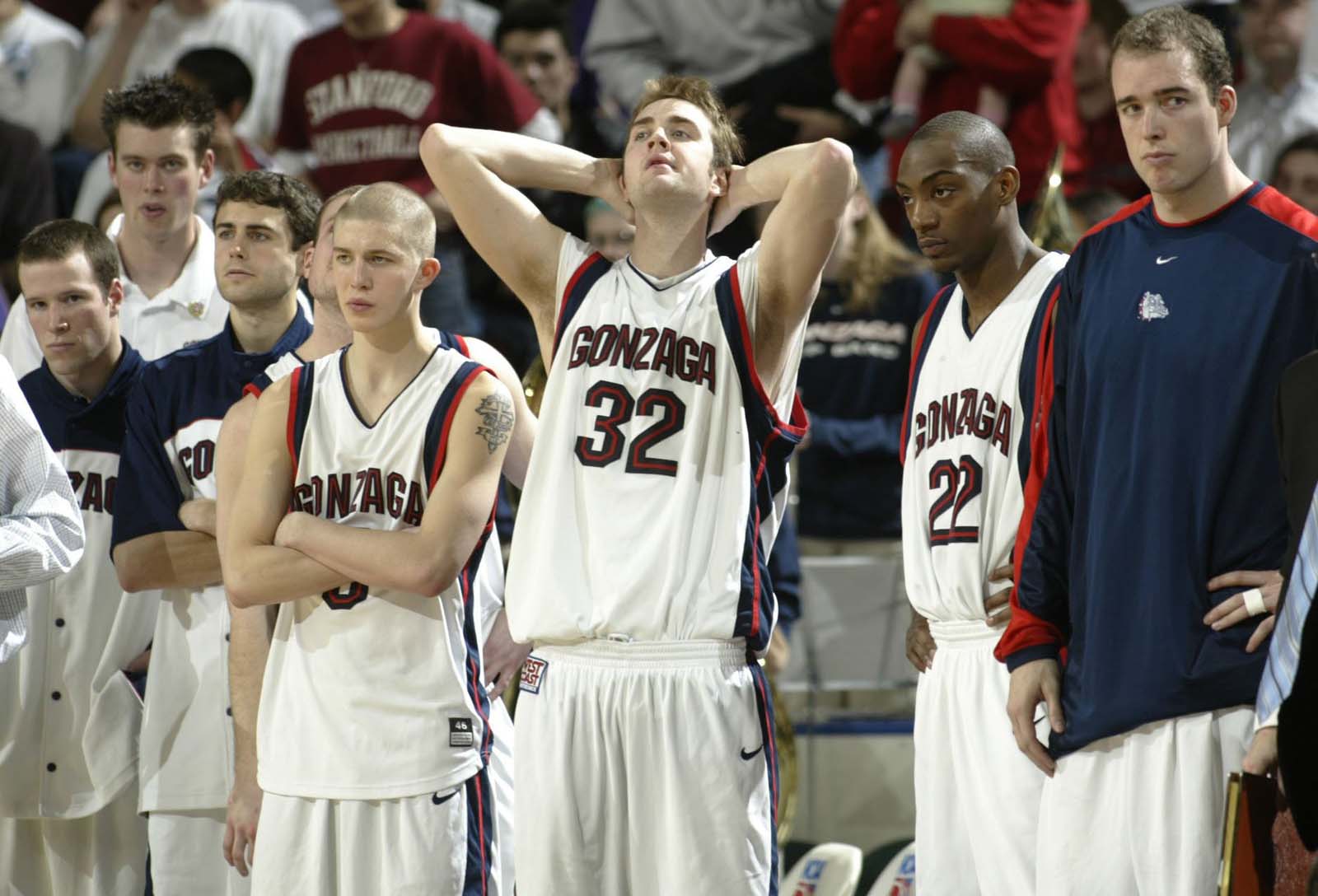 #4: 2004 second round
For a day, Seattle was Upset City. On the same court where its magical march had started five years earlier, Midwest Region second seed Gonzaga was blown out in the second round by 10th-seeded Nevada, 91-72, at KeyArena. It was a shocking end for a Zags team many had pegged as a Final Four contender. "There's a cruelness to this tournament," Gonzaga coach Mark Few said. "You're never ready for a season to end and then, poof, it's over." Gonzaga star Blake Stepp, one of the Bulldogs' five seniors, shot just 5 of 29 in the two subregional games. "If I make it to the NBA, I'm not going to be looking forward to coming to KeyArena." Following Gonzaga's exit, Stanford, the top seed in the West, again bounced early from the tournament in a 70-67 loss to No. 8 Alabama. For the fifth time in six years, the Cardinal was ousted in the second round. Stanford had a 30-1 record entering the game, its only regular-season loss coming two weeks earlier just a few miles away on the UW campus.
Photo by Rod Mar / The Seattle Times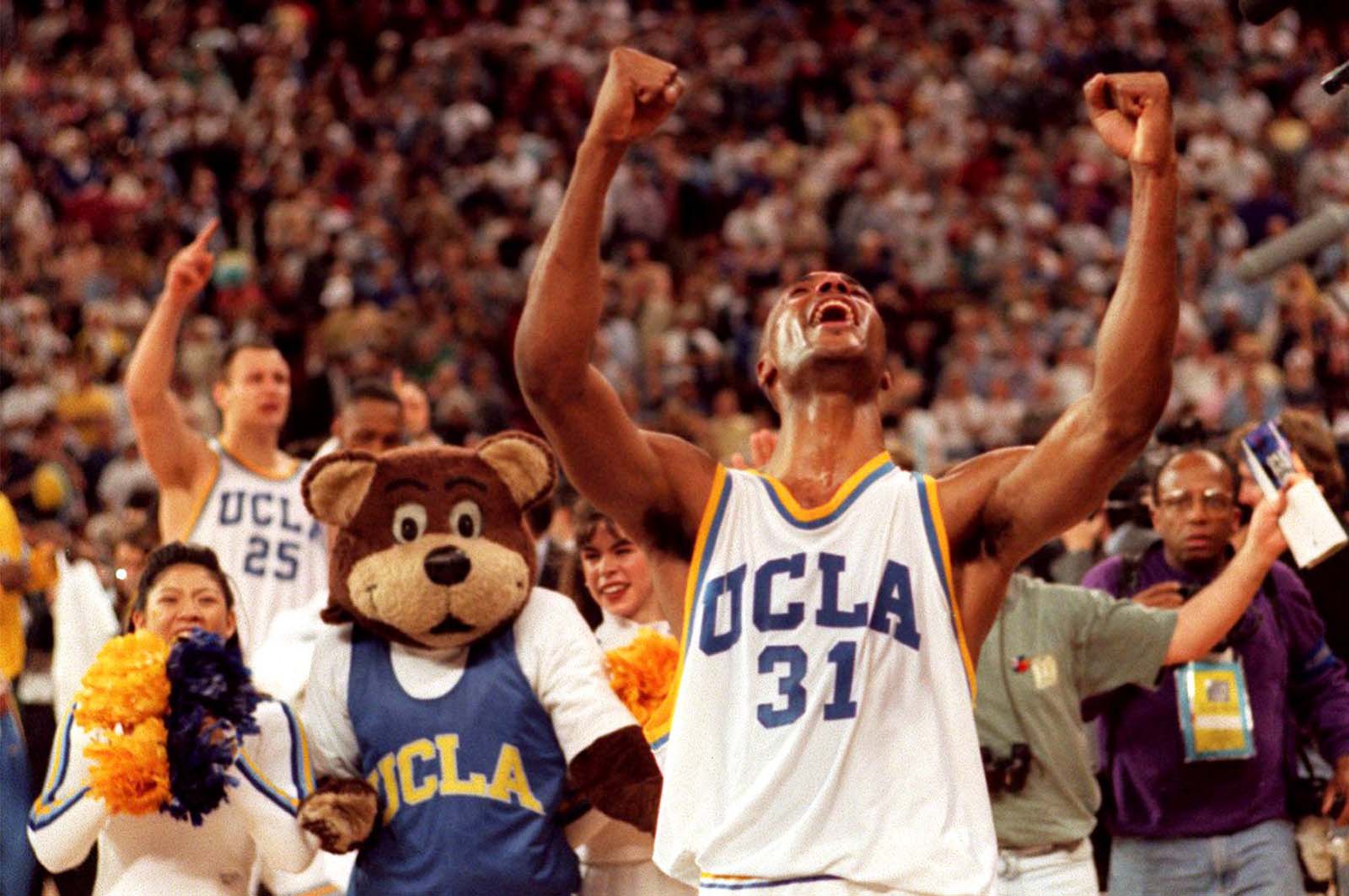 #3: 1995 NCAA title game
With star Tyus Edney limited by a wrist injury, UCLA's backup point guard, Cameron Dollar, was thrust into the most important position on the floor in the national title game against defending national champion Arkansas and its relentless full-court press. Before a crowd of 38,504 at the Kingdome, Dollar filled in capably to help the Bruins to an 89-78 victory. "If we were going to win," Dollar said, "it was going to be with me at the helm. Tonight it was my night." Dollar and the Bruins weren't fazed by the Arkansas trap. All-American Ed O'Bannon had 30 points and 17 rebounds, and freshman guard Toby Bailey had 26 points and nine rebounds as UCLA won its first title in 20 years. As for Dollar, he played 36 minutes — 16 more than his season average — and had six points, eight assists and four steals. Dollar, recruited to UCLA by Lorenzo Romar, is now in his sixth season as the coach at Seattle U.
Photo by Mark Harrison / The Seattle Times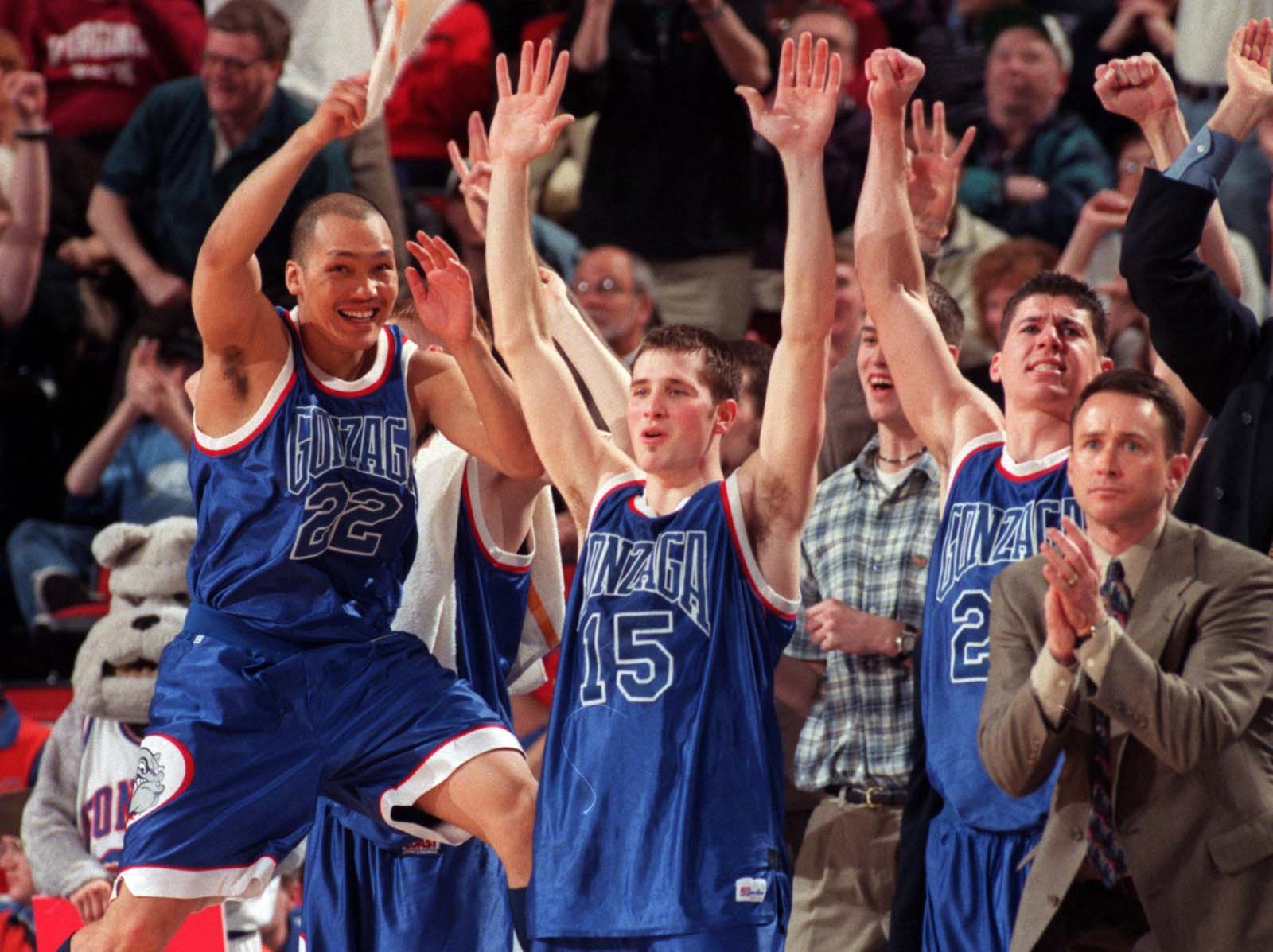 #2: 1999 first and second rounds
Gonzaga, in its introduction as a mid-major power, enthralled the country while Richie Frahm, Casey Calvary and Matt Santangelo became household names. The Bulldogs' first steps toward national consciousness came at KeyArena, where they toppled seventh-seeded Minnesota and second-seeded Stanford to advance to the Sweet 16 for the first time. "The Slipper Fits!" read the headline in The Seattle Times after the 10th-seeded Zags upset Stanford, a Final Four team a year earlier. The Bulldogs would advance to the Elite Eight before losing to eventual champion UConn. Two weeks later, Gonzaga coach Dan Monson and athletic director Mike Roth wrote a letter to the editor, published by The Times. "It all started in KeyArena," they wrote, "and the support the Bulldogs received made it the next best thing to a home game."
Photo by Rod Mar / The Seattle Times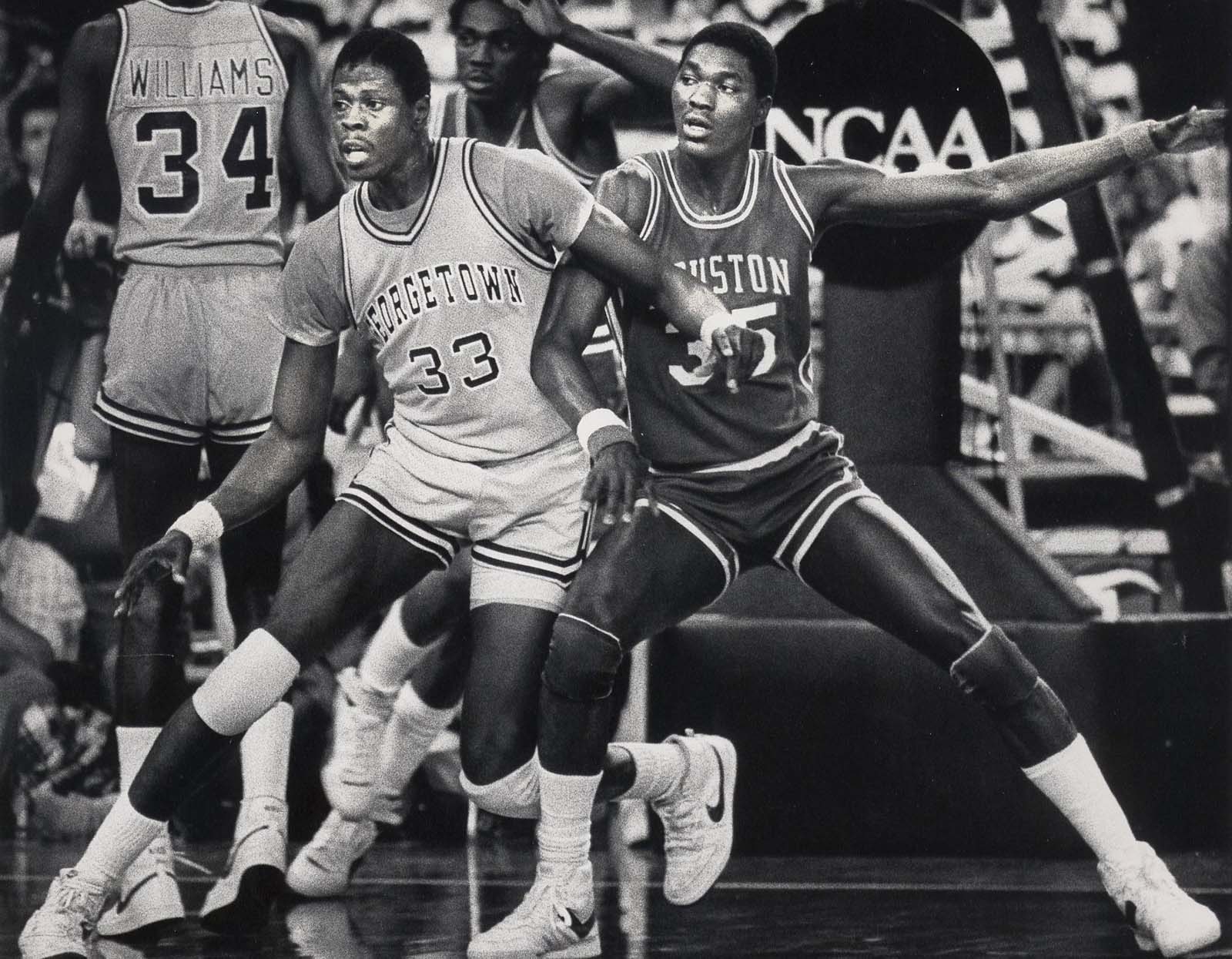 #1: 1984 NCAA title game
Ewing vs. Olajuwon. Georgetown vs. Houston. A historic night in the Kingdome. In the premier matchup of big men in NCAA tournament history, and in the first of three Final Fours held at the Kingdome, Patrick Ewing and the Hoyas topped Akeem Olajuwon's "Phi Slama Jama" Cougars, 84-75, before a crowd of 38,471. Two years after losing to Michael Jordan and North Carolina in the 1982 title game, Georgetown finished the job and made John Thompson the first African-American coach to win the national championship. The battle of the 7-foot stars didn't quite live up to the billing — Ewing (10 points, nine rebounds) and Olajuwon (15 points, nine rebounds) were both limited by foul trouble — but the difference for the Hoyas was their bench, which outscored the Cougars 43-13.
Photo by Harley Soltes / The Seattle Times