Top 10 Ken Griffey Jr. moments in Seattle
For 11 seasons from 1989-1999, and then another in 2009 (we'll just pretend 2010 never happened), Mariners fans could consider themselves lucky that they had a daily chance at seeing Ken Griffey Jr. do something incredible. Griffey was one of those rare players of whom you never wanted to miss an at-bat, or an inning in the field, at the risk of failing to see the play that everyone would be talking about the next morning.
As The Kid enters the Baseball Hall of Fame, we take a look back at the Griffey's top-10 Seattle moments, in ascending order.
Scroll to continue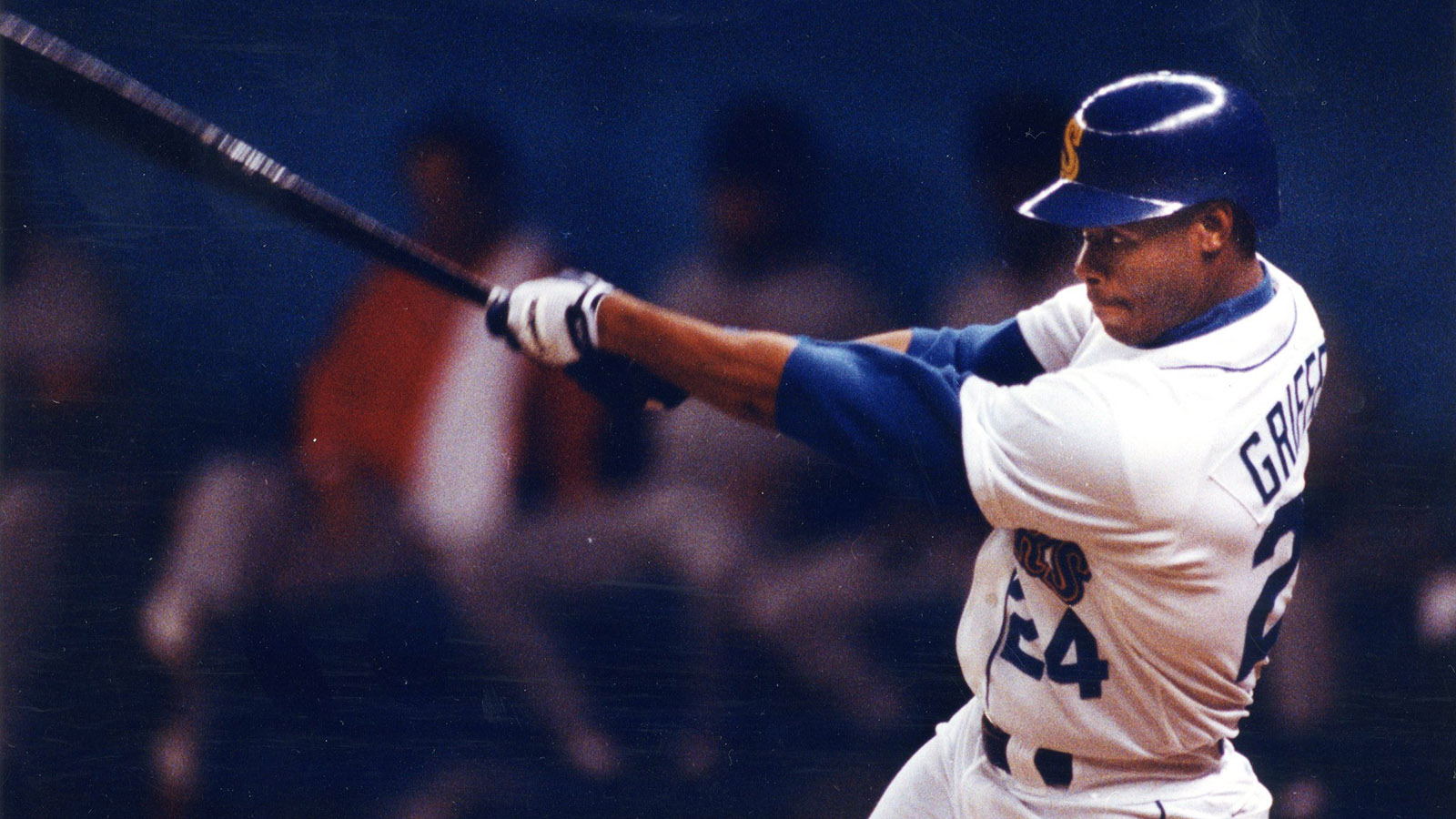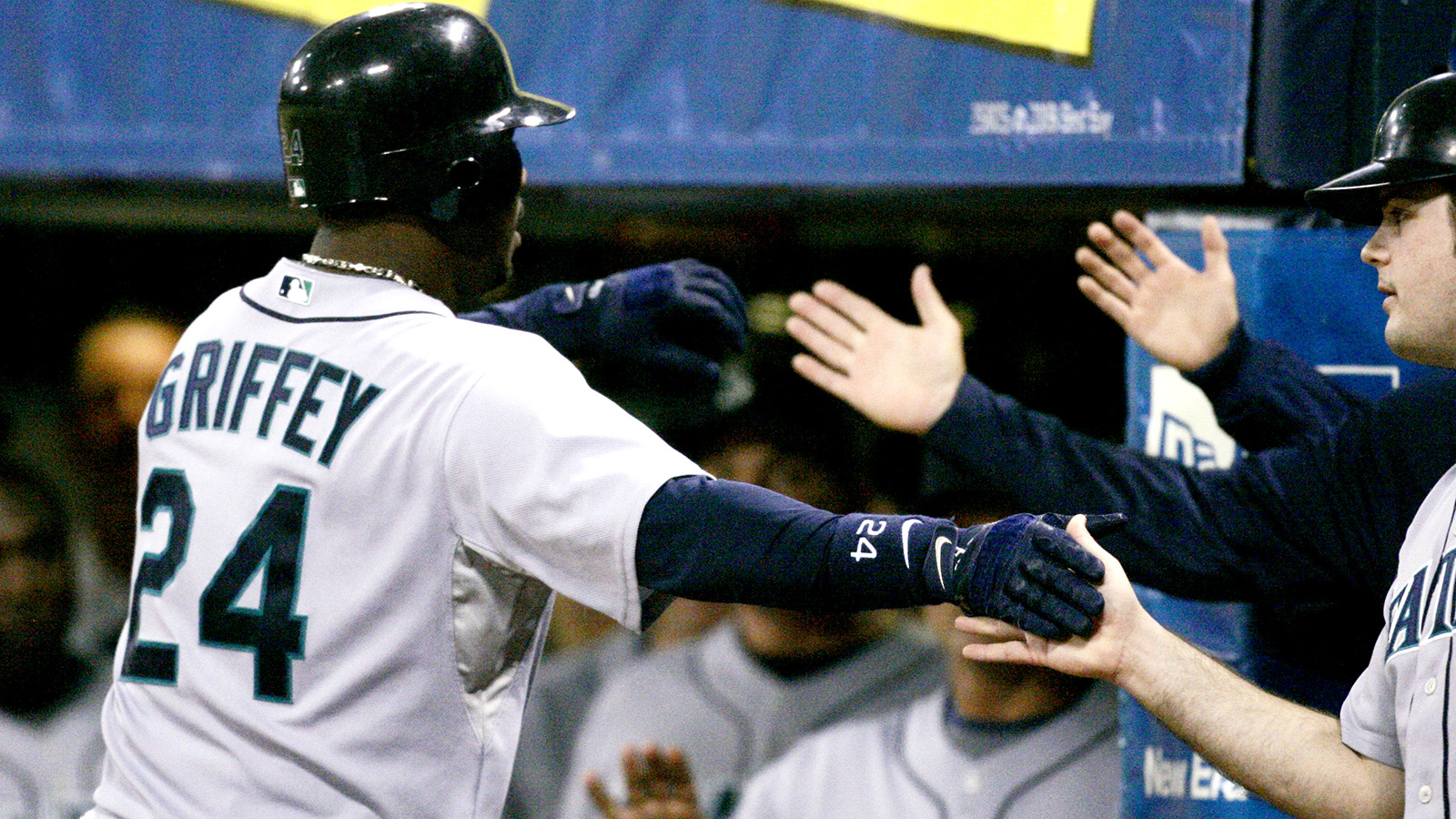 #9: The Return
Feb. 19, 2009
When Griffey returned to the Mariners in 2009, many worried that it might tarnish the legacy created in his first go-round with the team. Griffey, though, quickly eased those worries when he hit a home run at Minnesota on opening day to tie Frank Robinson for the most opening-day home runs in major-league history (if only that had been his last opening day with the Mariners).
Photo by Jeffrey Thompson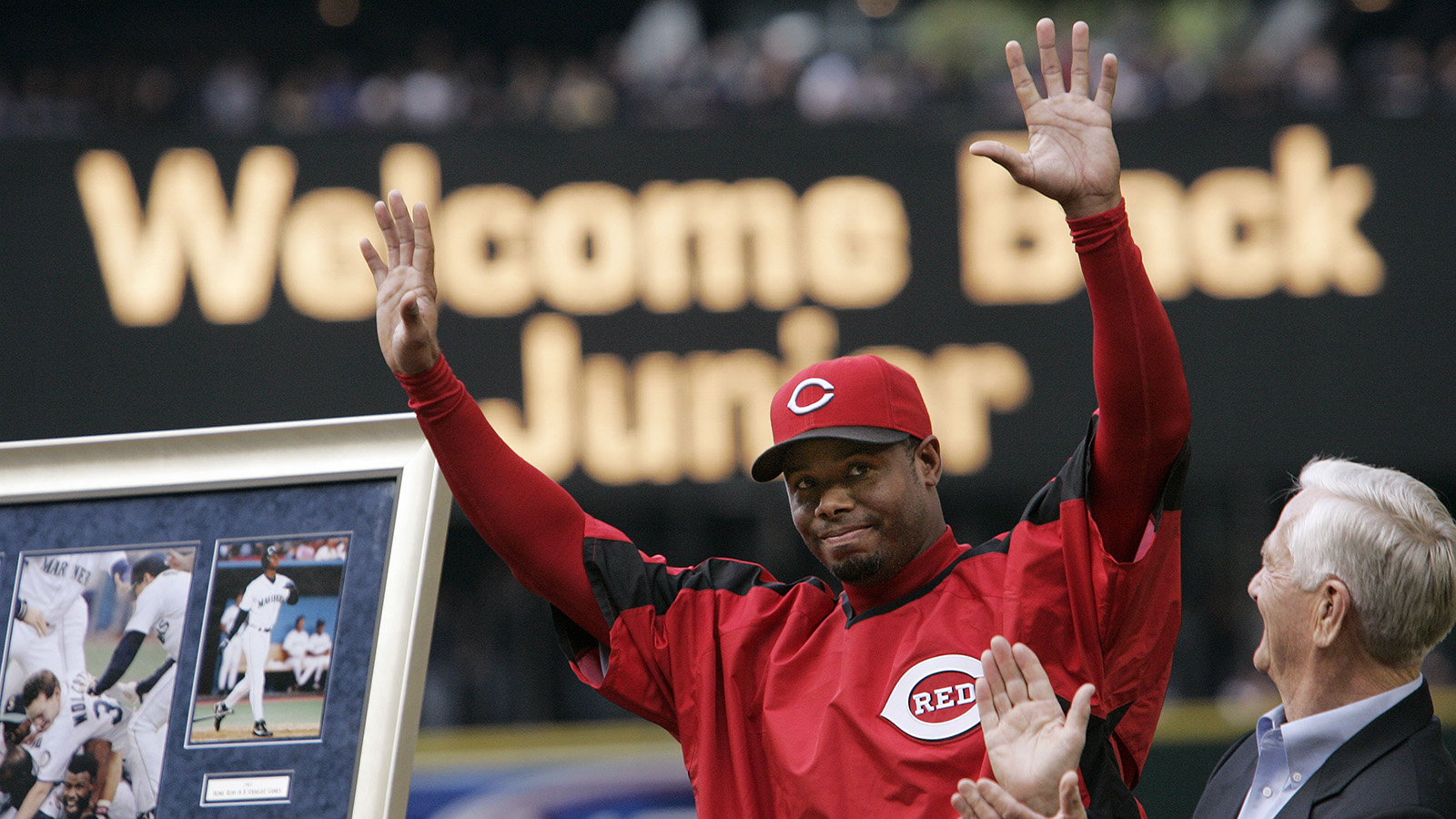 #7: The Visit
June 24, 2007
We're going to slightly cheat and put one Cincinnati moment on this list — Griffey's return to Seattle with the Reds for an interleague series in 2007. Griffey admitted he was a little nervous about the reception he'd get. He shouldn't have been as he was wildly cheered at every turn and responded with a turn-back-the-clock performance when he hit two home runs in the last game of the series on June 24, 2007.
Photo by Elaine Thompson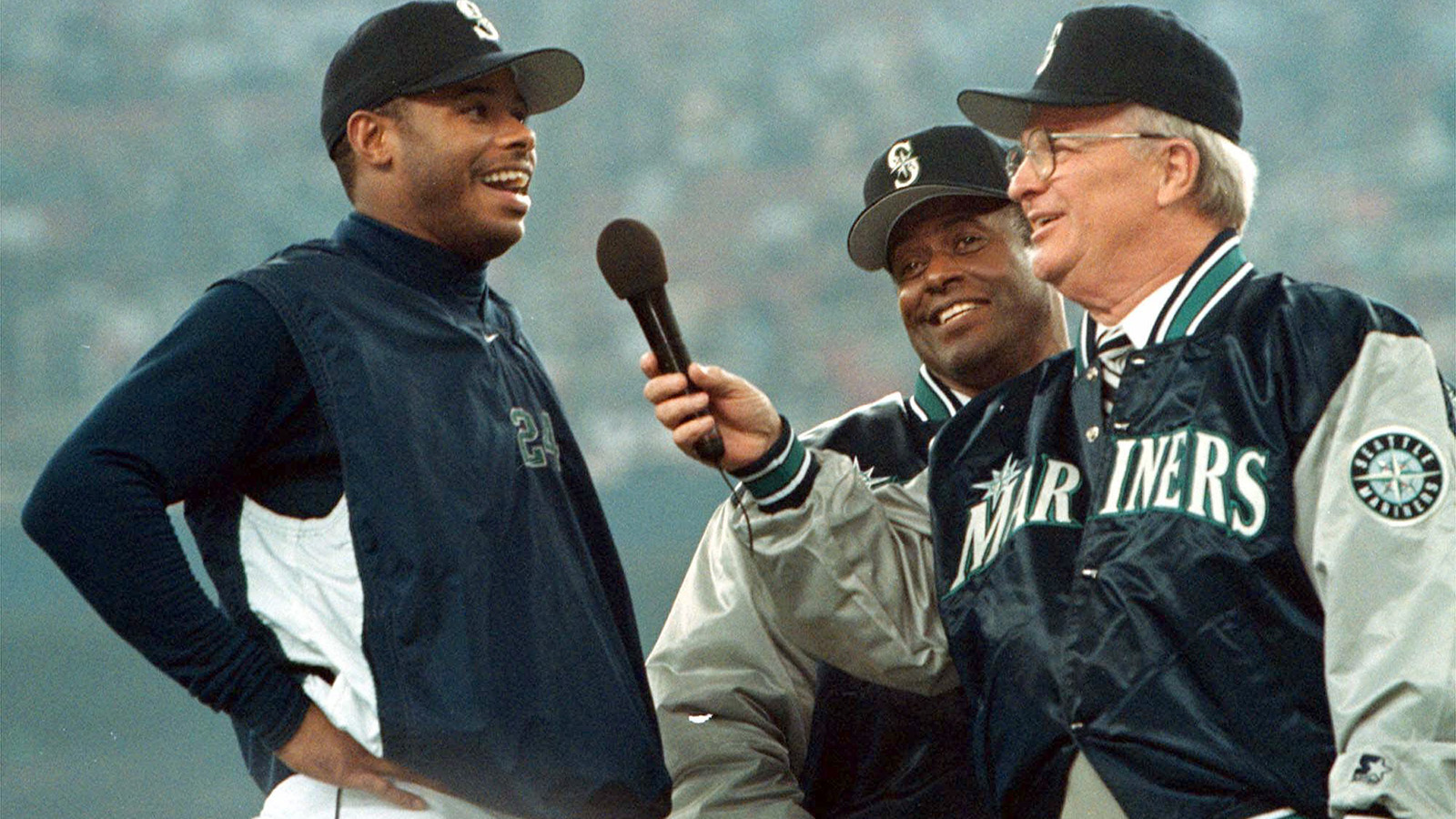 #6: The Kingdome Finale
June 27, 1999
Griffey was the first player to really make the Kingdome come alive as a baseball stadium, and he did little to hide his sadness at seeing it go away. He bid it a fitting farewell, making a highlight-reel catch to rob Juan Gonzalez of a home run, and hitting home run in the last game ever played in the Kingdome (also the last home run hit there) as the Mariners beat the Texas Rangers on June 27, 1999.
Photo by Lauren Mcfalls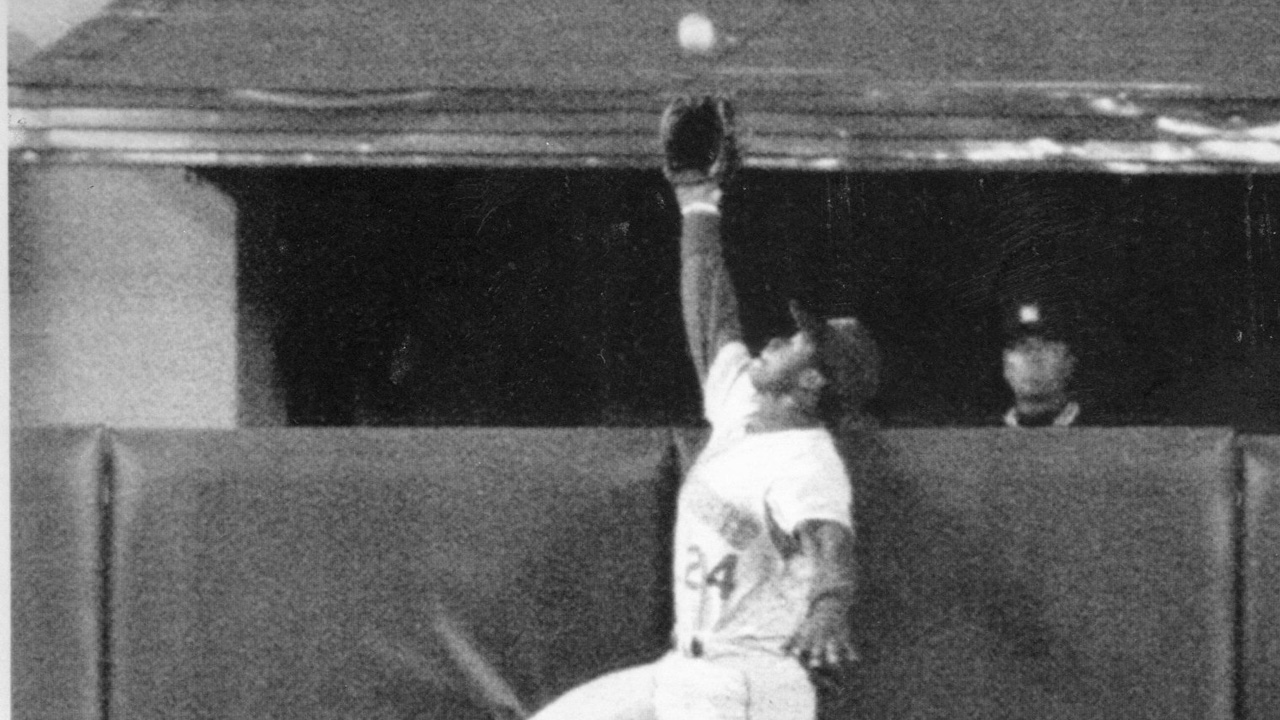 #5: The Catch
April 26, 1990
It's hard to pick a top defensive gem. But if forced to we'll go with another early defining moment — his leap over the wall at Yankee Stadium to rob Jesse Barfield of a home run on April 26, 1990. Just as memorable was his wide smile and mad dash with the ball into the dugout, a display of exuberance that defined his early years as "The Kid."
Photo by Kathy Kmonicek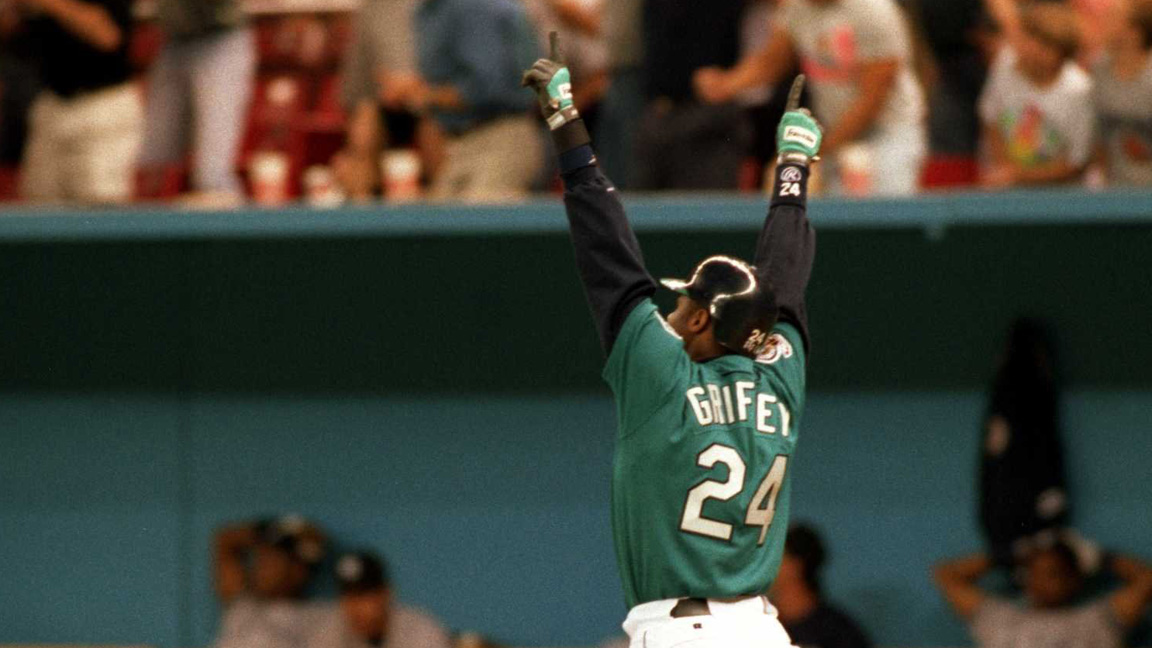 #4: The Ignitor
Aug. 24, 1995
There were only 17,592 at the Kingdome on a sleepy Aug. 24 afternoon to see what proved to be the beginning of the team's magical run to the 1995 ALCS, a comeback 9-7 win over the Yankees clinched when Griffey hit a two-run walk-off homer off John Wetteland. It was the first walk-off homer of Griffey's career and sparked the rally that saw Seattle overtake the Angels in the West.
Photo by Greg Gilbert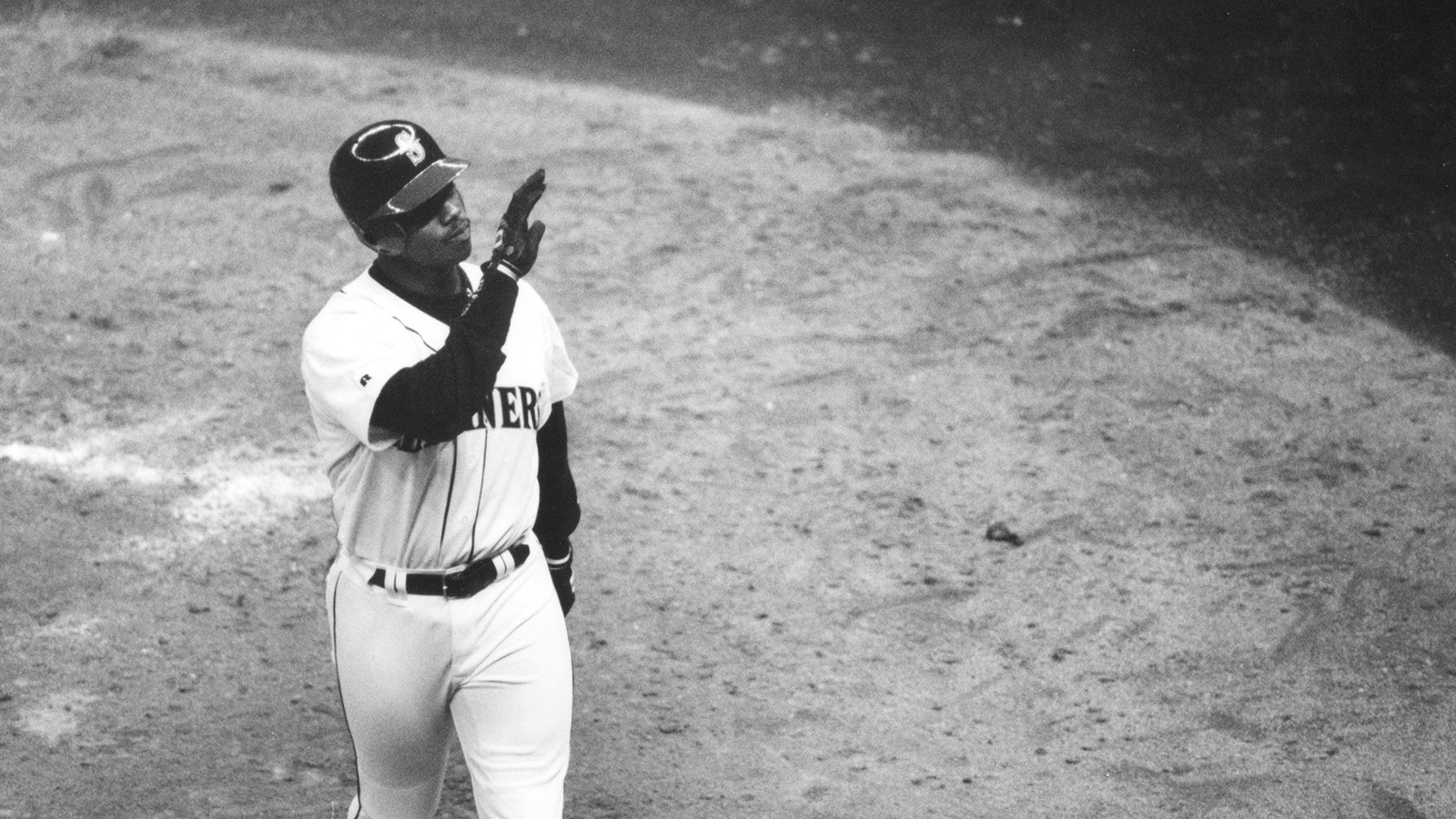 #3: The Streak
July, 1993
In Lou Piniella's first year as manager in 1993, one of the first signs of the baseball turnaround in Seattle came when the city became gripped by Griffey's streak of hitting home runs in eight straight games, tying the major-league record. Somewhat forgotten today is that the streak ended on July 29 in a game in which Griffey hit a double off the wall, narrowly missing breaking the record.
Photo by Betty Udesen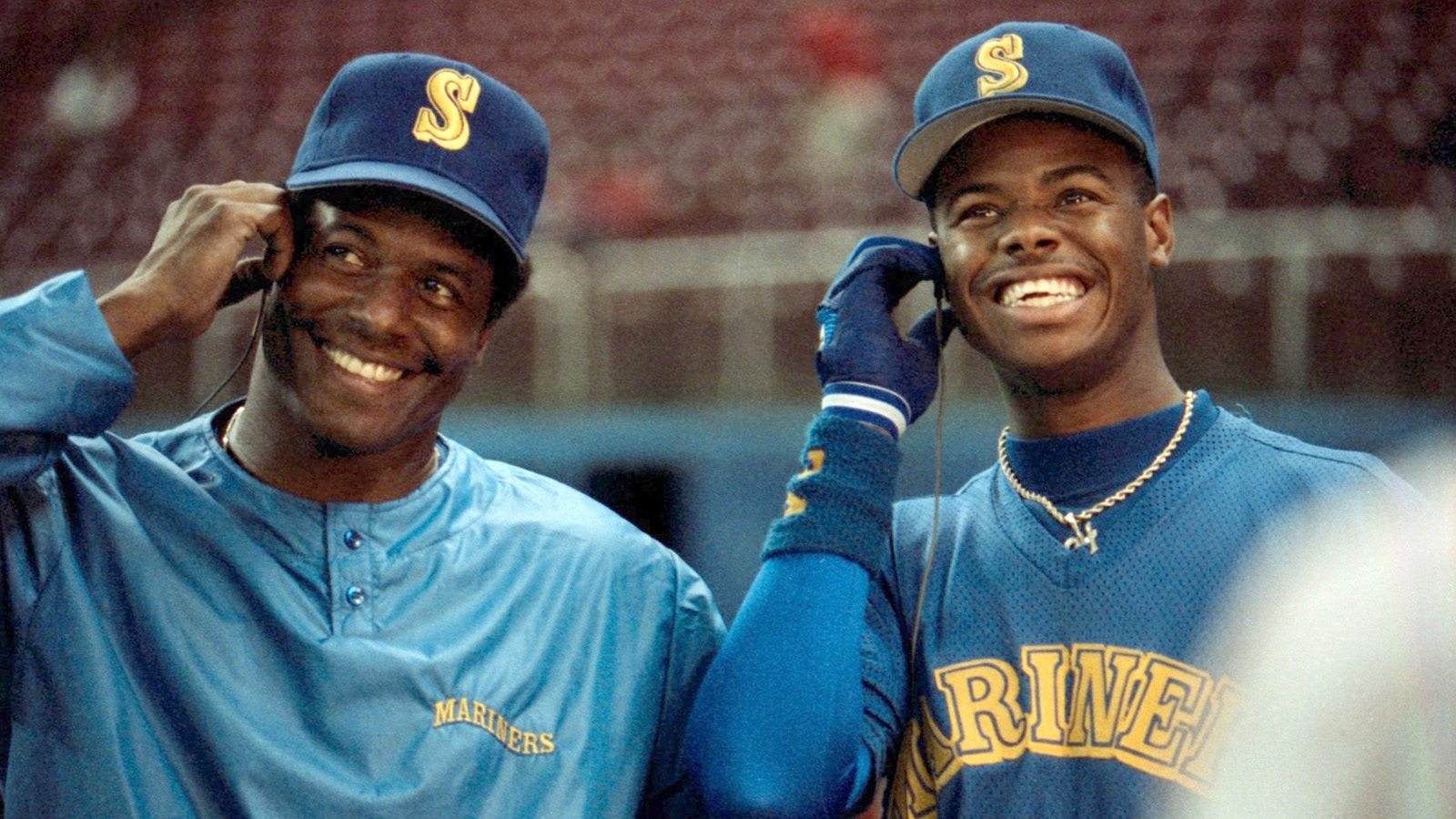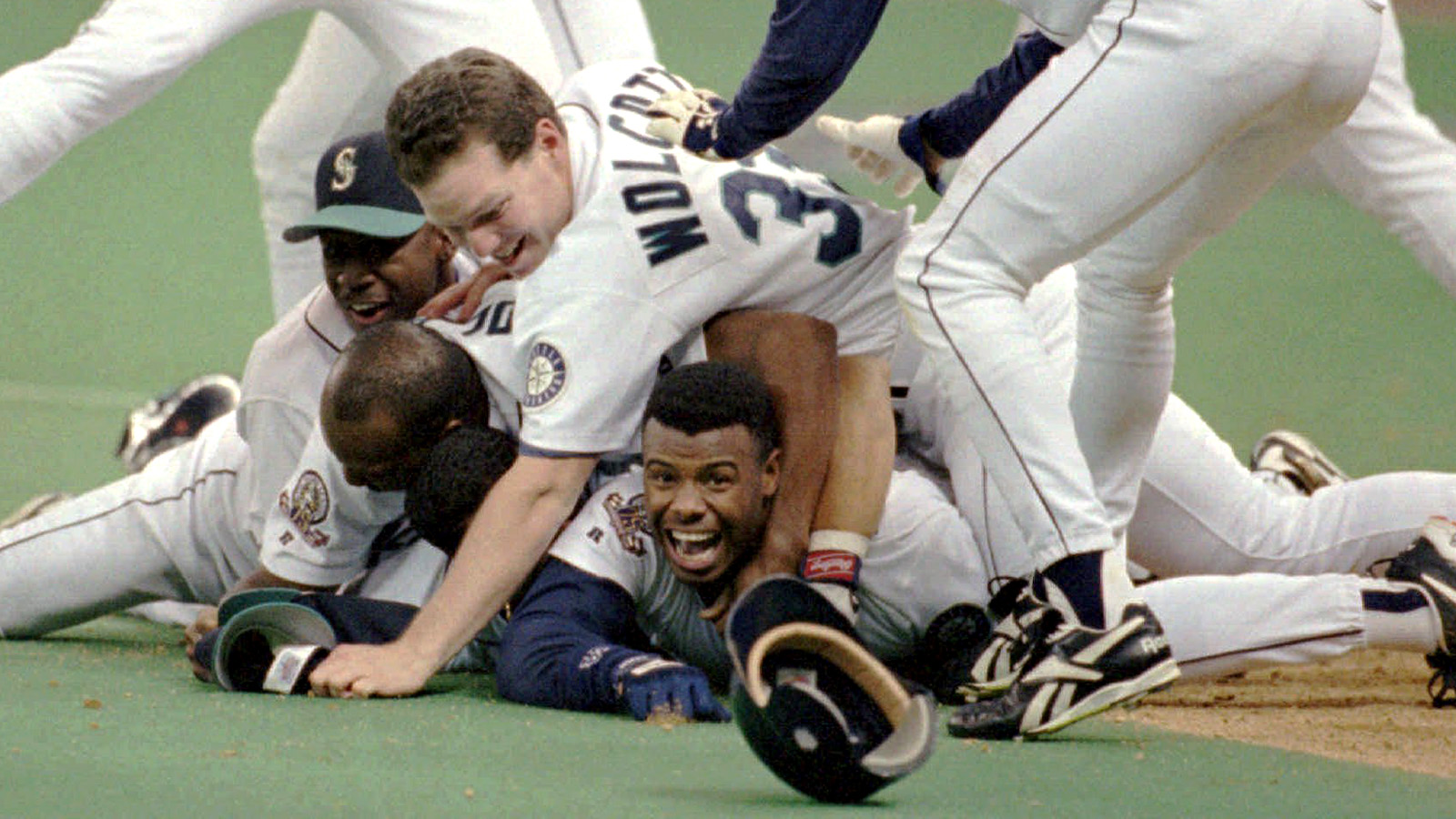 #1: The Slide
Oct. 8, 1995
For all of Griffey's majestic home runs and circus catches, it's a mad dash around the bases to score the winning run in the 1995 Division Series against the Yankees that stands as the most unforgettable play of his career — and Mariner history.
In Dave Niehaus' famous call of the play, he notes that third-base coach Sam Perlozzo (though unnamed by Niehaus) is waving Griffey in. Not that Griffey would have stopped, but if he had, it might have been left to a rookie named Alex Rodriguez, who was waiting on deck, to drive him in. That the play instead is remembered as the greatest moment for maybe the two greatest Mariners of all time — Edgar Martinez and Griffey — makes it a rare Mariner moment that turned out, and remains, perfect.
Photo by Elaine Thompson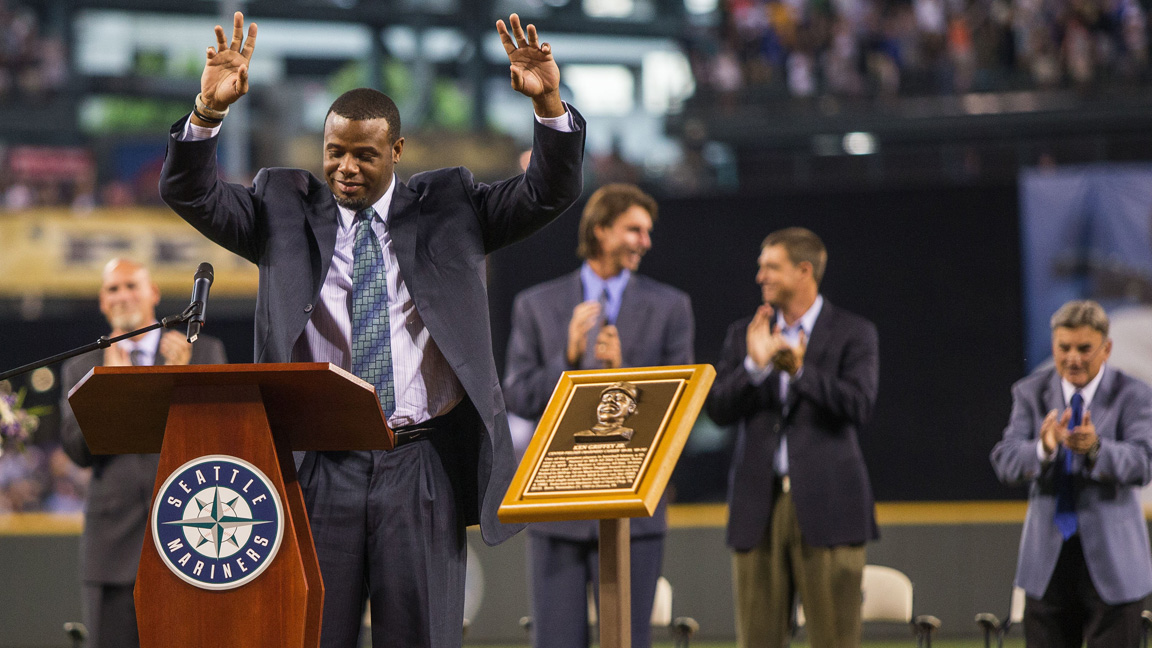 #11: Bonus: A Mariners' legend
Aug. 10, 2013
We'll add a bonus moment, just because Ken Griffey Jr. deserves an extra highlight. In August 2013, Griffey became the seventh player inducted into the Mariners Hall of Fame, and offered up a Hall of Fame-worthy speech to a sellout at Safeco Field. Griffey is on this year's MLB Hall of Fame ballot, which will be revealed Jan. 6.
Photo by Dean Rutz / The Seattle Times