Get to know the 10 Seahawks draft picks
The Seahawks added 10 players in the 2016 NFL draft, focused primarily on filling needs along the offensive and defensive lines. Get to know each one of Seattle's new players in the list below.
Scroll to continue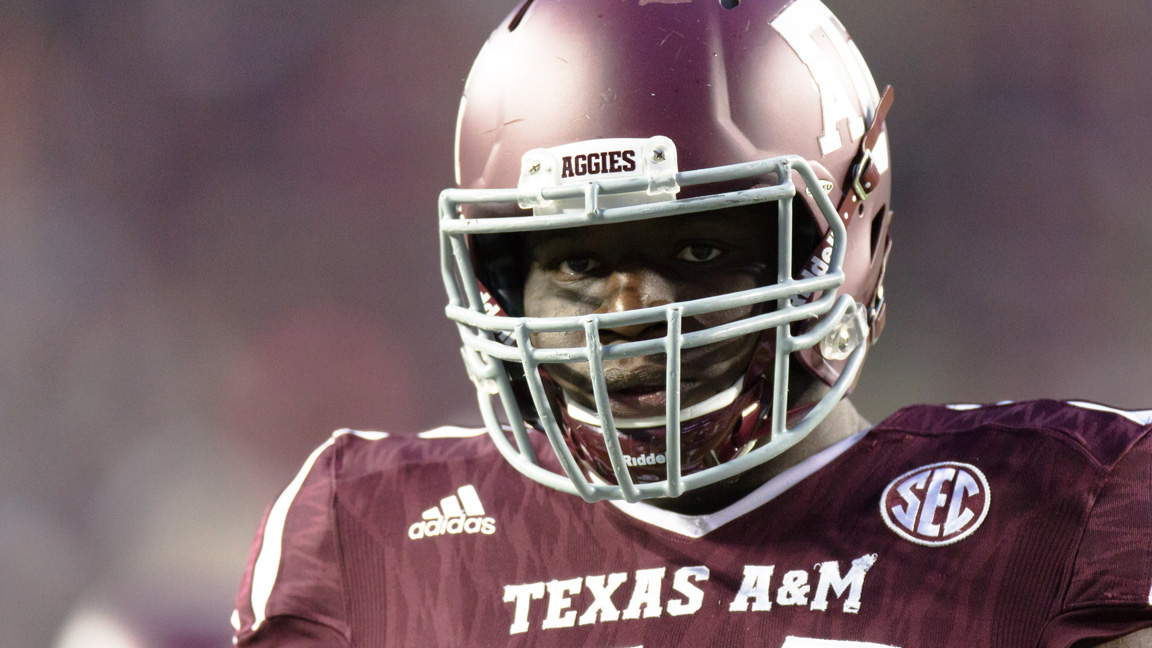 #1: OL Germain Ifedi, Texas A&M
Round 1, Pick 31
Personal
His brother, Martin Ifedi, was drafted in the seventh round by the Rams last year and is a defensive end with the Tampa Bay Bucs. Germain Ifedi was a highly recruited offensive linemen out of Houston and decided to stay close to home when he chose Texas A&M. He passed up his final season at Texas A&M to enter the NFL draft early. His father works for United Airlines ,and his mother is a parole officer and part-time nurse.
Scouting report
The Seahawks filled their consensus need and their most obvious hole by drafting an offensive lineman in the first round. Ifedi has a versatile background, which the Seahawks like from their offensive linemen. He started as a guard in college before spending his final two seasons at tackle. Another thing the Seahawks like: Ifedi is a good athlete for a big guy and moves well along the line.
That's important for linemen who play for offensive-line coach Tom Cable. Ifedi is a bit raw and didn't operate out of the three-point stance much in college, but many analysts think he has big upside. "He's a really good pick for a team that needs offensive linemen," NFL Network analyst Mike Mayock said during its draft broadcast.
Highlights
Photo by Juan DeLeon / AP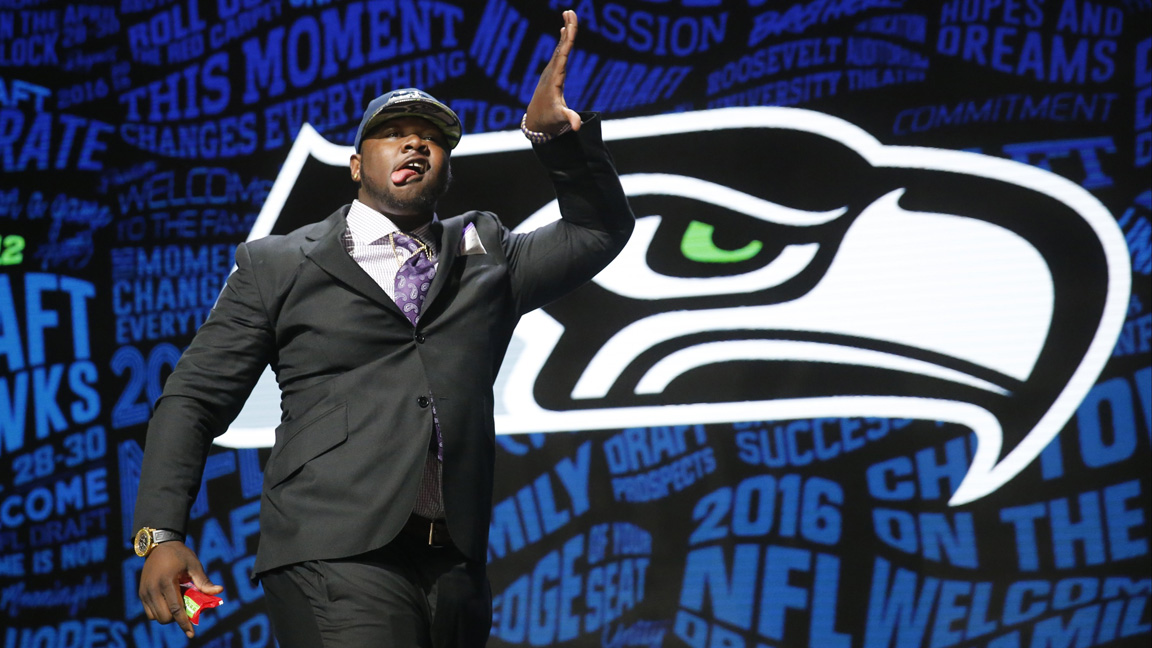 #2: DT Jarran Reed, Alabama
Round 2, Pick 49
Personal
Reed was a 10-pound, 7-ounce baby — the second biggest baby born in Craven County, N.C., that year, according to the Huntsville (Ala.) Times. He wasn't heavily recruited as a linebacker out of high school, so he went to a military academy for a year, hoping to attract more attention from the big schools. He switched to defensive line there but didn't qualify for college and attended East Mississippi Community College for two years. He was arrested and charged with DUI in 2014 while at Alabama. He was the last player left in the green room in Chicago.
Scouting report
General manager John Schneider said after the first round that the Seahawks had two options in the first round: offensive line or defensive line, depending how the draft fell. They took an offensive lineman, so it was not surprising when they traded up in the second round to grab Reed, considered by many analysts the best defensive lineman left in the draft. Reed was viewed as a potential first-round pick, and he has a chance to start immediately defensive tackle after the departure of Brandon Mebane via free agency. Even if he isn't the Day 1 starter, he helps restore depth. He is a run-stuffer, something the Seahawks needed.
Highlights
Photo by Charles Rex Arbogast / AP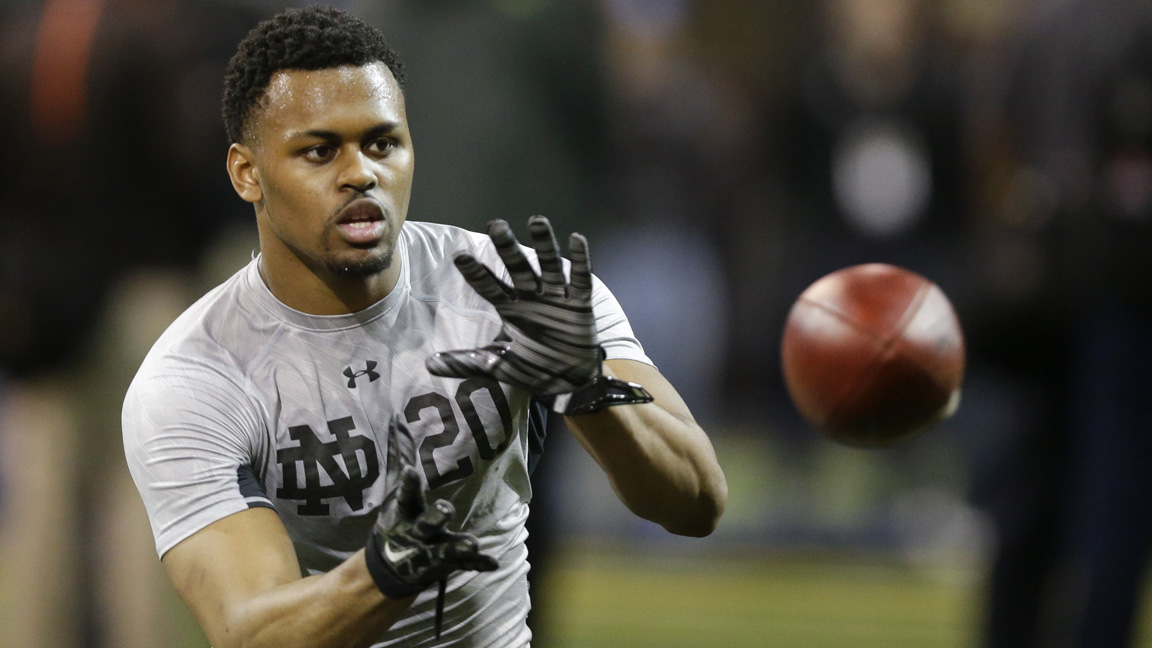 #3: RB C.J. Prosise, Notre Dame
Round 3, Pick 90
Personal
Prosise has an interesting backstory with football. He was recruited to Notre Dame as a defensive back and was one of the nation's best safeties coming out of high school. But he switched to receiver early in his career and spent all of his sophomore and junior seasons in 2013 and 2014 at receiver. But when injuries and transfers thinned depth at running back, before the 2015 season, Prosise moved to another new position — running back.
Scouting report
Because he spent only one season at running back, Prosise is raw. He is still learning the position. Prosise showed a knack for cutting, which is something the Seahawks want from their running backs. He also gives the Seahawks depth at running back. Thomas Rawls is still recovering from an injury, and though he looked promising as a rookie, it's still unclear how the injury might affect him. The Seahawks also have Christine Michael, who improved in his second stint with the Seahawks but has to show he can be consistent over time. Prosise helps infuse the position with depth and therefore more competition.
Highlights
Photo by Michael Conroy / AP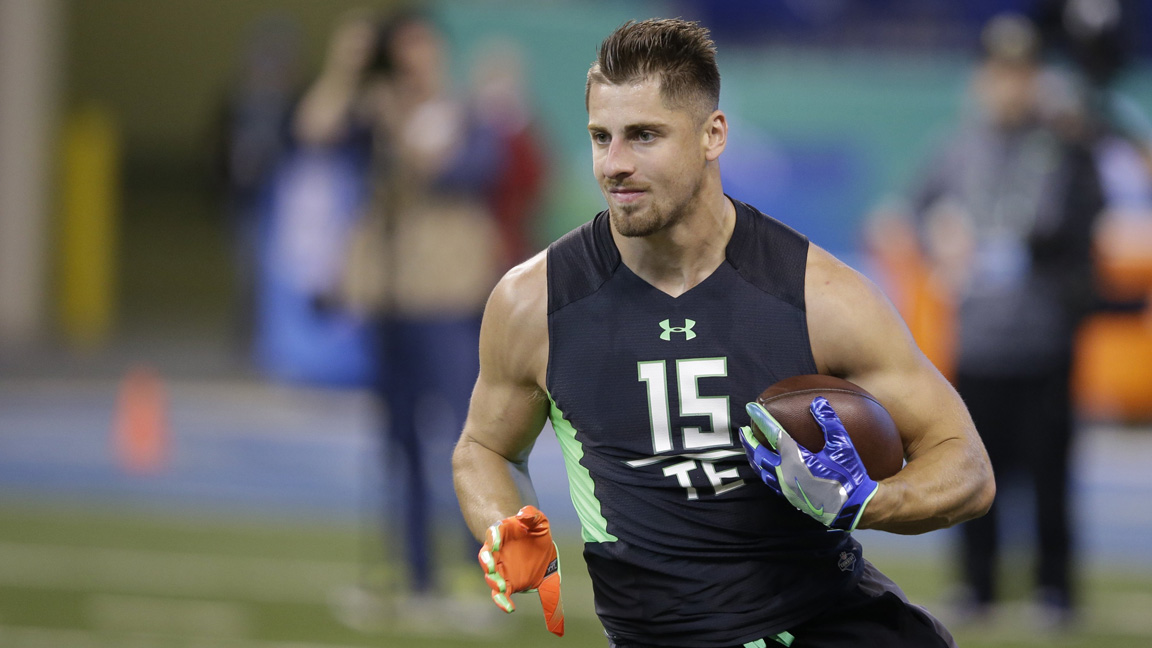 #4: TE Nick Vannett, Ohio State
Round 3, Pick 94
Personal
One of the funniest moments of the draft was when a reporter asked Vannett if he moved around a lot. "No, I've always lived in Columbus, Ohio," Vannett said. It was a reasonable answer, although the reporter meant how often he moved around on the field. Vannett is an only child who has lived his whole life in Ohio. He stayed at Ohio State for four years.
Scouting report
Vannett prides himself on being a tight end who can play on all three downs, meaning he sees himself as a good route runner and blocker. The Seahawks have Jimmy Graham at tight end, although he is coming off an injury, and they also have Luke Willson. So they will likely be able to use Vannett in specific situations that play to his strengths, and the fact that he spent most of last year blocking should help him get on the field as a rookie. He has the size and athletic tools teams look for in tight ends, and the fact he had only 19 catches as a senior might have caused his draft stock to slip similar to Luke Willson in 2013.
Highlights
Photo by Darron Cummings / AP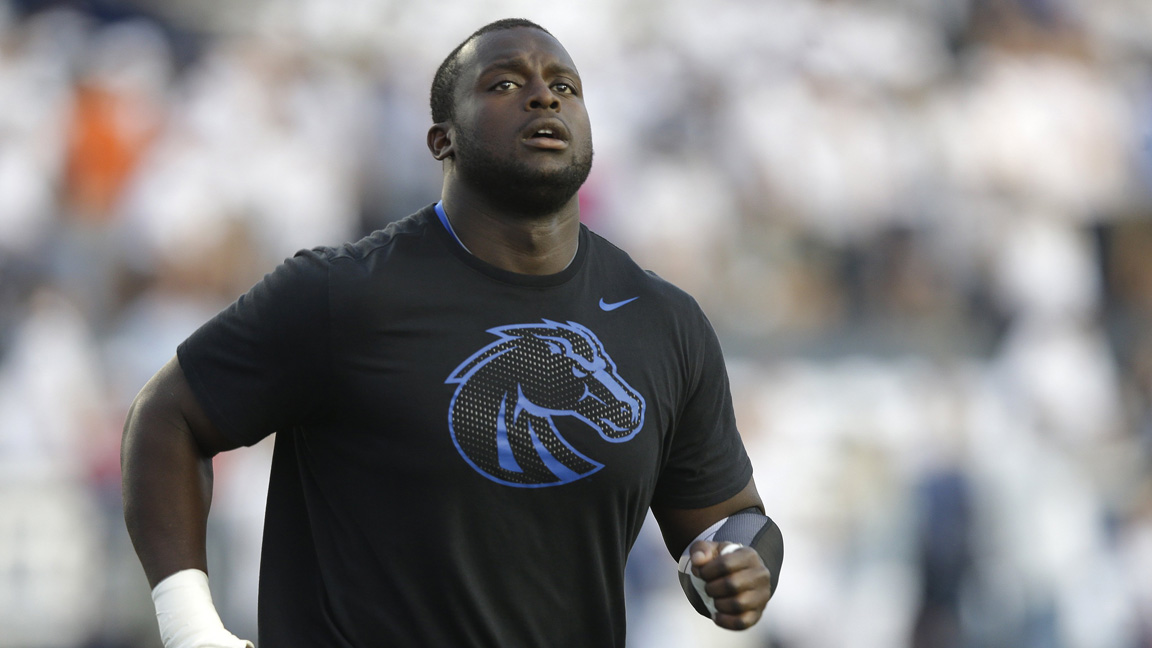 #5: OL Rees Odhiambo, Boise State
Round 3, Pick 97
Personal
Odhiambo was born in Nairobi, Kenya, but moved to Texas with his family in 2000 when he was 7 years old. He said both of his parents have died — his father before he moved to the U.S. and his mother when he was 17. Odhiambo attended Mansfield Legacy High in Mansfield, Texas, before being signing with Boise State in 2011 when current UW coach Chris Petersen was the coach of the Broncos. He was All-Mountain West first-team selection in 2015 and was an all-academic selection his last three years, majoring in exercise science.
Scouting report
Odhiambo played right tackle for Boise State in 2013 and left tackle the past two seasons, though the Seahawks plan to play him at guard. Though he was standout in college, he missed games each season and never played more than 10 in any year. He played eight games last season before suffering a broken left ankle that ended his season. He has had surgery on both ankles and did not work out at the NFL combine due to an ankle injury, though, he said he is healthy now. Was known for both his power and ability to get to the second level at Boise State.
Highlights
Photo by Rick Bowmer / AP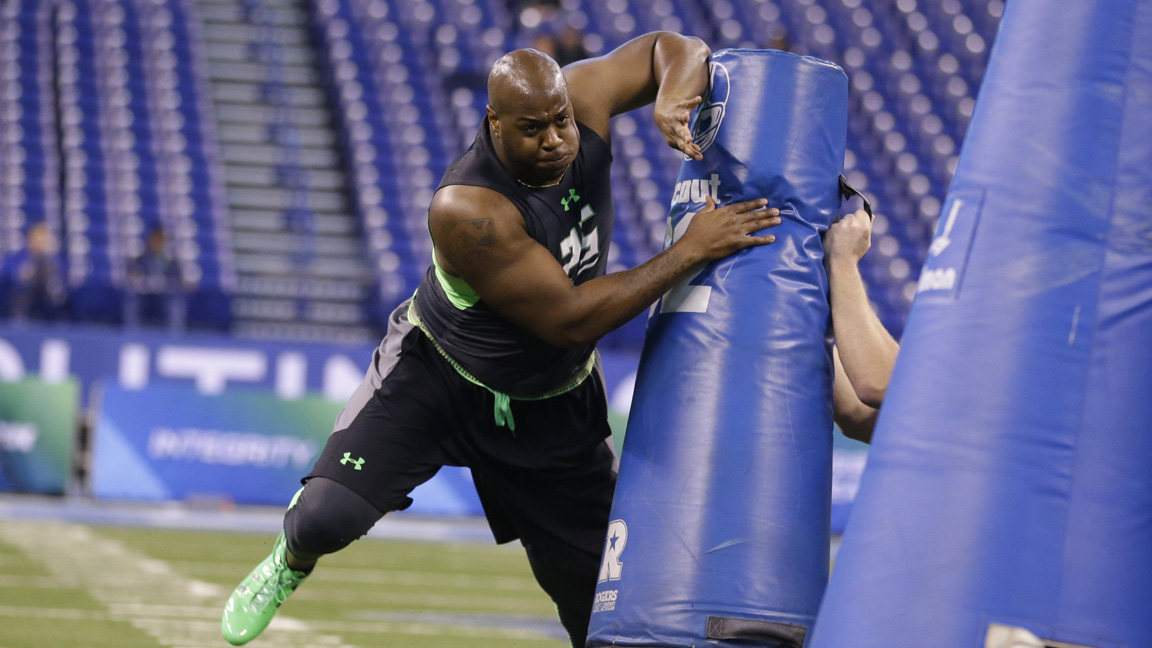 #6: DT Quinton Jefferson, Maryland
Round 5, Pick 147
Personal
Jefferson is married and has three young daughters, including twins. His oldest daughter is 5, and his twins turn 2 in July. "I was already motivated from the jump," he said, "but having them just added. Everything I do is for them, my wife. I want them to have a good life. I want them to be that role model and show them they can do anything they want." He broke his jaw in a fight and had to gray shirt. He spent that year working at Best Buy. He tore his ACL three games into the season in 2014 but responded to have a solid senior season in 2015.
Scouting report
The Seahawks needed to add depth along the defensive line, and in this draft that's what they've done. Jefferson has played defensive end and defensive tackle in college, and the Seahawks like experimenting with young players to see where they fit. The Seahawks could opt to try Jefferson as a big, run-stuffing defensive end, similar to what they did with Red Bryant a few years ago. Or he could play as a three-technique defensive tackle — the spot held by Ahtyba Rubin. Rubin will turn 30 before this season, and Jefferson could provide depth this year while giving the Seahawks an option in the future.
Highlights
Photo by Michael Conroy / AP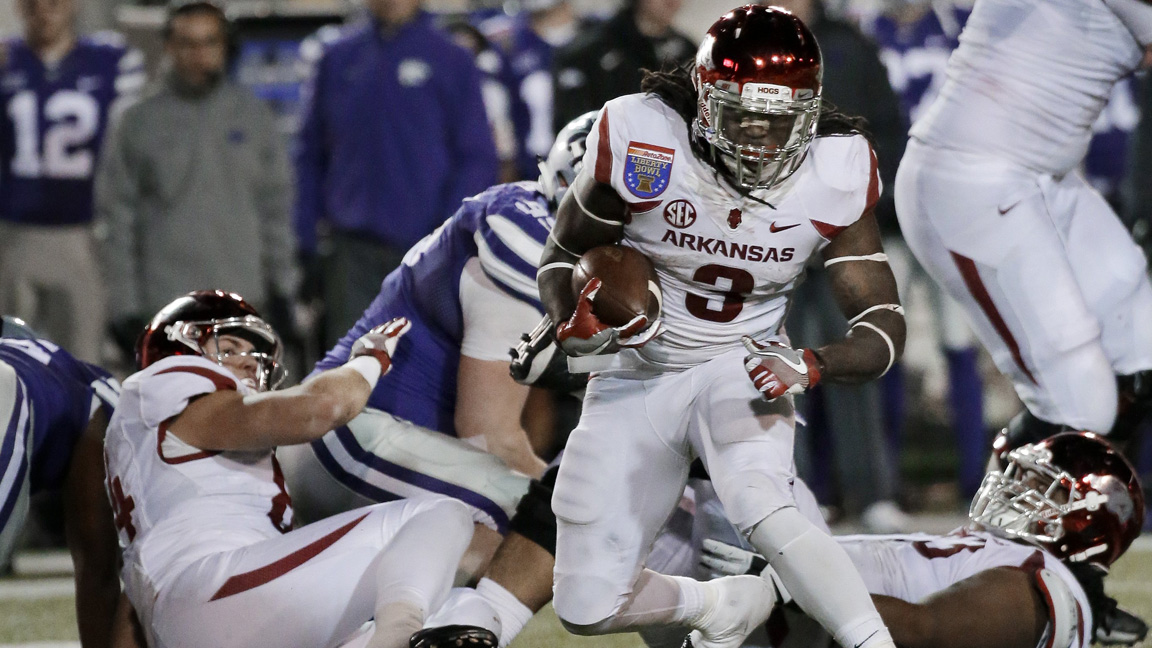 #7: RB Alex Collins, Arkansas
Round 5, Pick 171
Personal
A native of Fort Lauderdale, Fla., Collins was ranked by some as the top running-back recruit in the country in 2012 and signed with Arkansas after considering Miami, Florida State, Florida and Wisconsin. He finished his college career with 3,703 yards rushing and 36 touchdowns and became the third player in SEC history to open his career with three consecutive 1,000-yard seasons — the other two are Darren McFadden and Herschel Walker. He ranked third in the SEC and 12th in the nation in rushing in 2015 with 1,577 yards before declaring for the NFL draft with one year of eligibility remaining. Played two years of Lacrosse in high school and also has recently taken up Irish dancing.
Scouting report
Collins has the prototypical size and strength but isn't regarded as overly speedy, with some referring to him as a between-the-tackles runner. Said to have exceptional feet for his size. One notable issue at Arkansas was fumbles — he had 16 in 696 touches during his three-year college career. His fumble percentage improved as a junior, though, to one in 53 attempts compared with one in 38 and one in 34 his first two seasons, and the Seahawks say they don't think that is an issue. Also regarded as a good blocker, as he often was used in pass protection at Arkansas. He is considered to have decent hands and said he's confident he can produce as a receiver with the Seahawks.
Highlights
Photo by Mark Humphrey / AP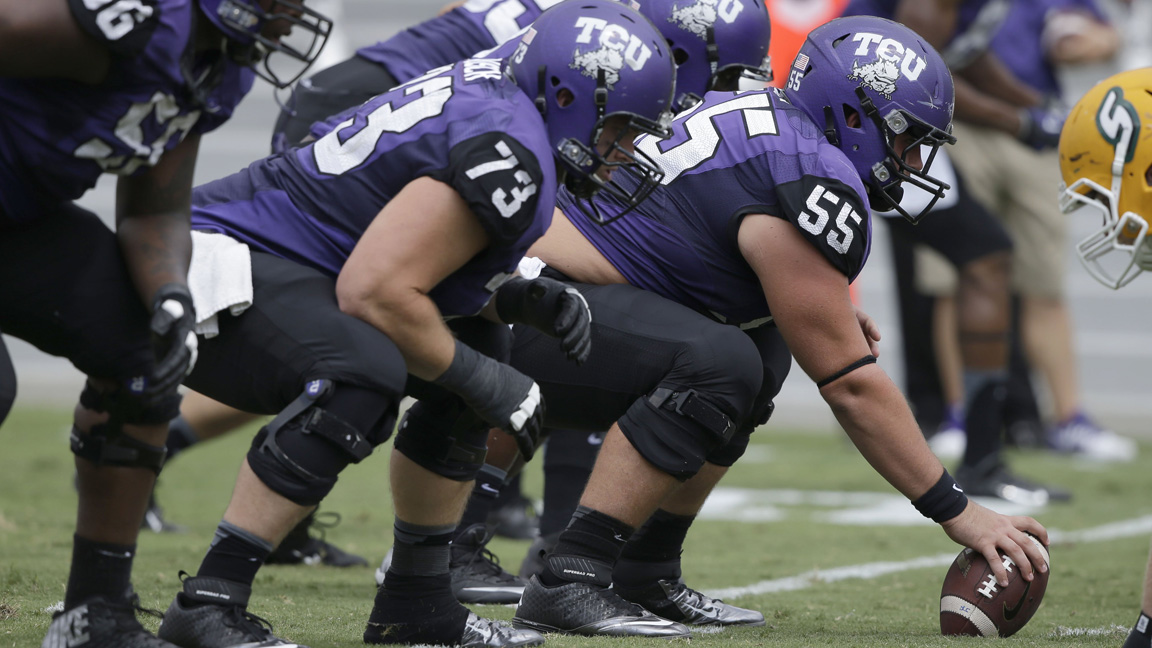 #8: C Joey Hunt, TCU
Round 6, Pick 215
Personal
In college, Hunt was known for his luxurious head of hair — one teammate described Hunt's hair in college as "silky, curly and long." Hunt was a leader at TCU and a two-time captain. He made 35 consecutive starts before a torn lateral meniscus required him to have surgery last year.
Scouting report
The Seahawks have options at center on the roster — Patrick Lewis, the presumed favorite, Drew Nowak, the starter early last year, and Kristjan Sokoli, who drew positive reviews as a rookie last season. But the Seahawks have wanted to create more competition at the position. Hunt is undersized for typical standards, but the Seahawks have never minded that. They like their centers to be quick and mobile. Pro Football Focus wrote that he was "arguably the best pass protector in the draft."
Highlights
Photo by Jim Cowsert / AP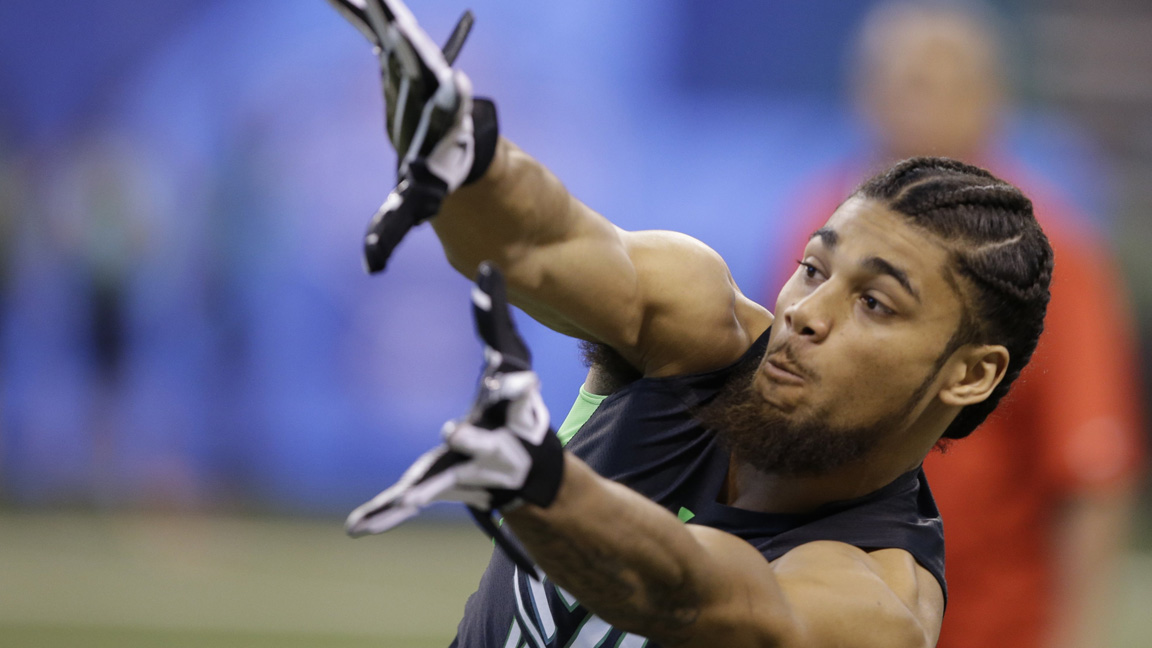 #9: WR Kenny Lawler, Cal
Round 7, Pick 243
Personal
In December, Lawler was undecided about entering the NFL draft and told the San Francisco Chronicle, "It'd have to be the first couple rounds for me not to get my degree, since I'm so close." The paper said Lawler was five classes shy of receiving his sociology degree. "If (the evaluation) said last couple (rounds), more than likely I'd have to come back. I wouldn't want to do that to myself or my family." So it's interesting that Lawler decided to enter the NFL draft just a few weeks later. Lawler struggled with his work ethic early in his career, but teammates and coaches said he matured in that regard.
Scouting report
Here's the thing about Lawler: He has enormous hands. He told the San Francisco Chronicle two years ago that he wore size XXXL gloves and that even those were a "little tight." Another Cal receiver said that Lawler's hands were twice the size of his own, and that Lawler making a one-handed catch was like normal receivers using two hands. It's part of the reason Lawler has made so many highlight catches from Jared Goff over the years. Lawler isn't a burner, and he has faced questions about his thin frame; will he be able to handle physical defensive backs? If he can, Lawler has the body control and skills to be a jump-ball target for quarterback Russell Wilson.
Highlights
Photo by Darron Cummings / AP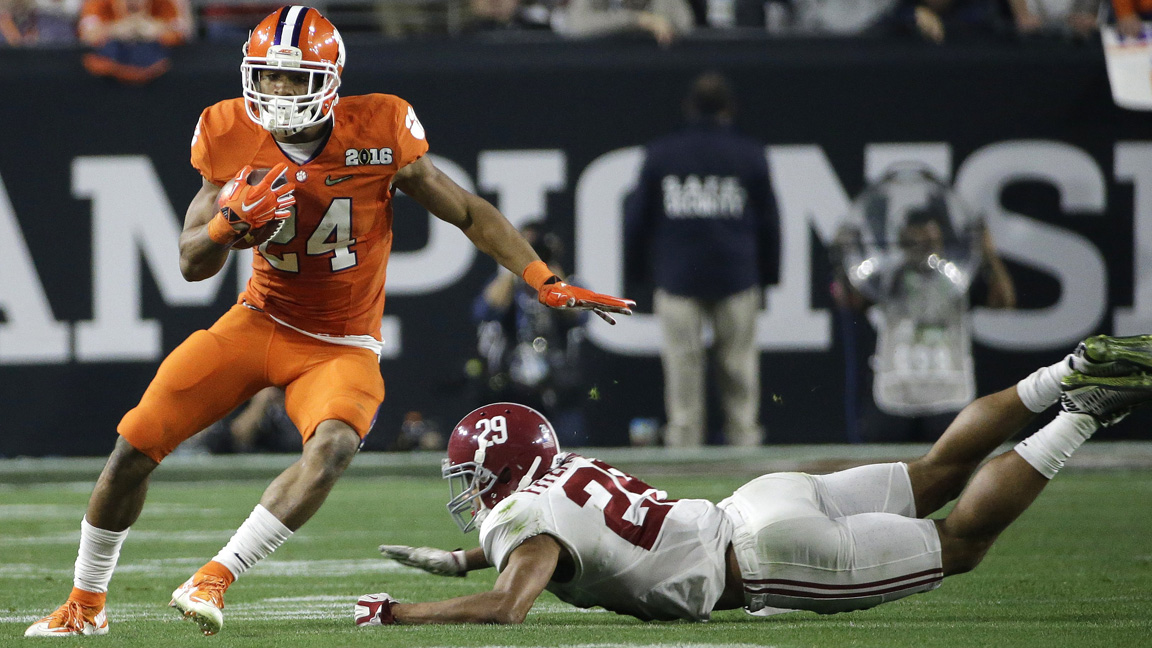 #10: RB Zac Brooks, Clemson
Round 7, Pick 247
Personal
Brooks was considered one of the top receiver recruits in the nation out of Jonesboro Senior High in Jonesboro, Ark. He said he had 13 offers to play as a receiver and just one as a running back — Clemson. He chose Clemson so he could be a featured tailback. But Brooks ran into injury issues as well as stiff competition and played in a complementary role throughout his career. Brooks left Clemson with a year of eligibility remaining, saying one reason was to try to help his father, who is battling a lung illness and will soon require a transplant. Brooks also said he wants to be an interior designer and Clemson did not offer any classes in that that would have made it worth coming back for another year of school (he graduated with a degree in sociology).
Scouting report
Brooks had just 41 carries for 234 yards last season which came after he missed the 2014 season because of a foot injury. Though he played sparingly, he impressed with his athleticism at the team's pro day, including running a 4.32 40 and recording a 36-inch vertical leap. His past as a receiver also intrigues, and the Seahawks will see if Brooks can fulfill a role as a third-down running back, which often calls on running backs to catch passes out of the backfield or line up wide. Seahawks coaches attended his pro day, and Brooks later made a private visit to the team facility.
Highlights
Photo by David J. Phillip / AP