Top 10 plays of the Seahawks' 2015 season
The Seattle Seahawks didn't make it to a third consecutive Super Bowl, but their 2015 season certainly featured plenty of highlights. Here are our staff picks for the top 10 plays of the year.
Scroll to continue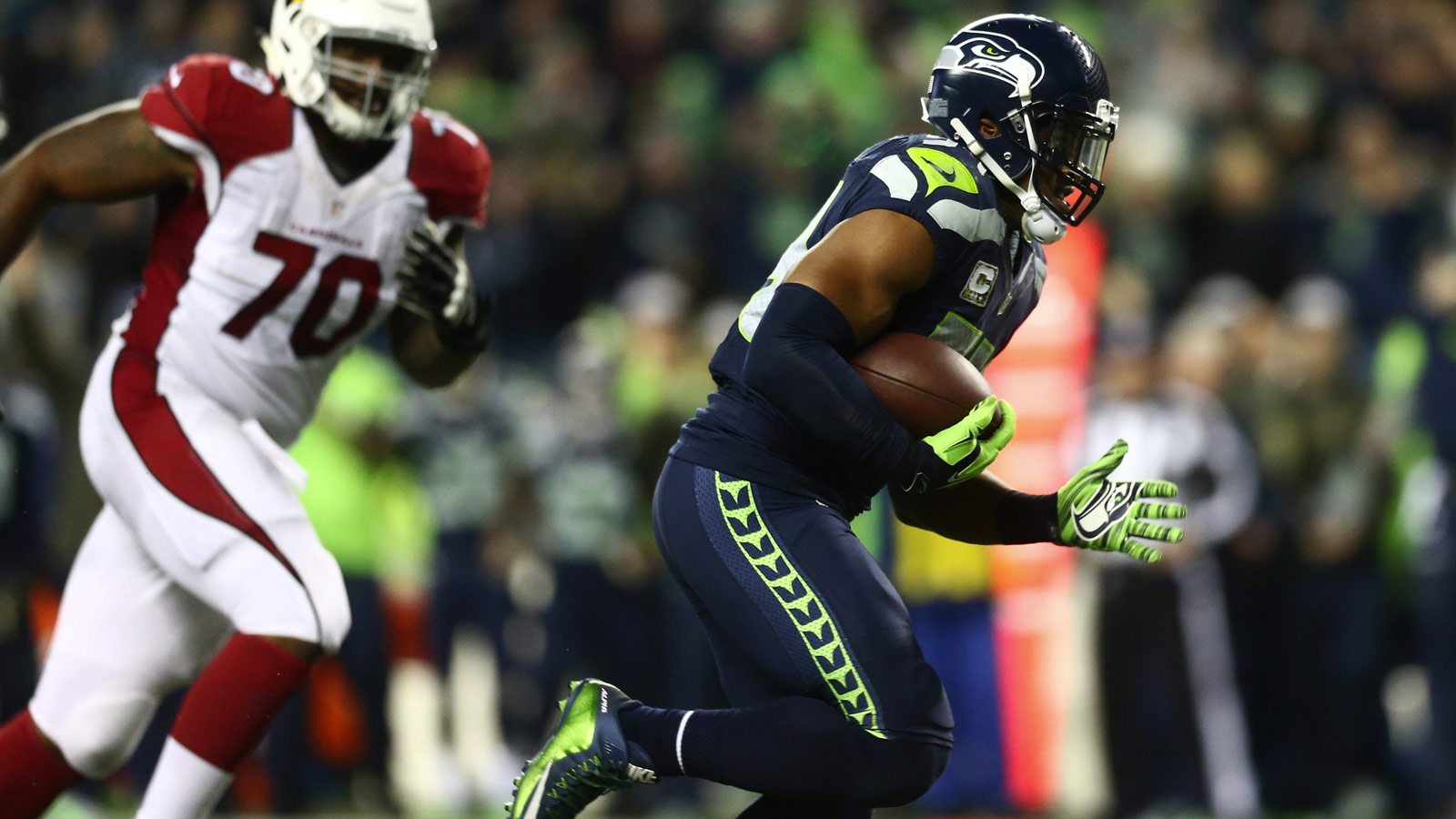 Bobby Wagner's 22-yard fumble return for a touchdown against Cardinals
Why it mattered: This was it, the moment you always wait for while watching the Seahawks play defense. The Seahawks have a way of creating the snowball effect, quickly turning games. The series before, defensive end Cliff Avril had forced a fumble that led to an easy touchdown. Then K.J. Wright forced another fumble, which led to Bobby Wagner's touchdown return. Just like that, the Seahawks took the lead, although they didn't hold it.
What they said: "We just started making plays. When the offense needed us to step up, I felt like we did that." — middle linebacker Bobby Wagner
Photo by Lindsey Wasson / The Seattle Times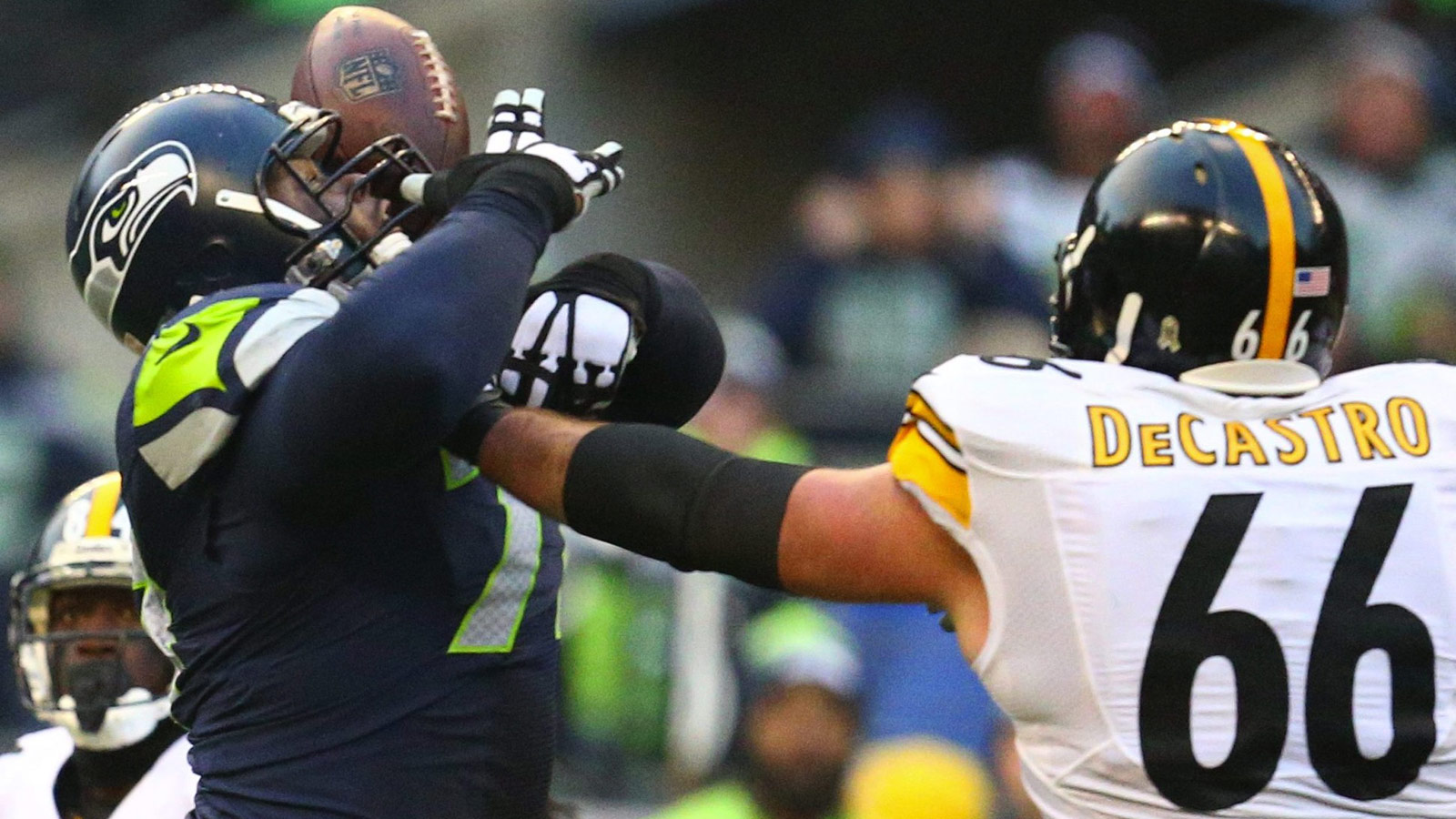 Ahtyba Rubin's interception against Steelers
Why it mattered: The Steelers led 21-14 and had forced the Seahawks to punt midway through the third quarter when the ball slipped out of quarterback Ben Roethlisberger's hand as he attempted a pass. It fluttered into the arms of defensive tackle Ahtyba Rubin, who played twice a year against Pittsburgh during seven seasons with the Cleveland Browns, for the second interception of his eight-year career. The Seahawks scored two plays later, a huge swing in a 39-30 Seattle win.
What they said: "It means a lot. That guy deserves to get picked." — defensive tackle Ahtyba Rubin
Photo by John Lok / The Seattle Times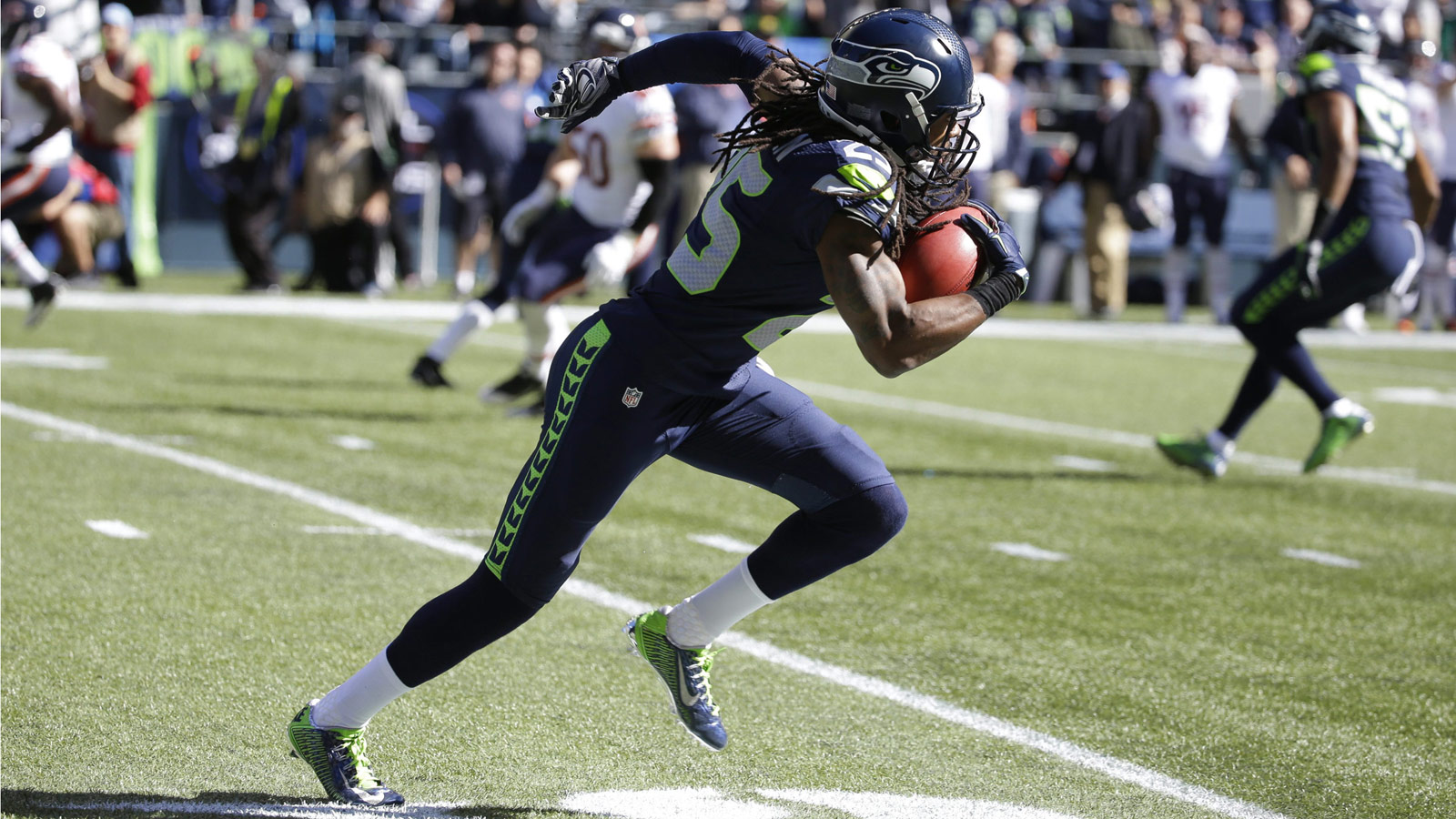 Richard Sherman's sleight-of-hand punt return against Bears
Why it mattered: This one scores points more for its creativity, difficulty and execution than for its significance. Tyler Lockett, Seattle's punt returner, acted as if the Bears' punt was drifting to his left and fell. But the ball had gone to the other side of the field, where Richard Sherman, a gunner on the punt team, caught the ball over his shoulder. It was the same trick the Rams had used to score a touchdown against the Seahawks a year before, and Sherman pulled it off beautifully.
What they said: "I always wanted to be an actor. I just got my first gig." — wide receiver Tyler Lockett
Photo by Elaine Thompson / AP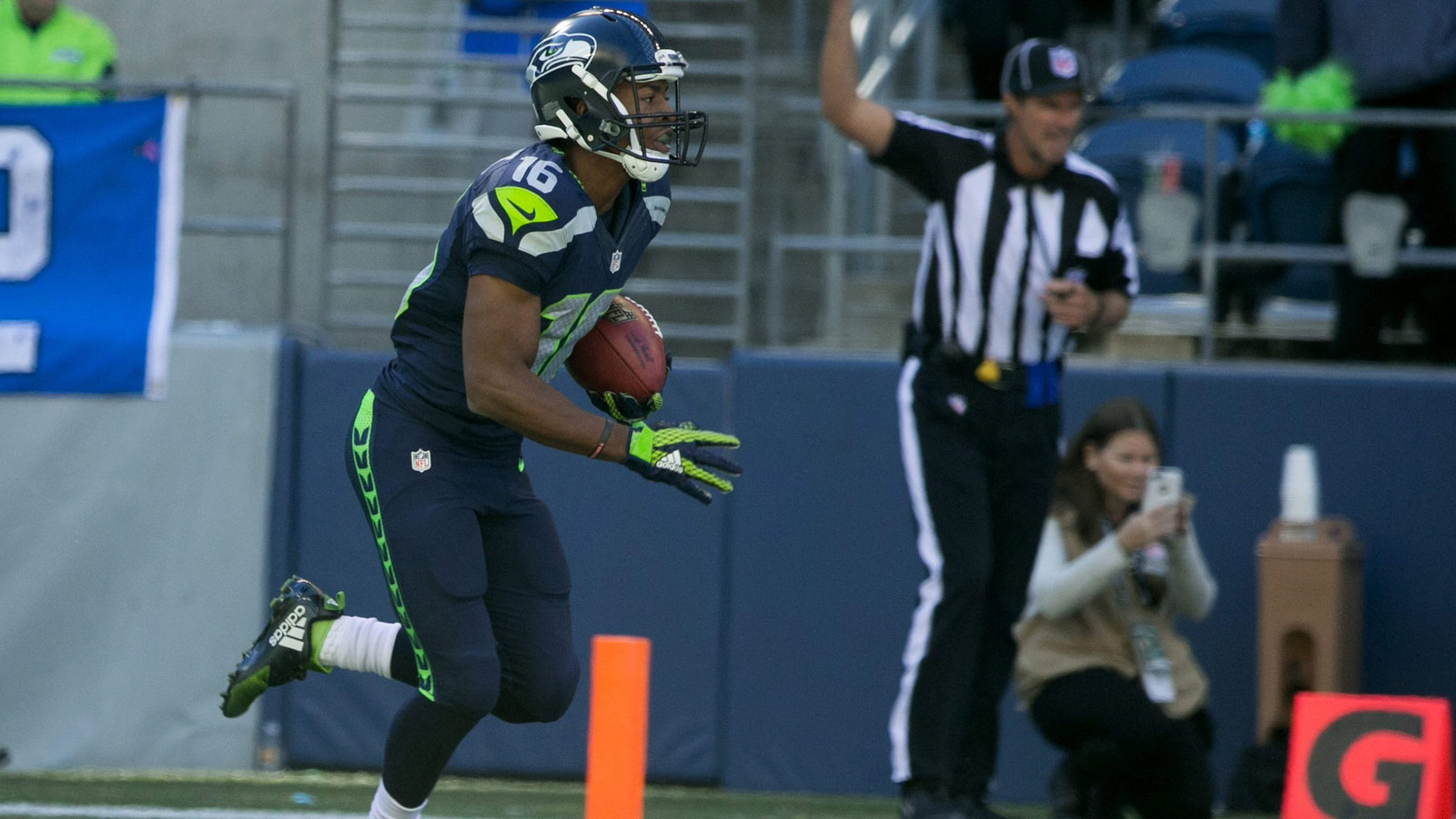 Tyler Lockett's 105-yard kickoff return for a touchdown against Bears
Why it mattered: The Seahawks led by just six points at halftime when the Bears kicked off to start the third quarter. Tyler Lockett took all of 12 seconds to sprint past the Bears and blow the game open.
What they said: "He has shown himself to be one of the more dangerous returners in the league. He's making it so he's in those All-Pro, Pro Bowl conversations." — cornerback Richard Sherman
Photo by Bettina Hansen / The Seattle Times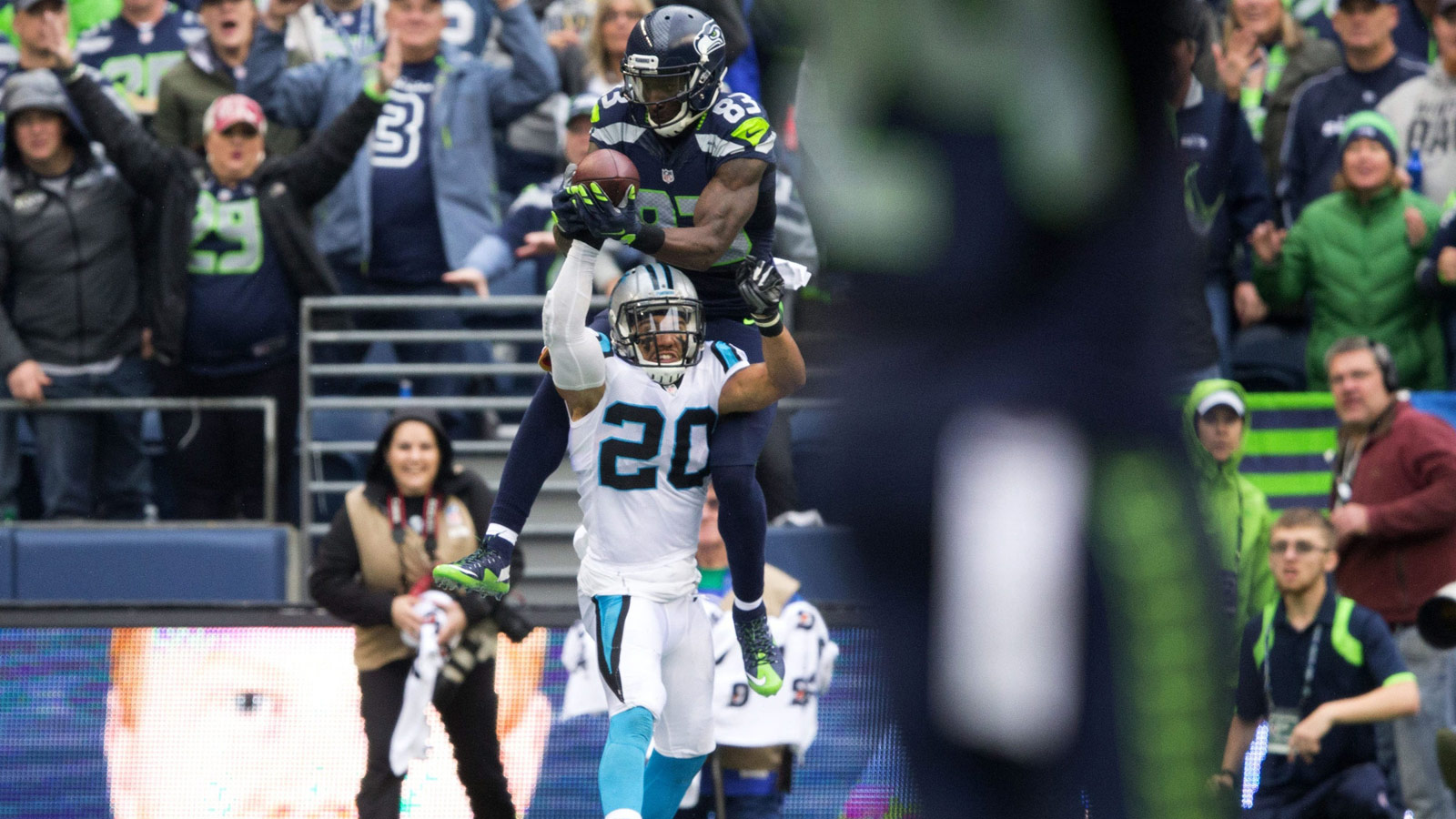 Ricardo Lockette's 40-yard touchdown catch on a flea-flicker against Panthers
Why it mattered: Points didn't figure to be easy to come by against the undefeated Carolina Panthers, and the Seahawks pulled off some trickery to get a touchdown in the third quarter. First, Russell Wilson tossed the ball to Marshawn Lynch, who then threw it back to Wilson, who from his own 49-yard line threw the ball about 4 yards into the end zone, where Ricardo Lockette leaped over Carolina safety Kurt Coleman to haul it in. The TD put Seattle ahead 17-7, a lead that would grow to 20-7 before the Panthers rallied to win.
What they said: "It felt great. I'm usually in for a lot of run-blocking plays. So the defense sleeps on that sometimes, so we took advantage of it.'' — wide receiver Ricardo Lockette
Photo by Dean Rutz / The Seattle Times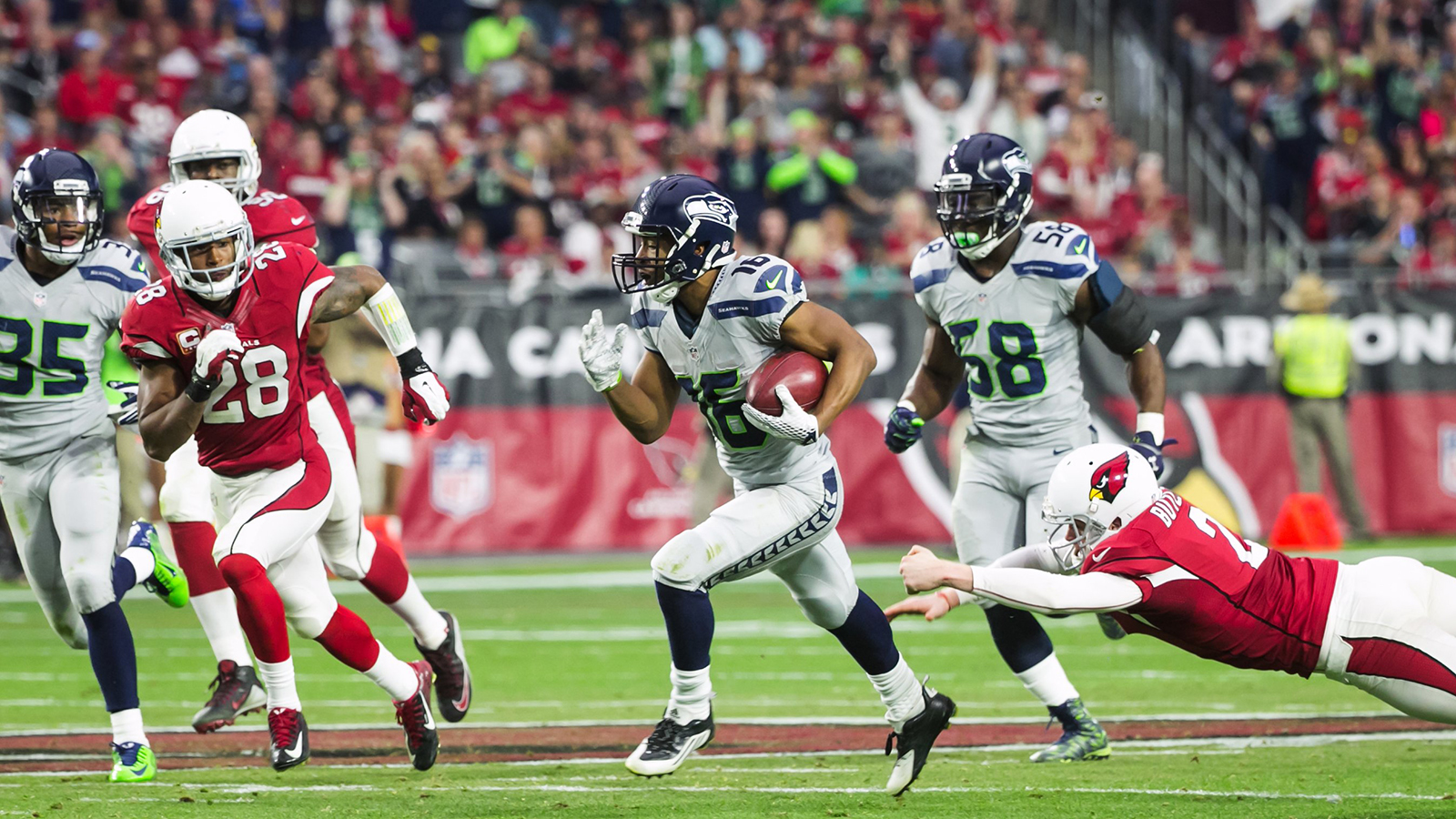 Tyler Lockett's 66-yard punt return at Arizona
Why it mattered: The Seahawks made a fairly heavy investment to draft Tyler Lockett, trading three picks to move up and take him in the third round. Lockett proved more than worth it from the first game of the season, and you could pick any one of several returns as highlights, including his 57-yard TD the first time he touched the ball against the Rams. But his 66-yarder against Arizona stands out. It was a highlight from one of the Seahawks' best victories of the season — a 36-6 rout of the Cardinals. It also was the centerpiece play of the Seahawks' 139 punt-return yards that game, a team record set before halftime.
What they said: "He just looked unstoppable. That's a bunch of guys working together to get that done. Tyler will be the first to tell you that. It really kind of led to the fire of the game." — coach Pete Carroll
Photo by Bettina Hansen / The Seattle Times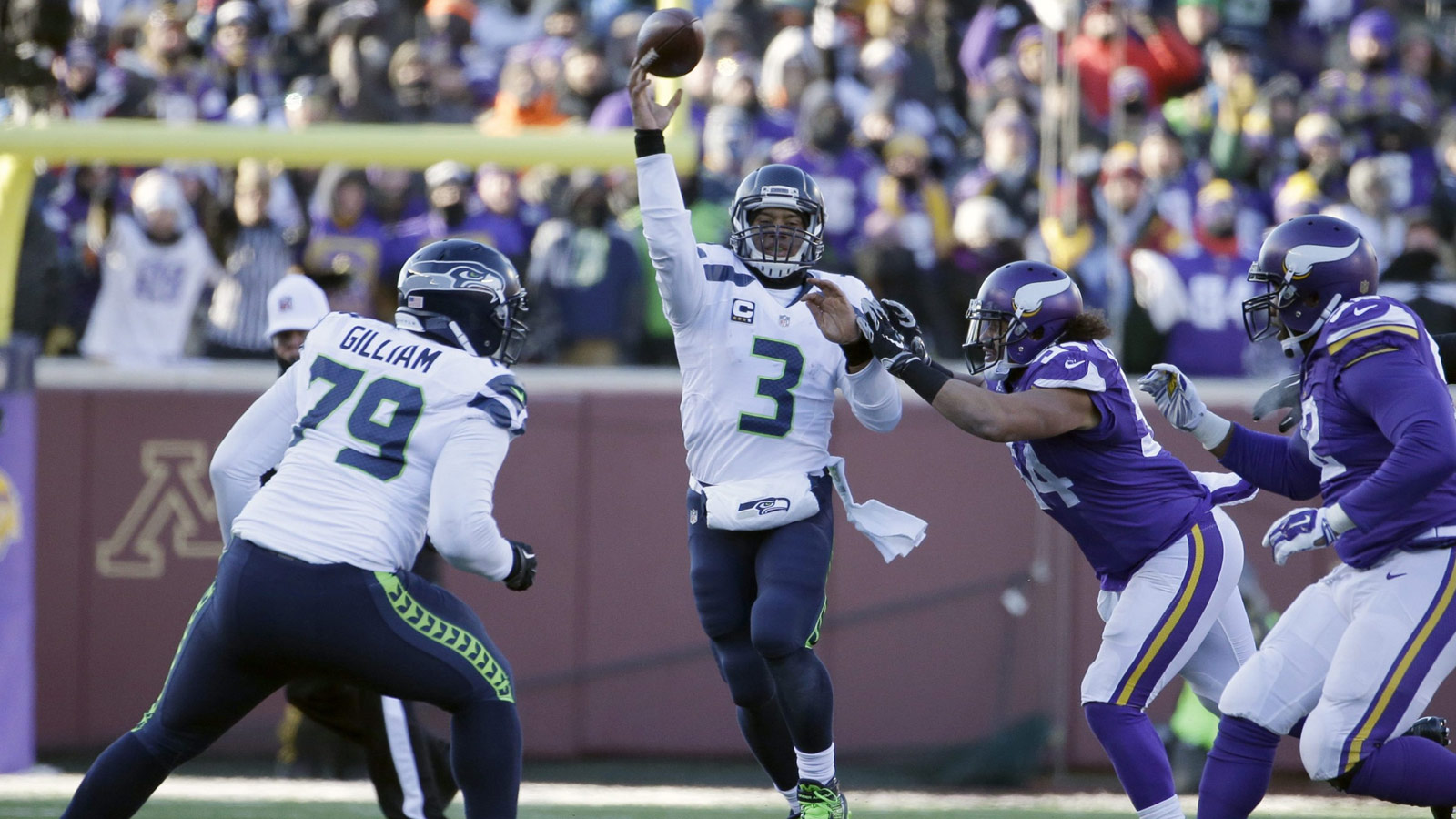 Russell Wilson's misplayed snap turns into 35-yard gain against Vikings
Why it mattered: The Seahawks appeared dead in the water (or maybe frozen in the ice?) in the fourth quarter of their wild-card playoff game at Minnesota, trailing 9-0. When a snap got past Russell Wilson, things appeared to go from bad to worse. But Wilson went to his knees to control the ball, then got up and evaded five Minnesota rushers before calmly finding Tyler Lockett for a 35-yard gain that set up the Seahawks' only touchdown in an eventual 10-9 win.
What they said: "It was the biggest play of the game. Things weren't going our way at all, and it was easy to see it. Who would have thought that one of the biggest plays would have come out of one of those plays that wasn't supposed to happen?" — wide receiver Tyler Lockett
Photo by Nam Y. Huh / AP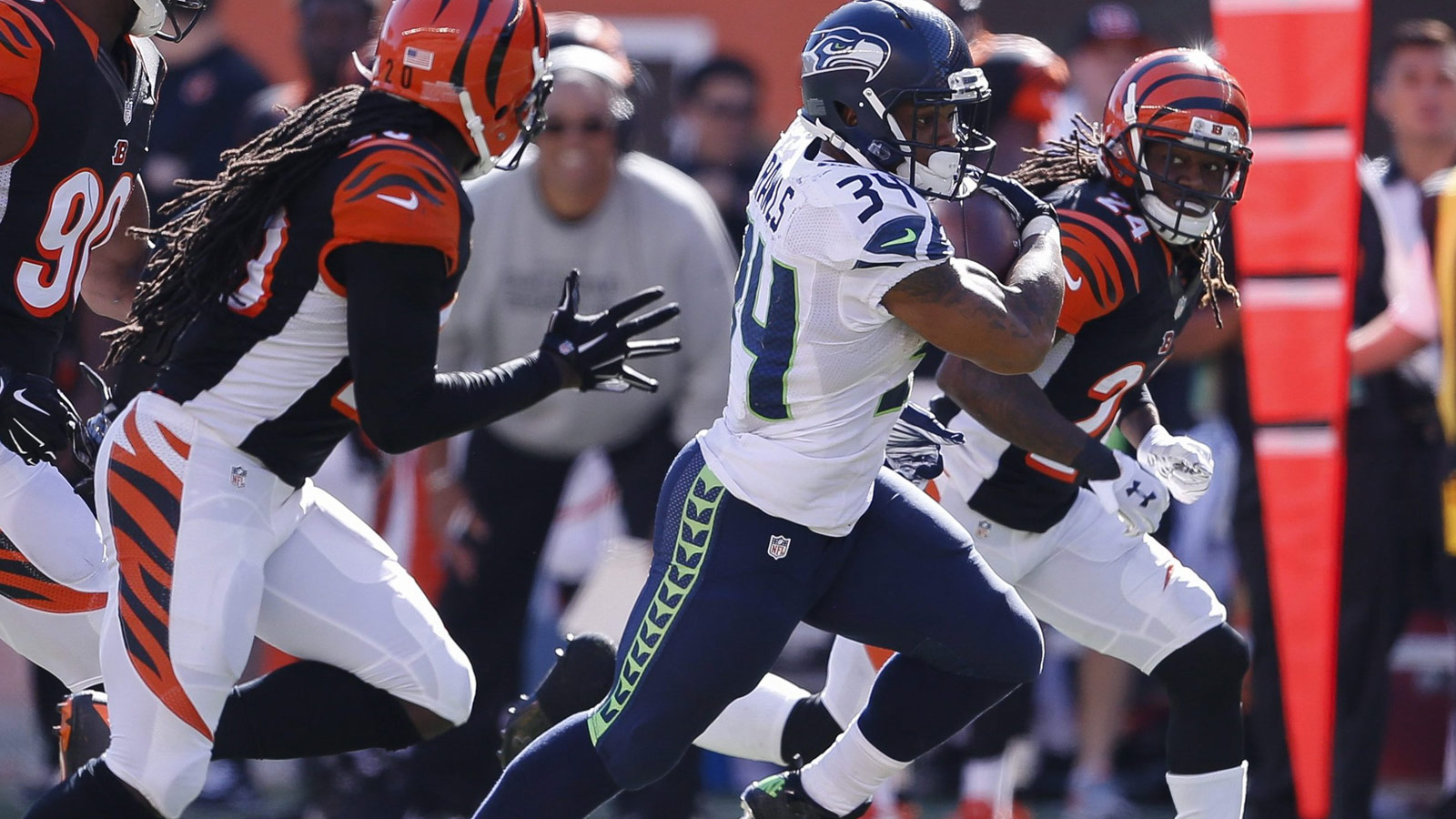 Thomas Rawls' 69-yard touchdown run against Bengals
Why it mattered: It was the breakout run from a breakout performance by the Seahawks' breakout performer of the year. Thomas Rawls had rushed for 100 yards two weeks before the Bengals game, but he solidified himself as a legitimate weapon by rushing for 169 against Cincinnati. And the highlight of that game was his 69-yard touchdown run that had hints of Beast Mode in it.
What they said: "I trust my instincts. I trust the big boys. And I saw the flow." — running back Thomas Rawls
Photo by Gary Landers / AP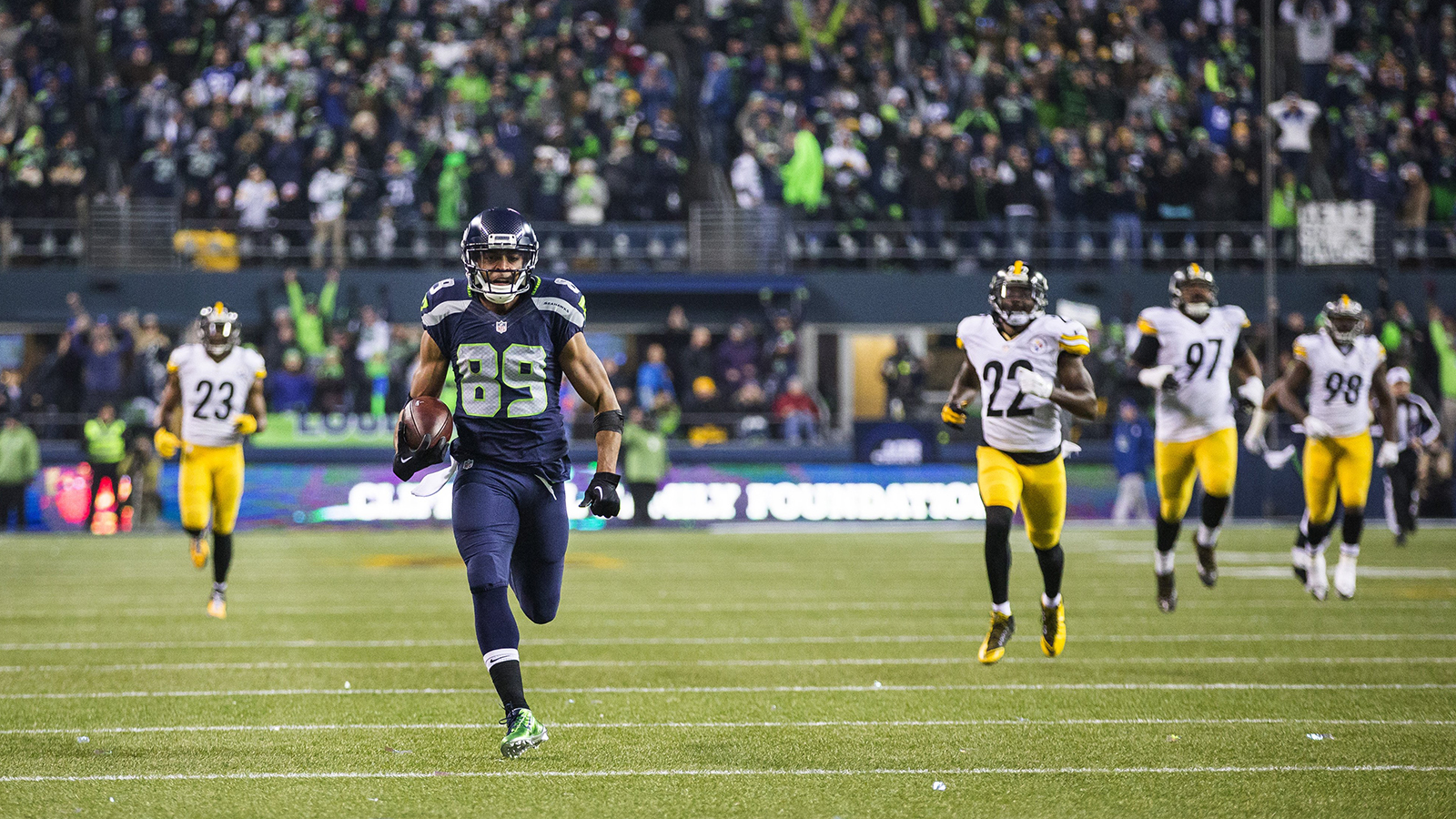 Russell Wilson's 80-yard touchdown pass to Doug Baldwin against Steelers
Why it mattered: The Steelers had trimmed the Seahawks' lead to 32-30 with only a couple of minutes left, and to make matters more urgent, the Seahawks needed 10 yards on third down or Pittsburgh's high-powered offense would get another crack. But Russell Wilson hit Doug Baldwin with a bullet that somehow stuck to his leg and hands, and Baldwin stiff-armed a defender on his long run to the end zone.
What they said: "Just a crazy catch. He barely got sight of the ball and somehow held on to it." — coach Pete Carroll
Photo by Dean Rutz / The Seattle Times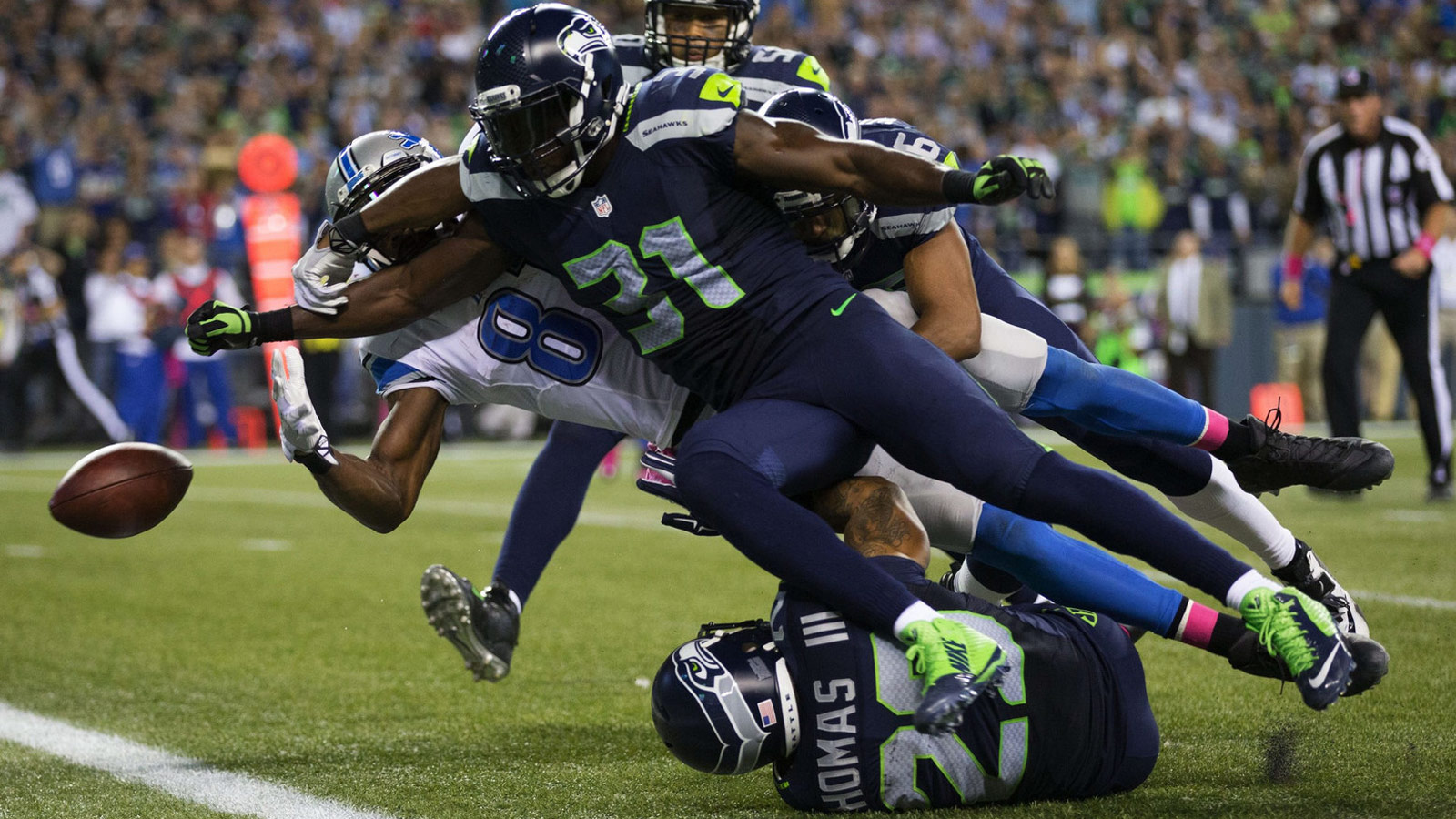 Kam Chancellor's forced fumble at goal line against Lions
Why it mattered: The Seahawks appeared on the verge of a potentially unthinkable loss to the winless Lions as receiver Calvin Johnson took a pass and leaped for the end zone with 1:45 remaining. But just before he crossed the goal line, Johnson was hit by Kam Chancellor, who punched the ball out of Johnson's hands and through the end zone. Seahawks linebacker K.J. Wright provided a last tap to send the ball out of the end zone and harm's way, and though that aspect of the play drew its share of national controversy, it didn't detract from the game-saving (and season-altering) actions of Chancellor.
What they said: "For a long time around here, we've talked about something good just about to happen. We saw one of the great plays in ball when a team's on the precipice of winning the football game and the guy makes a play. The play Kam makes is extraordinary.'' — coach Pete Carroll
Photo by Dean Rutz / The Seattle Times