5 most memorable UW-Oregon matchups in Eugene
This weekend's rivalry showdown between the Huskies and Ducks could be the end of Oregon's 12-year winning streak over UW. But No. 5 Washington has a lot to lose, and the much-hyped matchup is even bigger for the 5-0 Dawgs — and their fans — than last week's 44-6 romp of No. 7 Stanford. As we prep for Saturday's game in Eugene, here are five of the most memorable UW-Oregon matchups at Autzen Stadium.
Scroll to continue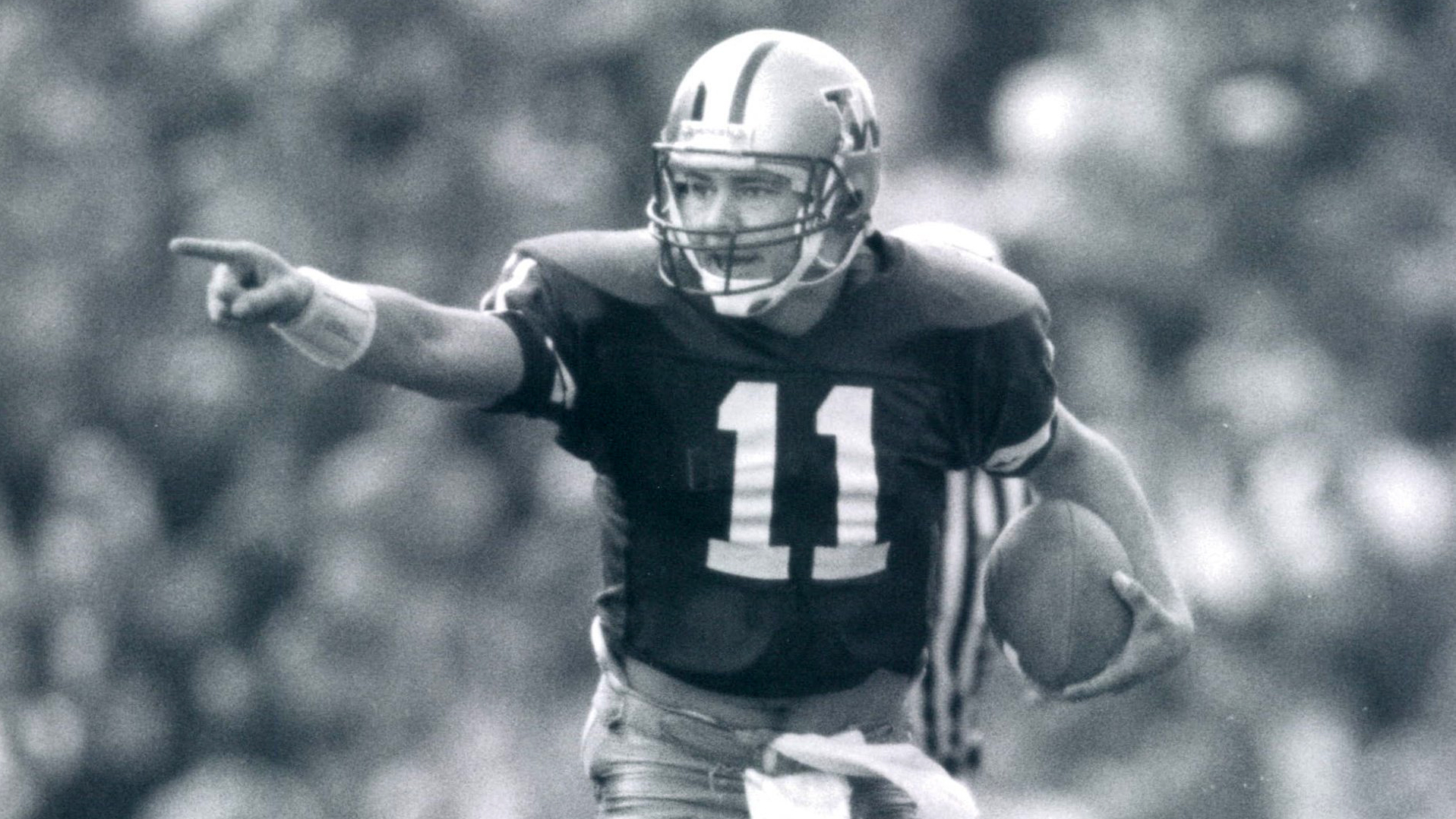 1992 | Mark Brunell leads No. 1 UW to 20th straight victory
(1) Washington 24, Oregon 3
Mark Brunell returns as the starting QB to lead the No. 1 Huskies to their 20th straight victory overall before a record crowd of 47,612 at Autzen Stadium. Brunell had been the MVP of UW's 1991 Rose Bowl victory over Iowa before tearing two knee ligaments later that spring. In his return as the starter on Oct. 17, 1992, he runs 14 yards for a touchdown and throws a 31-yard TD pass to Jason Shelley, and eventually helps the Huskies to a third consecutive Pac-10 championship. "This was a very satisfying win on the road against a solid Oregon team," Don James says after coaching in his final game against the Ducks.
Photo by Rod Mar / The Seattle Times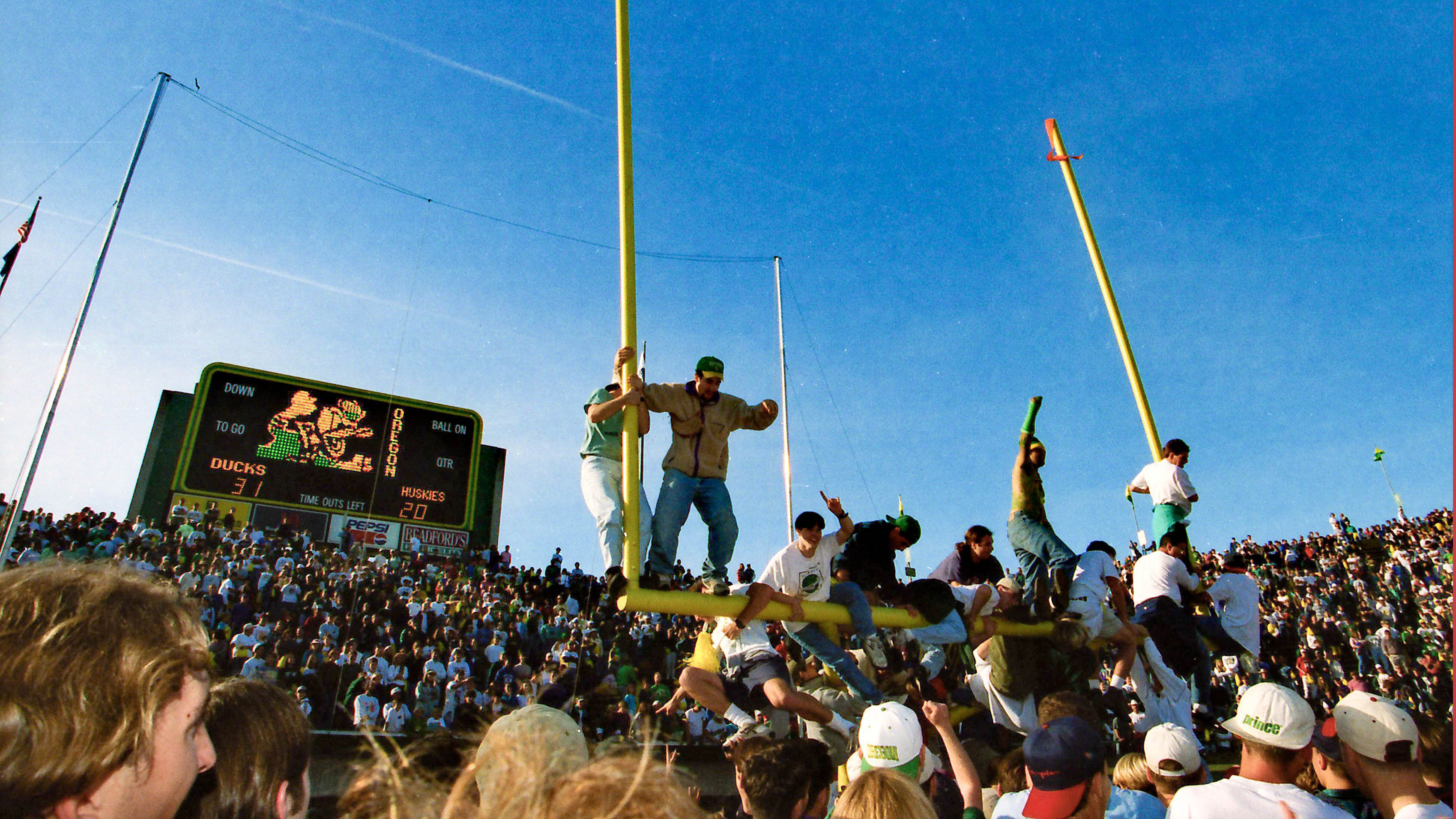 1994 | The Pick: Kenny Wheaton sparks Oregon's Rose Bowl run
Oregon 31, (9) Washington 20
"The Pick" game. Kenny Wheaton intercepts Damon Huard and returns it 97 yards on Oct. 29, 1994, to help spark the Ducks' run toward their first Rose Bowl in 37 years. It's still regarded as the greatest single play in Oregon history. "This is the most depressing loss since I've been at the University of Washington," UW star Napoleon Kaufman says. "This is the worst loss I've ever been involved in."
Photo by Rod Mar / The Seattle Times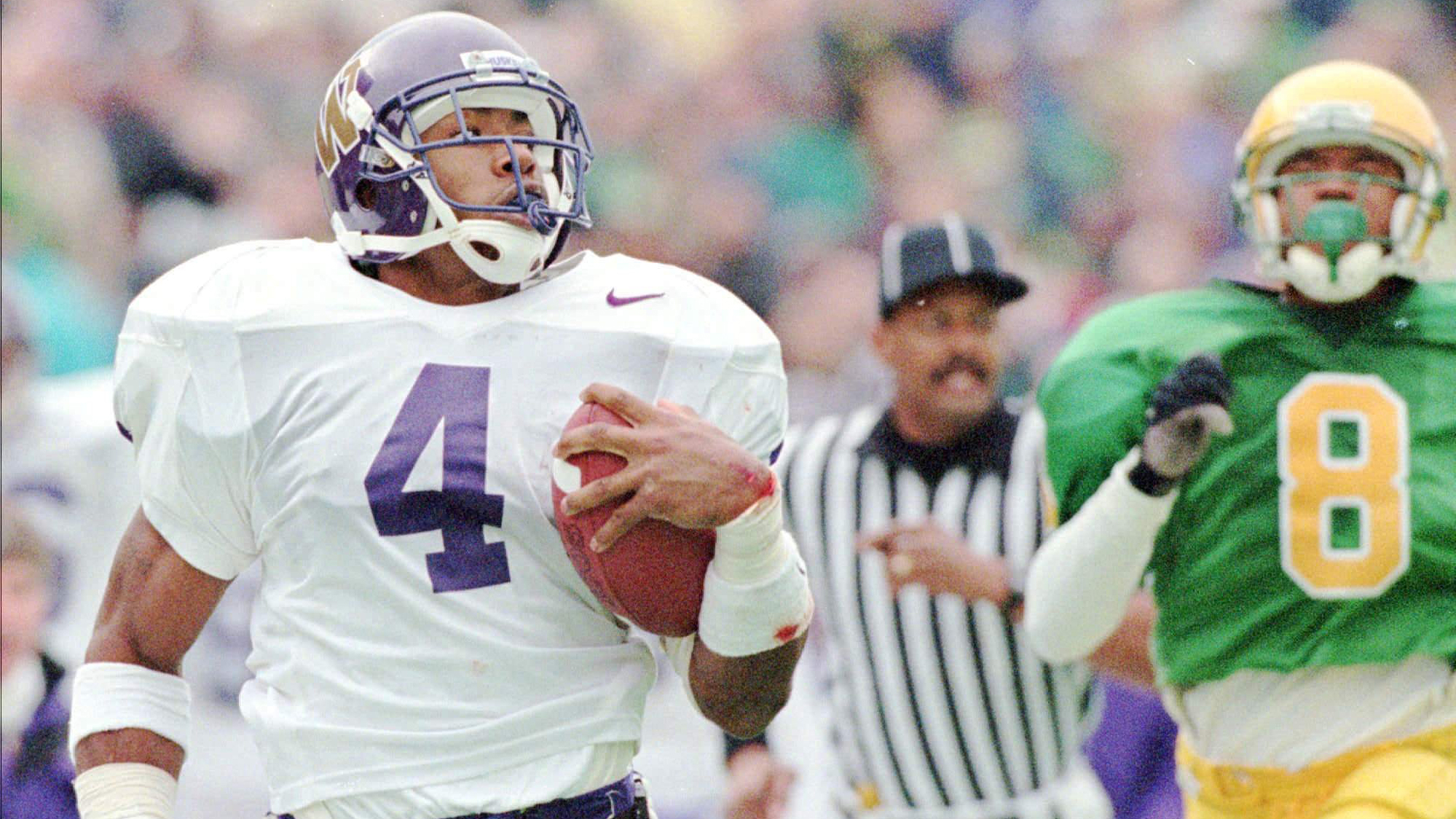 1996 | Corey Dillon runs wild in UW's romp
(23) Washington 33, Oregon 14
Corey Dillon runs for 259 yards — then the second-most in a single game for UW — and three TDs as the No. 23 Huskies roll on Oct. 26, 1996. "It's just a matter of taking care of business," Dillon says. "It's fun winning, but it's like another day at the office. I just think I should get my work done early." Brock Huard adds a second-half touchdown pass to Cam Cleeland, and nose tackle Mac Tuiaea has his first career interception.
Photo by Jack Smith / AP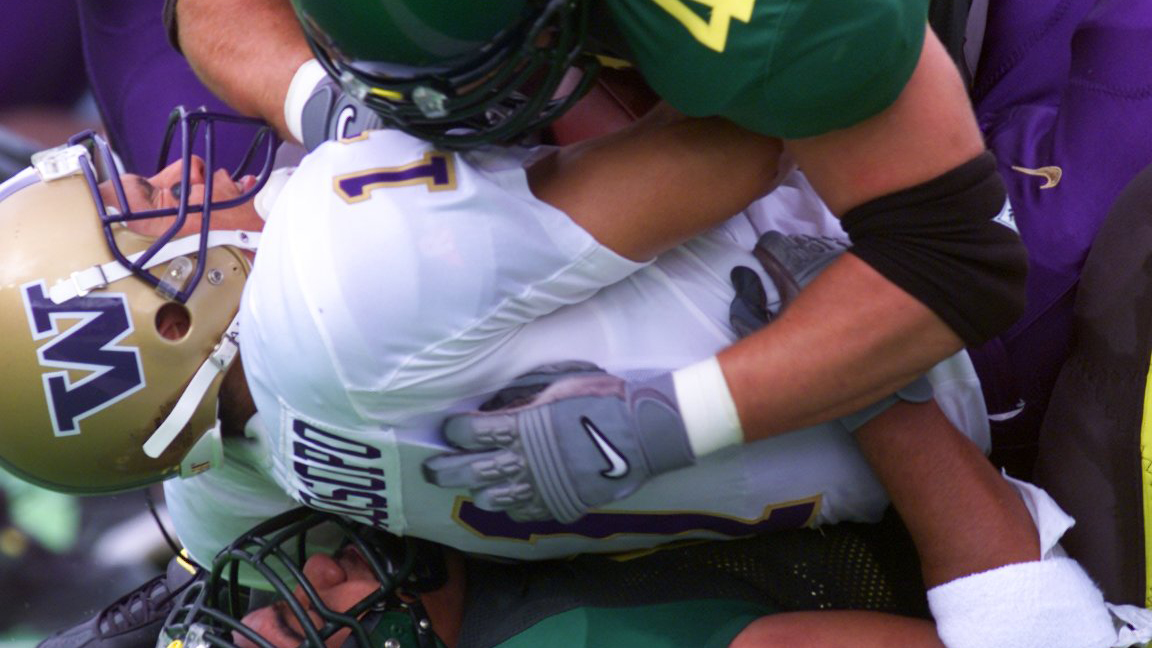 2000 | Ducks hand Rose Bowl-bound Huskies their only loss
(20) Oregon 23, (6) Washington 16
The Ducks knock off the No. 6 Huskies, handing Marques Tuiasosopo and UW's Rose Bowl team its only loss of the season before one of the loudest crowds ever at Autzen Stadium on Sept. 30, 2000. "I never heard a snap count all day," UW tight end Jerramy Stevens says. Future Seahawks running back Maurice Morris runs for 152 yards, the most by a UO back against the Huskies since 1971. "They probably watched last year's game films and thought they could come out and toss us around," says Jason Nikolao, the Oregon defensive end from Tacoma. "Well, surprise, surprise. We were the ones hammering into them."
Photo by Mark Harrison / The Seattle Times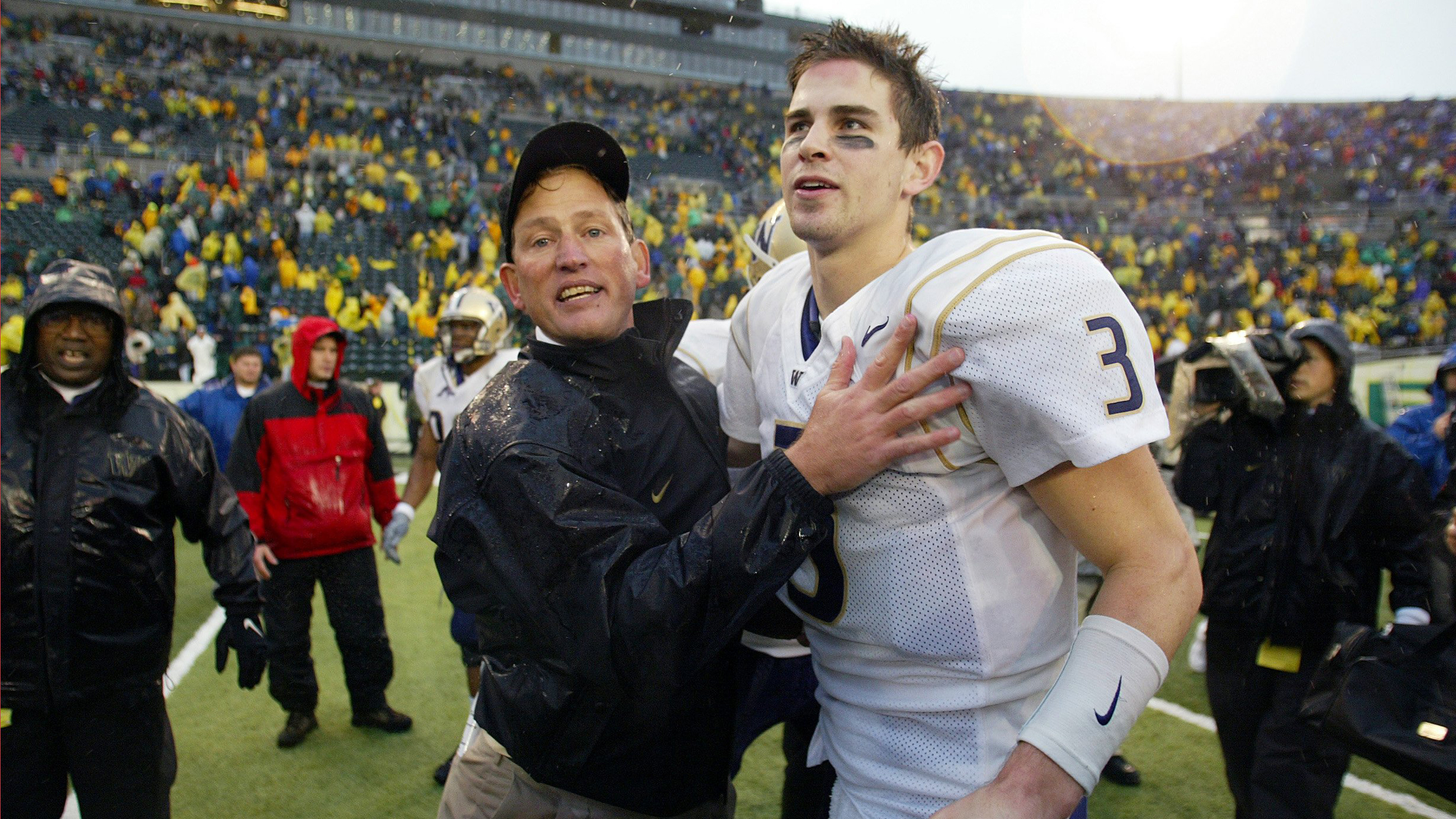 2002 | Huskies rout Ducks, then dance on Oregon's midfield 'O'
Washington 42, (23) Oregon 14
On Nov. 16, 2002, Rick Neuheisel's Huskies score the game's final 42 points and, in quiet contrast to the 2000 game, Ducks fans bolt for the exits early. "There was no noise, no fans, and everyone was leaving," UW receiver Reggie Williams says. Afterward, UW players come back from the visiting locker room and celebrate by dancing and stomping on the midfield "O" for 20 minutes.
Photo by Dean Rutz / The Seattle Times