Return rewind: A look back at Dante Pettis' record-breaking career
Rewind it back and start from the beginning.
Before the end zone celebration, the spellbinding run through a maze of defenders begins with a scan of the field and the catching of a looping punt in front of impending danger. The secret to retuning a punt for a touchdown is simple in its concept and yet amazingly difficult to establish.
Trust.
"You got to have it," said Washington senior receiver Dante Pettis. "It starts with trust. Without that, none of the other things are possible.
"It's trust in the coaching. Trust in your preparation. Trust in the call and ultimately trust in the blocking. You can't be back there thinking you're going to do something all by yourself. You have to know that your guys are going to do what they have to do and just go from there."
He returned punts for touchdowns in each of the Huskies' first two games this season to tie and break DeSean Jackson's Pac-12 record. Then he took one 77 yards to the house in their third game against Fresno State to tie the NCAA mark. It took him nearly two months to get another. but when he did, it was a big one, setting the all-time NCAA mark at home against Oregon. He passed Oklahoma's Antonio Perkins (2001-04) and Texas Tech's Wes Welker (2000-03) for the record. Here's a look at Pettis' dazzling punt returns during a record-breaking career at UW.
Scroll to continue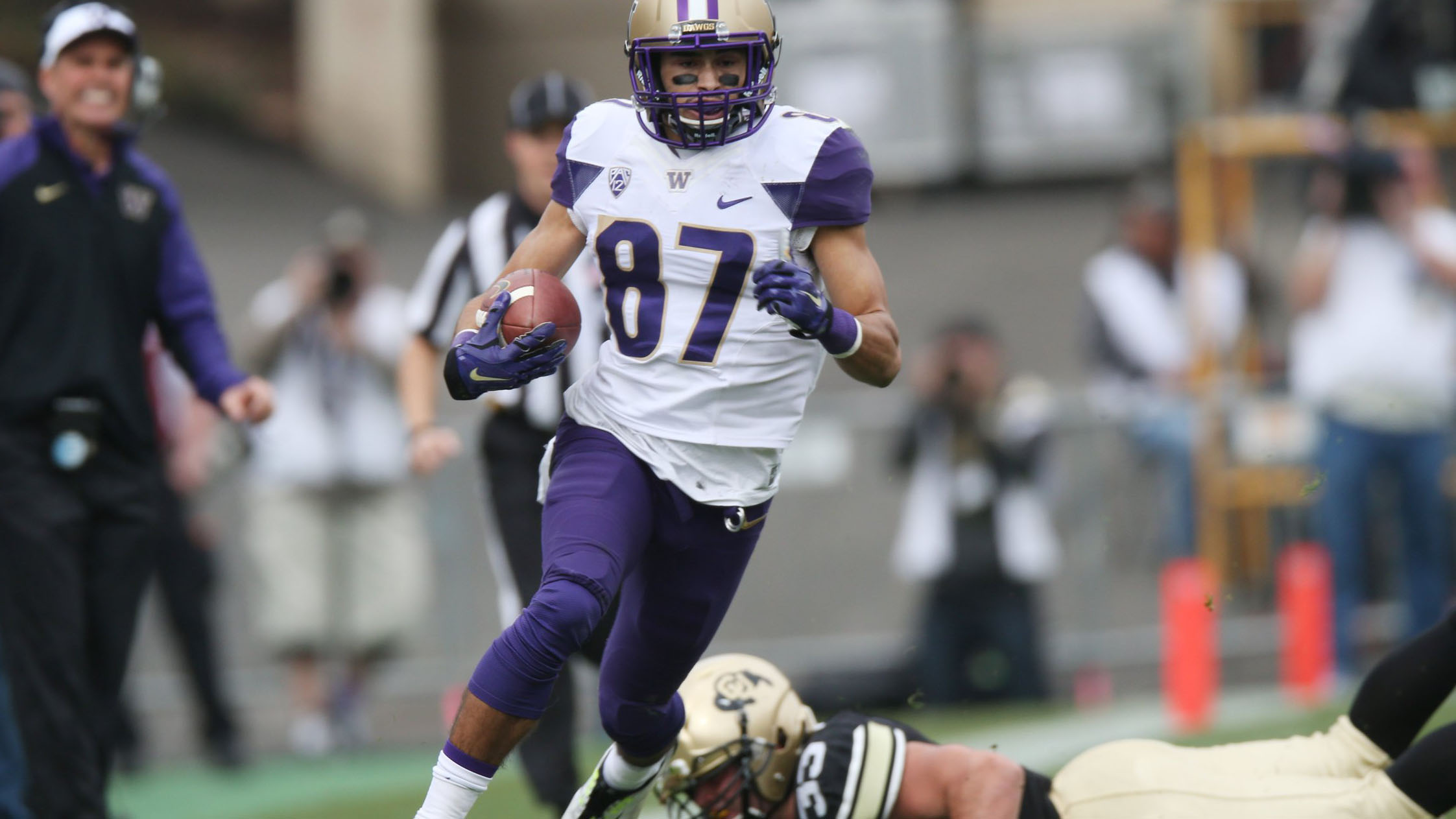 Nov. 1, 2014: Perfect call at the perfect time
THE PLAY
UW led Colorado 31-23 when Pettis, then a sophomore who wore No. 87, put the game out of reach with his first punt return for a touchdown that capped the scoring in a tight contest. In hindsight, it was a relatively unspectacular return. Buffaloes punter Darragh O'Neill booted it 47 yards and Pettis cut sharply to his right to elude a tackler. He evaded O'Neill with another move before outracing two diving defenders and scampering untouched to the end zone.
IN HIS WORDS
"We had a right return called. It was block left and return right. Our guys rushed from the left side and came around and set up a little wall on the right. Basically, Colorado kicked it deep to my left and all of their coverage team sucked into – they were like all inside between the hash and the left sideline. So when I got the ball, all I had to do was run around and there was five of my guys around there to set up the block. It was the perfect call at the perfect time."
WATCH
Photo by David Zalubowski / AP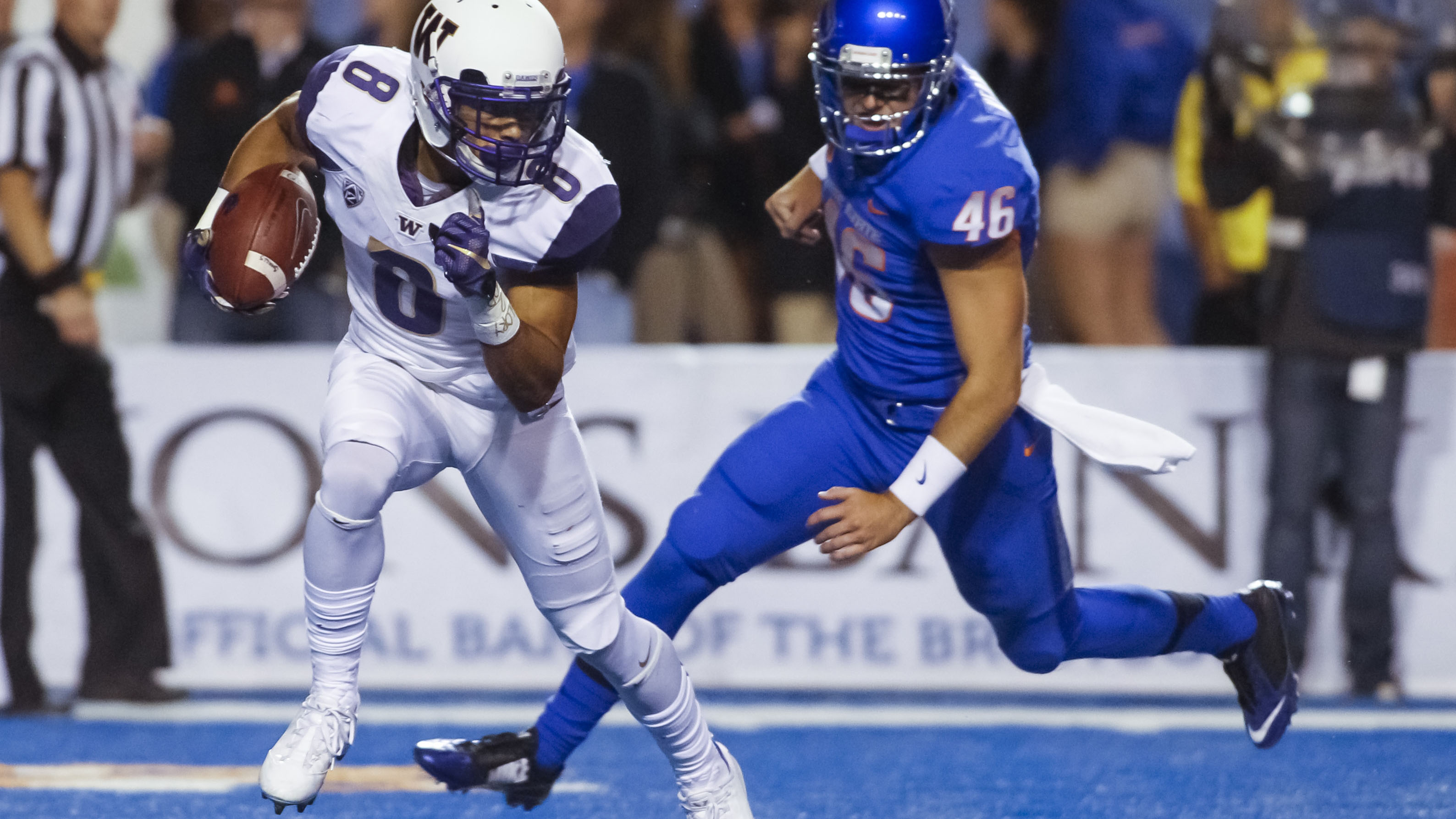 Sept. 4 2015: Off to the races
THE PLAY
Trailing 16-3 late in the third quarter, Pettis fielded a 48-yard punt from Boise State punter Sean Wale at the 24-yard line. Pettis immediately retreated and broke to his right to escape two defenders. He picked up two crushing blocks as UW built a wall near its sideline. Pettis jumped through a diving tackle from Wale and collected one more block at the end for the score.
IN HIS WORDS
"That was pretty much the exact same thing as the Colorado one. It was the perfect call at the perfect time. The same thing, I think they had one guy outside of the hash. Everybody except for one guy was between the hash and the sideline on the left side. We had the picket set up on the right side. I caught the ball and had to run backwards a little bit to get around the first two guys and then after that I saw three of my blockers. It was really just off to the races after that."
Photo by Otto Kitsinger / AP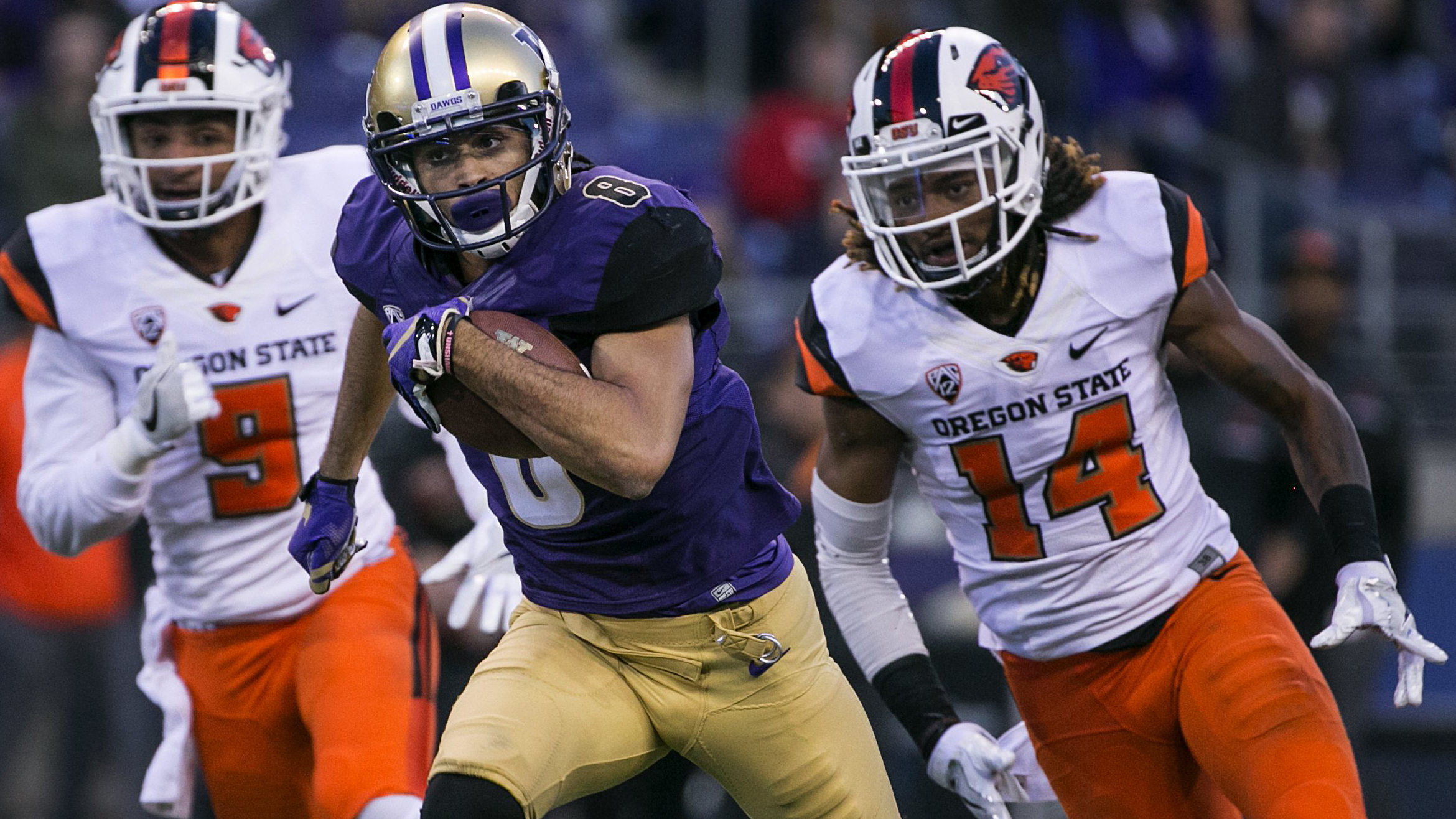 Nov. 21, 2015: "I was untouched"
THE PLAY
Pettis' longest punt return in his career added to a deluge of points in a one-sided matchup against the Beavers. His touchdown pushed UW's lead to 21-0, eventually growing to a 52-7 final. It was the fourth-longest punt return for a TD in Huskies history.
IN HIS WORDS
"It was a middle return. The guy kicked it pretty far and I caught the ball at our (11)-yard line. I really just ran straight up the middle. I think I was untouched. Our guys just cleared out the middle of the field. I broke off to the right a little bit. There were two defenders there so I cut back to the left on the punter and just outran everybody else."
Photo by Mason Kelley / UW Athletics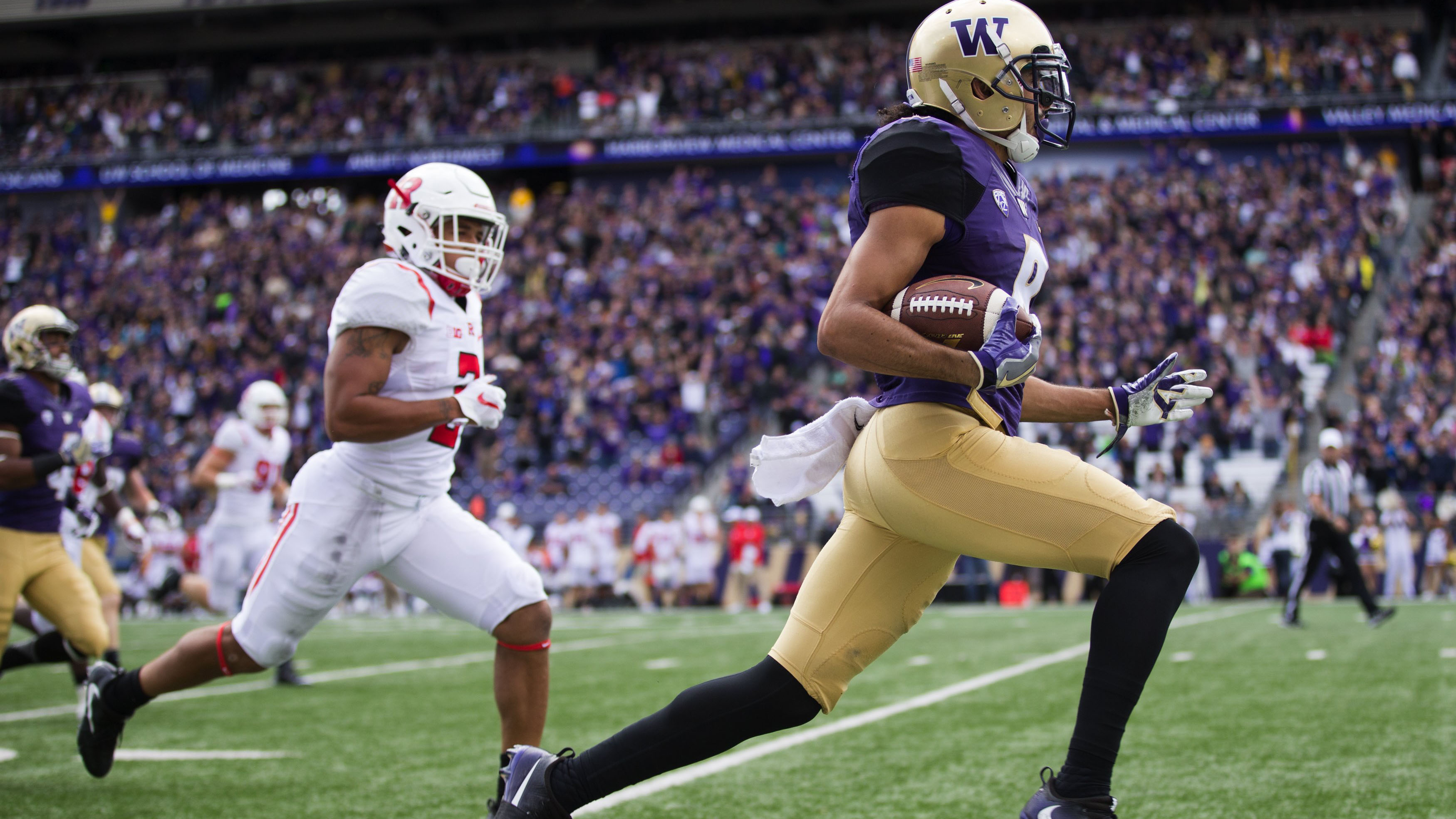 Sept. 3, 2016: Breaking tackles
THE PLAY
The Huskies forced eight punts and late in the third quarter, Pettis made Rutgers pay. Punter Michael Cintron booted it 68 yards to the UW 32. Pettis darted slightly to his left and escaped a tackle in traffic before finding a hole to his right and bursting free of the pack. He squared up Cintron and cut to his right before racing down the Husky sideline for a score that put the Huskies ahead 41-3. The game also included a 92-yard kickoff return from John Ross III.
IN HIS WORDS
"I'm pretty sure that was the first one I had to break a tackle on. All of the other ones I think I was untouched. It's funny because when I broke that tackle, the guy swung me around right to the perfect angle where I could run straight out of it and find the end zone. If that guy didn't hit me and swing me around, I probably would have gotten tackled. But somehow and I've never broken a tackle like that before. It was weird."
WATCH
Photo by Johnny Andrews / The Seattle Times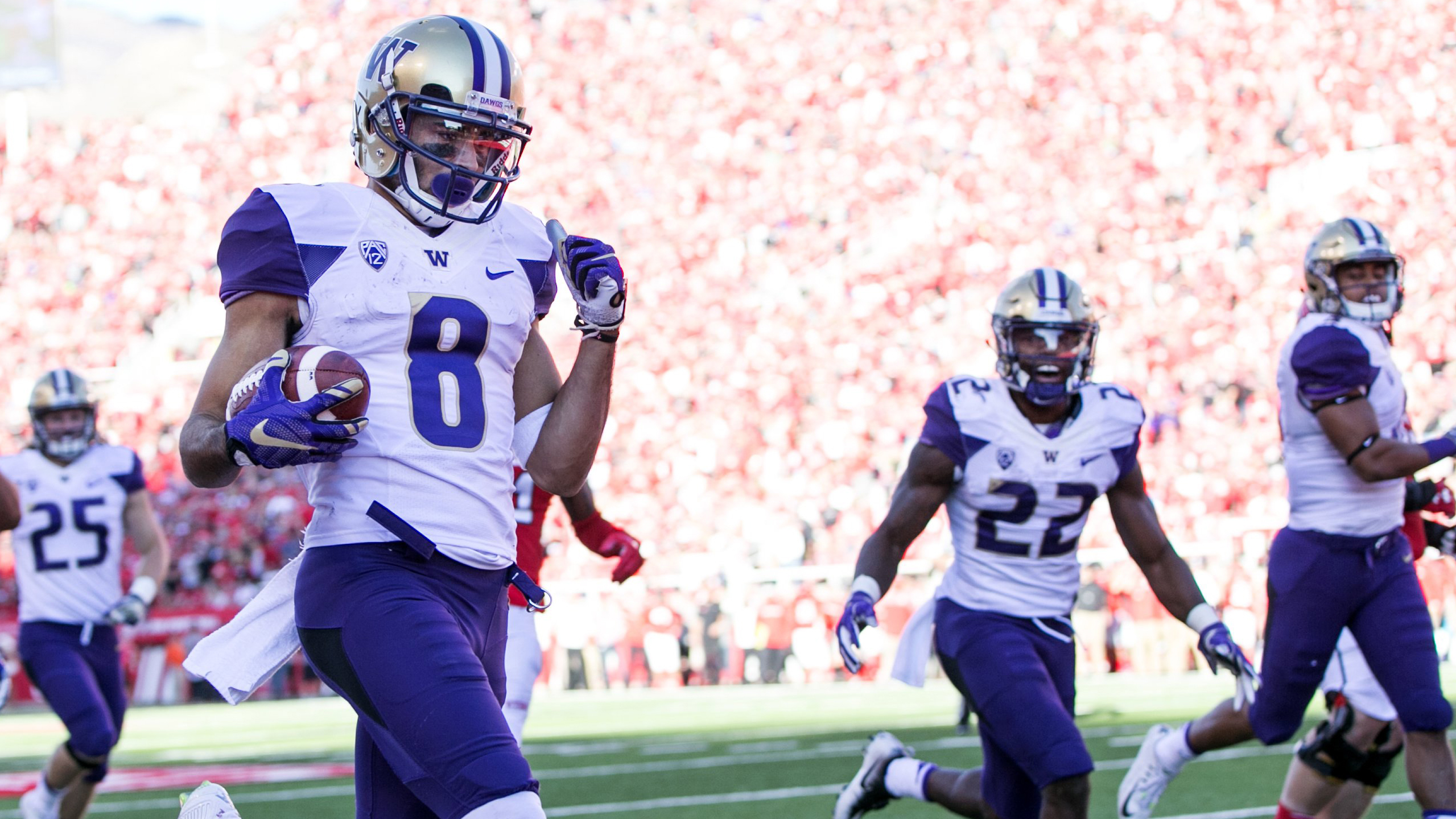 Oct. 29, 2016: The game-winner
THE PLAY
Perhaps the most important return in Pettis' career. Utah tied the game at 24-24 early in the fourth and facing a fourth and 8 at the Utah 41, coach Chris Petersen had quarterback Jake Browning pooch punt. The Huskies pinned Utah at the 1 and forced a three and out. Punter Mitch Wishnowsky, who led the NCAA with a 48.6 punt return average and 45.2 net punting, outkicked the coverage when Pettis caught his 55-yard punt at the UW 42. Pettis cut right to elude a tackle. Two more Utah defenders missed and Pettis was helped by two blocks before escaping one more defender near the sideline. With three UW players ahead, Pettis strolled into the end zone for a game-winning score that gave him the UW lead in career punt return TDs ahead of Beno Bryant.
IN HIS WORDS
"That whole game I remember we were getting a little frustrated because we weren't doing what we wanted to do on offense. As a receiver that's extremely annoying. … And I couldn't do anything in the punt return game because the punter was kicking it 70 yards and we weren't ready for that. When he was backed up I was like, I might have a chance here. He has to get the ball out quick. Everybody has to stay in and protect a little bit. I might have a chance. He kicked it and I knew I would have a little bit of room. The guys were coming down kind of fast, but I didn't want to fair catch it because I was like I'm going to try to make a play here. I caught it and ran backwards a little. Slipped between two guys. Broke a few tackles. I got some really good blocks along the way that a lot of people were complaining about. They were like it's a clip. I don't know. I say there's a penalty on every single football play. … I stayed in bounds. Ever since I was younger that's just something that I've loved to do. Just messing around I would act like I was tip toeing down the sideline so I'm happy to know that paid off."
WATCH
Photo by Johnny Andrews / The Seattle Times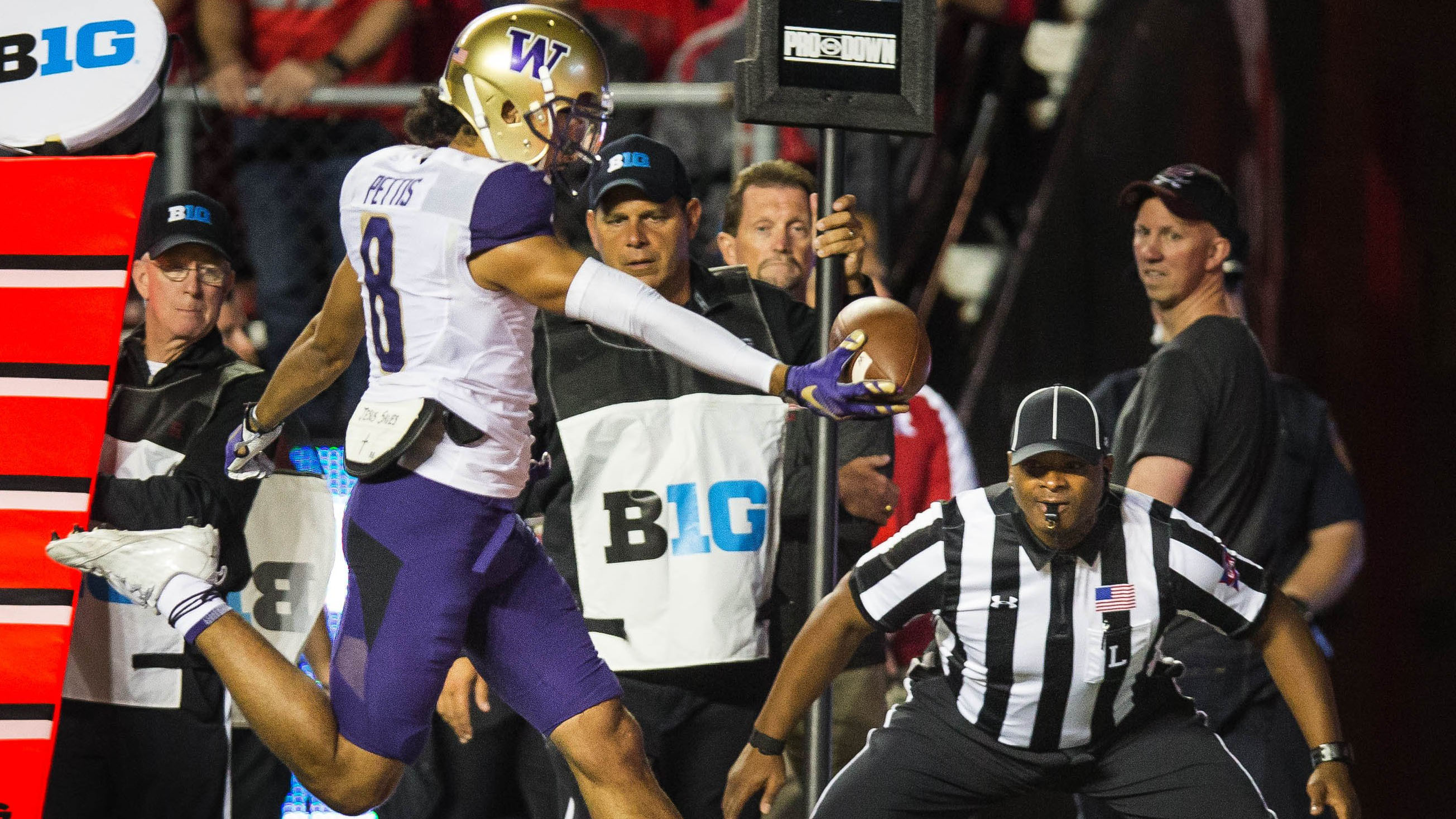 Sept. 1, 2017: Vertical and gone
THE PLAY
Pettis started the season with a bang when he burned Rutgers for the second time on a punt return touchdown. Late in the second quarter, the Huskies pinned the Scarlett Knights and Ryan Anderson had to punt inside the end zone. Pettis backpedaled and dropped the punt after it hit his chest. Fortunately, the ball bounced perfectly off the turf and he grabbed it before darting straight up field through a pack of would-be tacklers. Pettis cut to his left and collected a block from Myles Bryant who cleared the way to the historic return, which tied the Pac-12 record for the most touchdown returns in a career.
IN HIS WORDS
"I really like this one because I hit vertical quick. Didn't make any moves or anything. My favorite part about this one is Myles getting that block at the end. A lot of times there's not someone back there to block the punter. If he's not there, I probably don't score. But he did what he was supposed to do. He did exactly enough where he got in front of him and slowed him down."
WATCH
Photo by Dean Rutz / The Seattle Times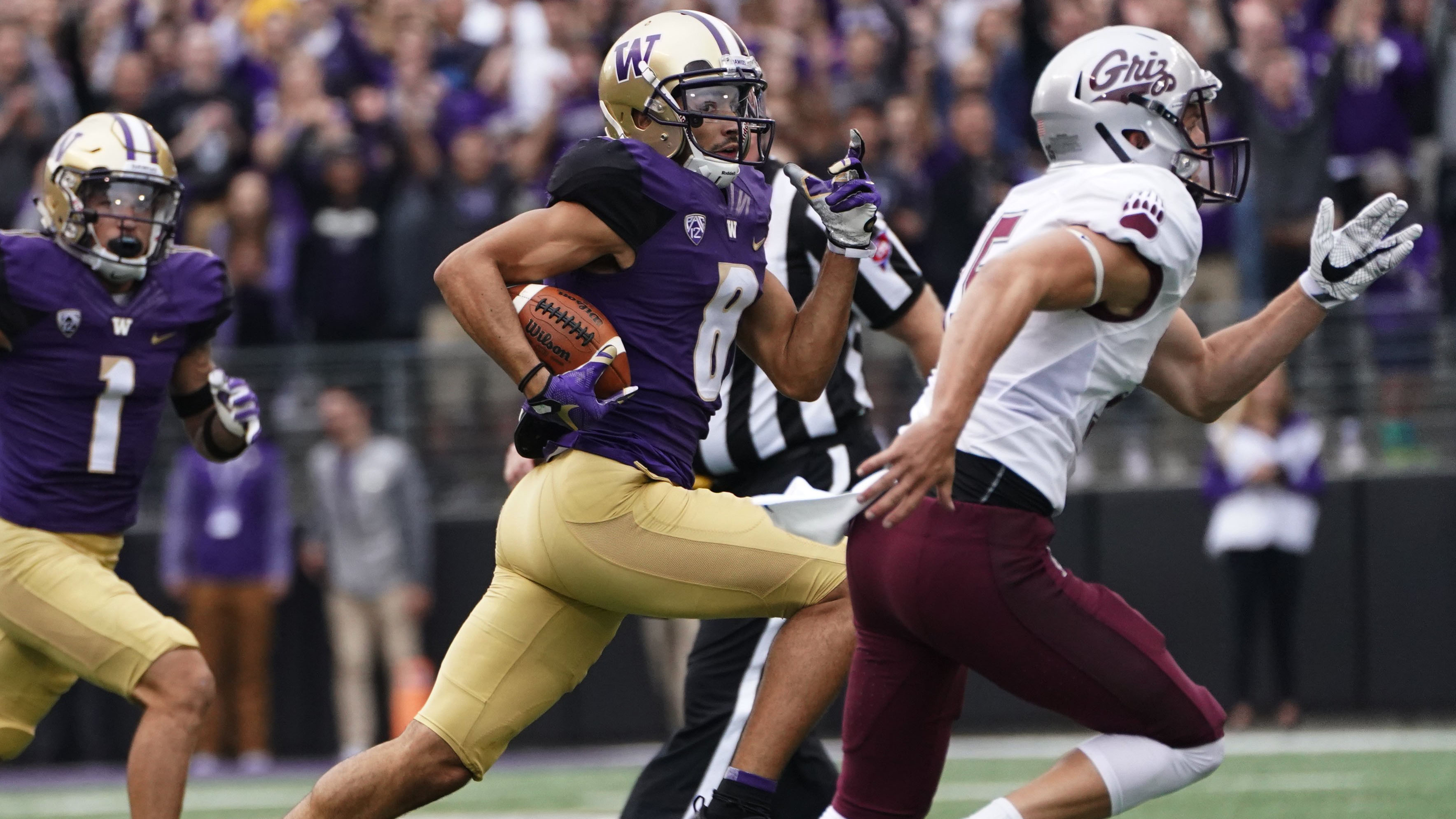 Sept. 9, 2017: The record breaker
THE PLAY
Move over, DeSean Jackson. Pettis became the Pac-12's all-time punt return for touchdown leader when he logged his seventh score last week. Montana's Eric Williams punted seven times, but only sent one in the direction of Pettis. Late in the first quarter he caught the 44-yard punt at the UW 33 and took off to the right before pivoting sharply to the left and cutting across the field. Williams forced Pettis to slow down and dove for a tackle, which Pettis avoided with a side skip. He dashed down the Montana sideline and needed to slip past linebacker Dante Olson for the touchdown.
IN HIS WORDS
"It was hanging up there for awhile. I was about to call fair catch, but I was like nah I'm going to stick this one out. I ran around the right side. I wasn't sure I could keep going there (because) there were a few guys there. I decided to cut back because I saw the opening. The punter had a good angle and was really fast. So I was going to try to cut back again, but I looked back and there was a guy chasing me so I was like can't cut back. I didn't know what I was about to do with the punter. I was going to stiff-arm him or something. And then he dove and I just stepped back and got two more blocks and that was that."
WATCH
Photo by Steve Ringman / The Seattle Times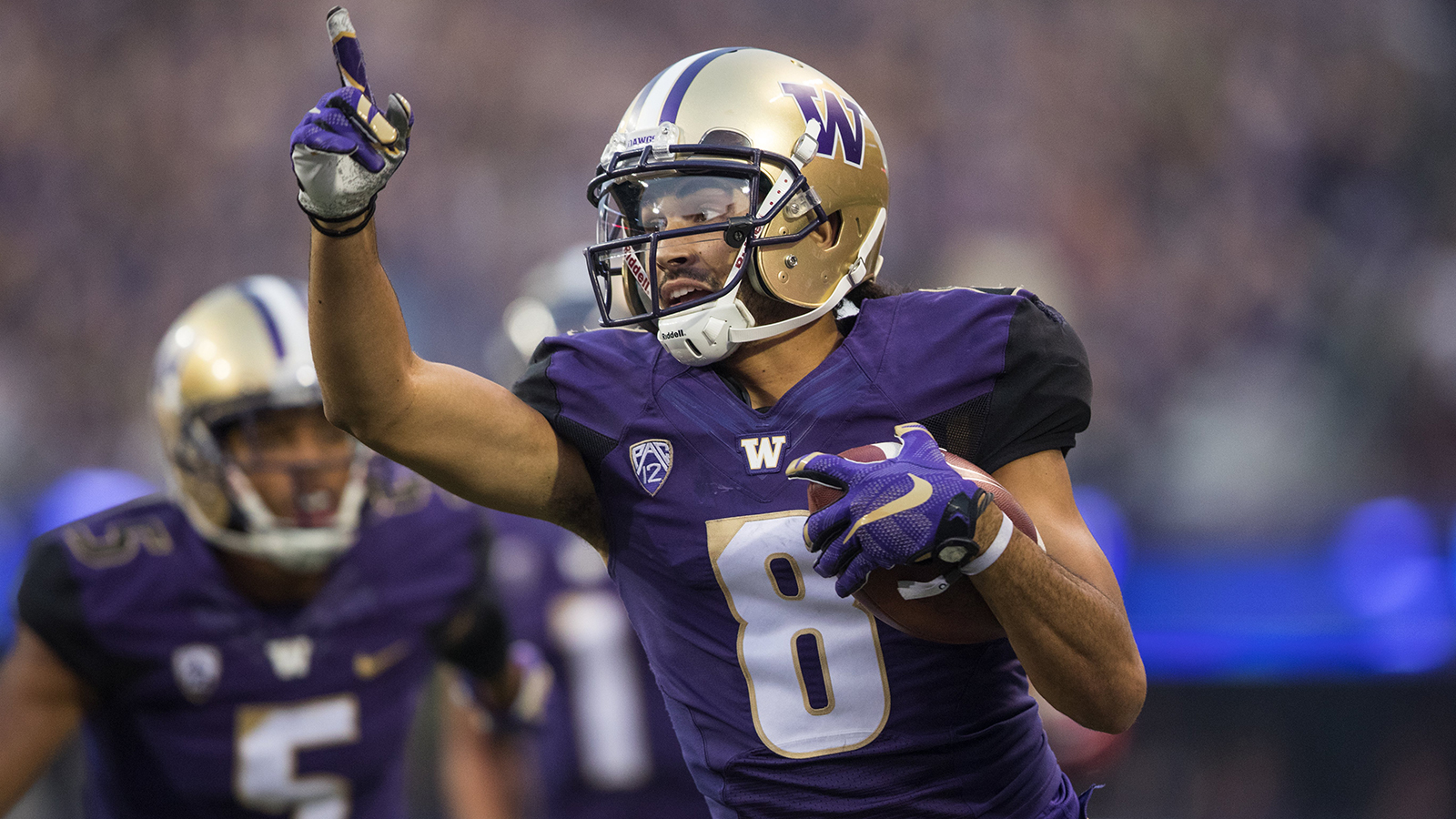 Sept. 16, 2017: When will they learn?
THE PLAY
When will teams learn to not punt to this guy? Pettis tied the NCAA record for punt return touchdowns in the first chance he got since breaking the Pac-12 record. And he did it in style. Pettis split three defenders, cut across the field and made at least seven Bulldog defenders miss tackles as he strolled into the end zone.
IN HIS WORDS
"To be honest I don't remember the first part of it. I saw on the big screen I went to the left. I don't remember why I went that way. I remember I almost ran into Byron [Murphy]. Byron was trying to get a block for me and I was like I don't want to redirect where I'm going, so I just ran in front of Byron."
WATCH
Photo by Mike Siegel / The Seattle Times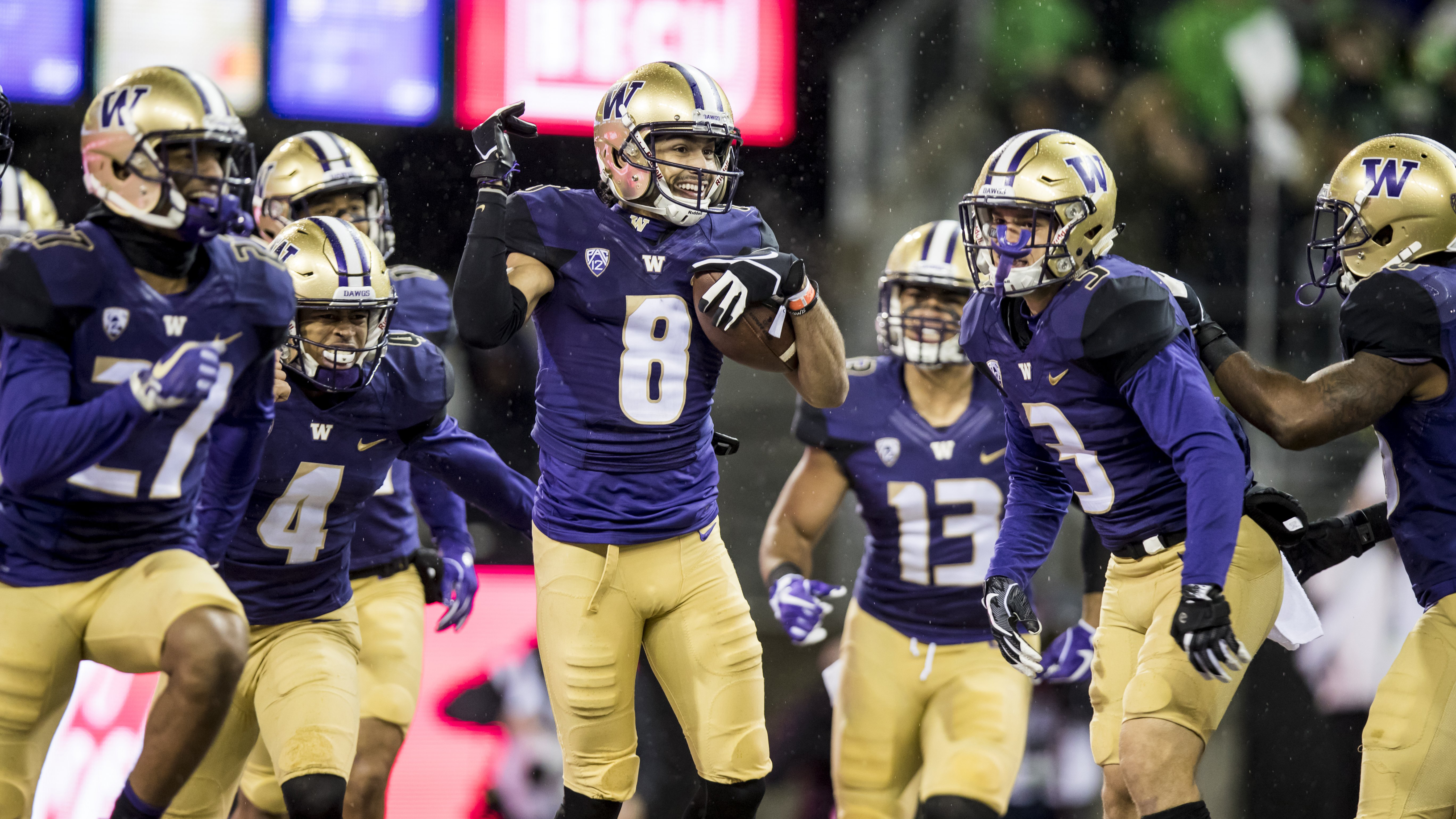 Nov. 4, 2017: He's done it!
THE PLAY
We hope you didn't forget about him. Pettis went nearly two months between tying the NCAA record and breaking it — but it couldn't have come in a better setting. Pettis weaved 64 yards through the Oregon punting unit to give the Huskies a first-half lead over their archrival. It would prove to be the spark in a second-straight stomping of the Ducks.
IN HIS WORDS
"Getting the record was pretty cool. I owe a lot to the guys blocking for me because they're the ones who really make the big returns happen."
WATCH
Photo by Bettina Hansen / The Seattle Times