As Emily Carlson frantically tried to outrun the rushing and rising brown water, the operator-in-training at the West Point wastewater-treatment plant fell waist deep into a tank. Injured, in pain and frightened, she struggled to stand. Then she went into shock. It was shortly after 2:30 a.m.
Not long before, lights had flickered in the plant. Several alarms alerted supervisor Charles Wenig that four critical pumps that push treated wastewater out of the plant had choked. Maximum flows were surging in from all over Seattle and beyond, after days of steady but not record-breaking rain.
Precious minutes ticked by as wastewater poured in, and two men on Wenig's crew kept working to restart the pumps.
They were counting on equipment and systems elsewhere to protect the plant from a flood on a wet-weather night. But for more than a half-hour, at least 15 million gallons of untreated wastewater — including raw sewage — swamped the plant, pouring down stairs, smashing doors, flooding tunnels and hallways, and drowning millions of dollars of equipment as employees fled.
The Seattle Times, through interviews and reviewing more than 7,000 documents, found errors in judgment, poor communication, a lack of training, equipment failures and faulty maintenance led to the disastrous flood at West Point on Feb. 9.
It is one of biggest infrastructure catastrophes in regional history, and it was sheer luck that no one was seriously injured or killed, wastewater managers say.
The region's largest wastewater-treatment plant was gravely damaged. By Thursday, mechanical systems were repaired. But restoration of full water treatment to meet state standards is still weeks away.
King County has dumped an estimated 235 million gallons of untreated wastewater — including 30 million gallons of raw sewage and hundreds of tons of partially treated solids — into Puget Sound. The long-term effects of the environmental insult remain unknown, but are a setback for employees and managers at a plant dedicated for more than 50 years to protecting Puget Sound.
The Sound is home to endangered orca whales and threatened salmon runs, including coho that die before they can spawn in some urban creeks because of pollution. More pollutants from inadequately treated wastewater surging from the damaged plant since early February add to their burden, and violate environmental standards intended to protect fish, wildlife and people that need clean water.
The financial cost to King County ratepayers — already paying among the highest sewer rates in the country — is unknown.
King County has estimated the damage at more than $25 million. It asked for $10 million from its insurer, which has paid $5 million so far, saying it had not yet seen an adequate case made to open the wallet wider. It remains to be seen how much the insurer ultimately will cover.
While the flood was an unprecedented disaster in West Point's history, it wasn't the first trouble at the plant, which has seen flooding, near-misses and millions of gallons of raw wastewater dumped into Puget Sound in 2000, 2006 and 2009.
Workers struggled for years with the same device that clogged, stuck, jammed and failed, causing spills and floods that proved a preview for Feb. 9. It was a disaster years in the making.
First, the lights flickered
A steady, light rain fell and layers of thick, gray clouds hung low over the plant on the edge of Seattle's Discovery Park the evening of Feb. 8.
At 5:45 p.m., the day crew handed off notes and checklists to the night crew and chatted casually before leaving.
While the amount of flow running through the plant was high, some 300 million gallons per day and more, it wasn't unusual during the rainy season.
In the main control room, Wenig monitored the dozens of displays and screens that measured and controlled a combination of raw sewage and stormwater flowing in from Seattle and surrounding neighborhoods.
A total of nine people worked that night: Wenig, seven other employees with experience ranging from 32 to three years, plus one operator-in-training.
During high tides, such as on that night, the plant relies on four pumps to force the treated wastewater through a pipe to discharge it 3,600 feet offshore into Puget Sound.
At 2:12 a.m., several alarms warned Wenig that a final stage of the treatment process had broken down, just as flows into the plant were surging to maximum capacity.
A breaker tripped and two of four pumps stopped. Two minutes later, the other two failed, due to heavy vibration, a long-standing problem. To protect the equipment, pumps are set to automatically shut when vibrations are too high.
On the radio, Wenig told operators Joe Rheaume and Eric Hart to restart the pumps — which had been done in the past.
Crucial minutes ticked by as the two men struggled to get pumps 3 and 4 back online — as water levels rose in the primary tanks in another area of the plant.
But every time they were restarted, the pumps would fail. Rheaume went into an electrical room to reset equipment, but "the whole room was dark, no lights, it was dead."
In main control, operator Dan Edenshaw telephoned an electrician and others on call for emergencies, but no one immediately answered. In a statement after the disaster, he wrote: "Calling standby folks a couple of times at 2:00 a.m. and don't get anyone. That is ridiculous."
Wenig instructed the operators to keep trying to restart the pumps.
All the while, Wenig could hear and see alerts. "Alarms within … a matter of minutes, tons of them," he said.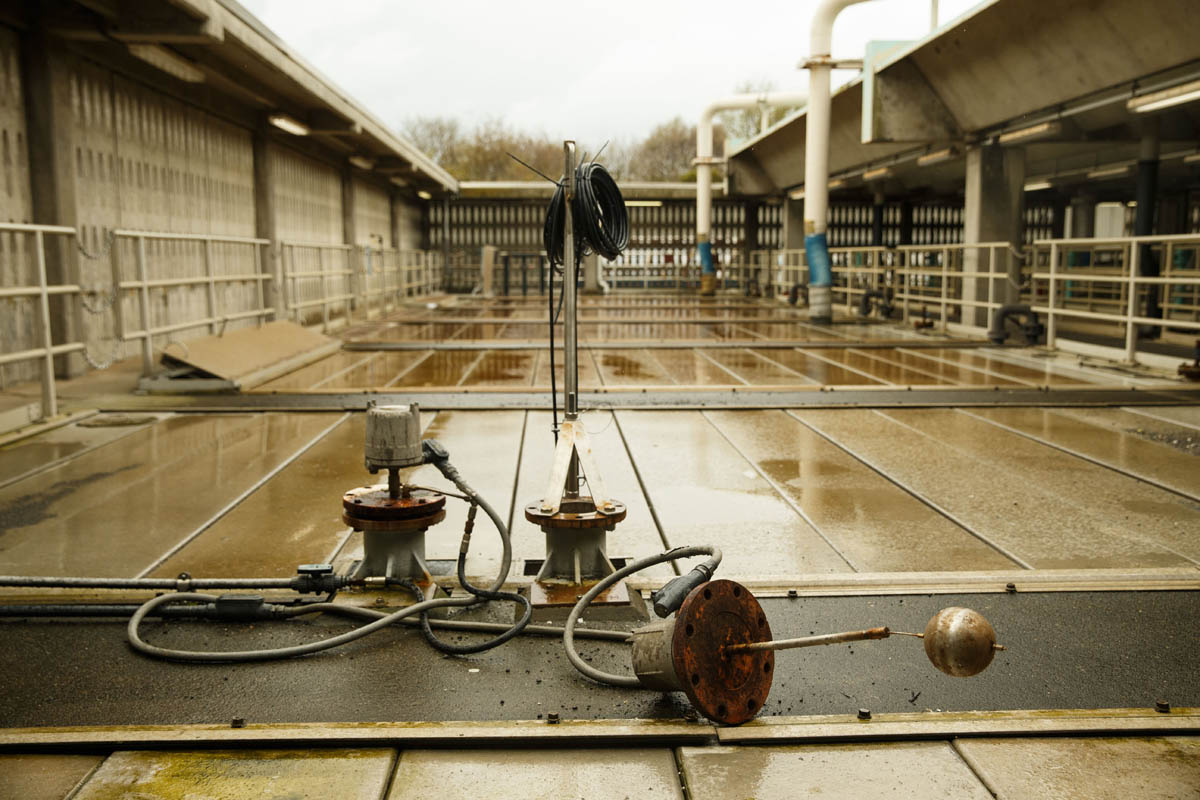 Erika Schultz / The Seattle Times
Key device, chronic problems
At the center of the disaster is a simple but important device: a float switch that signals water levels in the plant to operators. It's just a ball on a rod that is supposed to move freely in a housing as water levels change, activating a high — and high-high — water-level alarm.
The float switches also can shut down the raw-sewage pumps to stop flow into the plant if needed, and can trigger an automatic bypass to the emergency outfall.
It's a crucial device, intended to protect the plant from flooding. But the switches have long bedeviled plant operators.
Float switch malfunction
Shown here are two switches: one functioning properly on the left, and a damaged switch on the right. The malfunctioning switch has a bent rod that jams up, preventing it from rising with the level of water in the tank. As a result, it never signals a high water level, or triggers an alarm, or stops the flow of wastewater into the plant even as the tank passes the danger point and starts to overflow.
Emily M. Eng and Thomas Wilburn / The Seattle Times
Plant records and consultant reports show the float switches have malfunctioned multiple times at West Point. On Jan. 4, 2000, a float switch clogged with debris, causing a false high reading that delayed the restart of the plant after high vibration had shut down an effluent pump. Twenty million gallons of untreated wastewater was sent out the emergency outfall pipe just 490 feet from the beach at Discovery Park.
Dick Finger, the wastewater west division manager in charge of the plant at that time, said, "They are covered, and in this wet greasy environment they got corroded … They'd been sitting, waiting for something to happen for a couple years."
Later an employee straightened the bent rod and put it back in place.
A consultant in 2004 recommended regular mechanical testing to ensure the devices were working. But after the first mechanical test caused minor flooding and other problems, county employees from then on did only electrical testing. The consultant also underscored the importance of regular cleaning — and recommended replacement of the float switches with a different device that was less problematic.
The cleaning happened. Replacement of the inexpensive switches or changing to a different device did not.
Float switches weren't working again in August 2008 when an employee raised concerns, stating the equipment was critical to the safety of the plant.
"With those floats being that way it is questionable that they would work correctly in a plant emergency," that employee wrote on a work order.
Once again someone either straightened bent shafts or replaced a rod. Once again, a new float switch or a different device was never installed.
That meant on the morning of Feb. 9, Wenig relied on crucial equipment that in the past has failed.
As operators struggled with the pumps, the float switches jammed. The switches sent no alarm to alert the control room to the rising water in the primary tanks. They also didn't stop the raw-sewage pumps from bringing more and more wastewater into the plant.
By 2:21 a.m., two alarms triggered by a different device, called a bubbler, hit high-high on one of Wenig's displays, showing each of the two primary tanks was dangerously close to overflowing. But Wenig didn't see them.
"I did not notice any one specific alarm as the alarms only remained on the screen for a matter of seconds," he stated to his supervisor. About four minutes later, two more alarms showed the same tanks were past capacity.
At 2:25 a.m., millions of gallons of wastewater began flooding the plant.
More than 90 years of combined operating experience on the crew had been defeated by the failure of a mechanical switch costing only a couple hundred dollars and barely more complicated than what's inside a toilet tank.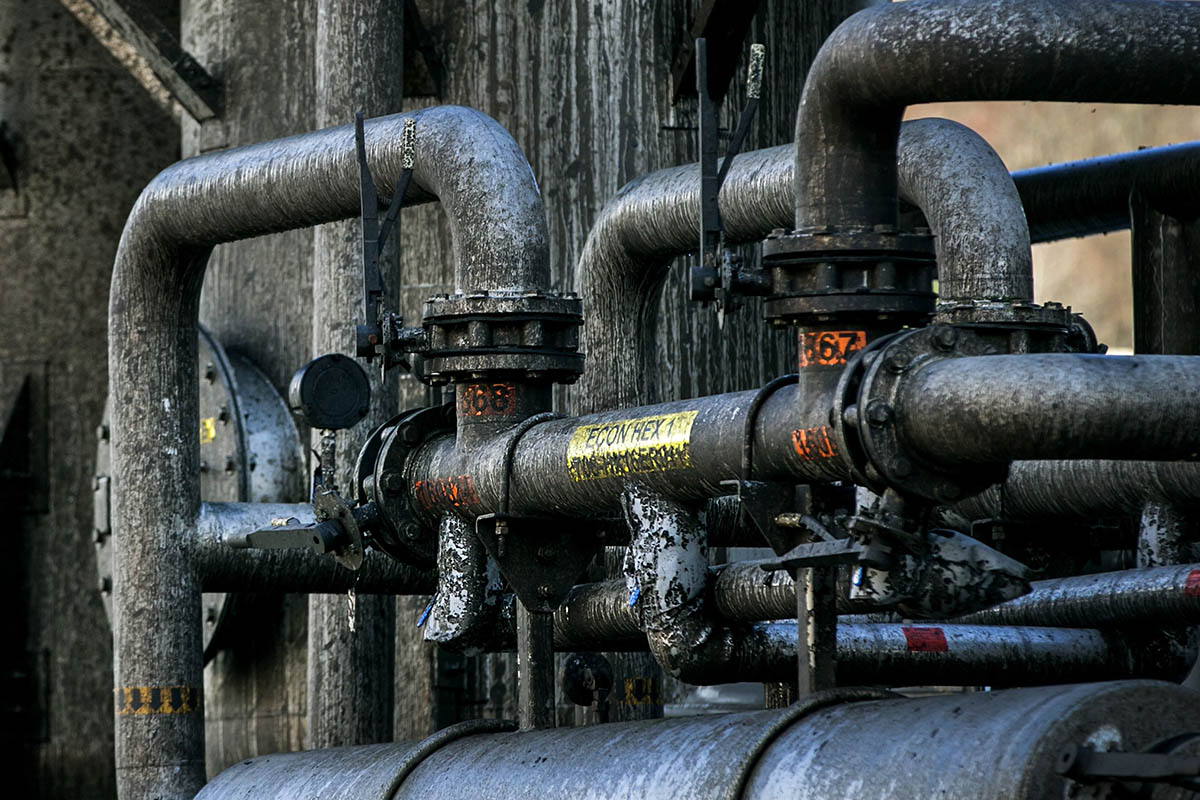 Johnny Andrews / The Seattle Times
"It's getting too high"
By the time the flood started, Perry Nazaretiz, who has worked at the plant for more than three decades, had seen the lights in the plant blink off and on. That, he knew from experience, meant he had better run to his station to prepare for the worst.
He said he wanted to start sump pumps to drain water from a basement area, but the water was rising too fast.
"Water is coming, it's getting too high, I think, 'I am going to bail on this,' " Nazaretiz told The Seattle Times. "Don't underestimate the power of water. If it is moving fast and you try to walk upstream you can't do it."
He escaped 30 inches of rushing water that quickly followed him up the stairs. He raced to the control room, where he was trained to go in an emergency.
Emily Carlson, who had been on the job one month and one day as an operator-in-training, said she didn't yet know the names of equipment around her nor the most dangerous areas of the treatment plant. But she trusted Tammera Stephens, training her that night, and tried to keep up.
But sometime after 2:25 a.m., heavy metal tank covers were floating with the force of the flood.
Stephens said, "Water is now coming out of every air space on the lifted covers. As soon as I saw that, I realize that where we were standing would be under several feet of water so I yelled, 'RUN' to Emily."
Stephens recalled, "When I got to the building door … I no longer hear splashing footprints from behind me."
Stephens turned to find Carlson drenched and on the floor, trying to stand.
Carlson later said she couldn't see underneath her feet because of the rushing brown water.
"I fell in part way (into a 16-foot-deep pre-aeration tank) bruising my left thigh and submerging to about my waist," she stated. "There is some significant pain and I will certainly have a large bruise."
Carlson felt a stabbing pain in her left thigh as she battled her way to safety in a control room in her area.
"I was hurt real bad," she stated. "I was in shock."
Stephens called Wenig on the radio telling him the tunnels were flooded. Water was cascading down stairs, filling rooms with water up to light fixtures.
"I saw water coming up and then boom," said senior operator David Nelson in a written statement after the event. "Water is everywhere! … It was coming in real fast … We were doing our best. Continuous efforts. Nobody sat idle."
Stephens and Nelson manually stopped the raw-sewage pumps to cut off the flow of wastewater to the plant, which triggered the bypass gate to automatically open, at 3:04 a.m. The flooding, underway for nearly 40 minutes, finally stopped. But it was far too late to save the plant.
"No one had told me the water was pouring out of the tanks," Wenig said. "I didn't know how bad the flooding was until operators starting showing up in main control."
A brief history of West Point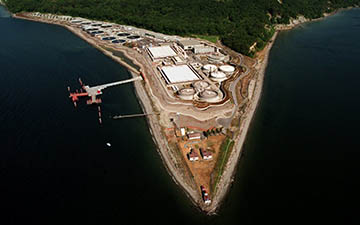 | | |
| --- | --- |
| 1950s | Untreated wastewater pours into Duwamish River, Lake Washington, city creeks and lakes. Beaches are fouled with waste and black bacterial slime. |
| July 21, 1965 | West Point Treatment Plant goes into service. |
| 1977 | Lake Washington cleaner than at any time in recorded history. |
| 1996 | Secondary treatment begins at West Point, to discharge cleaner water to Puget Sound. |
| 2000 | Float switches fail after fouling with debris. |
| 2004 | Consultant recommends mechanical testing of floats but it is not adopted. |
| 2008 | Float switches not working; staff concerned they would fail in an emergency. Repaired but not replaced. |
| Feb. 2017 | All eight float switches fail, causing catastrophic flood of plant. Review finds cleaning program bent the switches. Lack of mechanical testing allowed malfunction to go undetected. |
| April 2017 | Float switches replaced with a new device. |
| April 27, 2017 | Mechanical systems fully repaired. |
Earlier emergencies
A lack of communication also played a role during previous emergencies at the plant.
In 2006, after a power disruption caused multiple equipment failures, the float switches failed to transmit alarms to people in main control about the flood in the plant. That time, it was because the switches were mistakenly left in bypass mode for electrical testing.
Tunnels, several rooms and walkways flooded and the phone system fried. But crews opened the emergency bypass gate, averting more severe flooding. Fifty-nine million gallons of untreated wastewater spilled into Puget Sound.
Operators "failed to notify main control in timely manner," stated Jim Pitts, the manager of the plant at the time, in a report to the state Department of Ecology. "With less experienced staff, unfamiliarity to unusual plant conditions could have (affected) the decisions and actions made, and their timeliness."
Corrective action included additional training for operators and changes to the operating manual.
In 2009, a different malfunction swung the emergency bypass gate open. Instead of closing the gate, workers spent three hours troubleshooting the problem as almost 9 million gallons of untreated wastewater spewed into Puget Sound and forced the closure of nearby beaches for four days.
The Department of Ecology fined the county $24,000 for the blunder and King County Executive Dow Constantine called for the retraining of some plant employees, changes in standard operating procedures, and a "no excuses" policy for spills. One employee was fired.
This year, all of the employees who worked Feb. 9 completed written statements about what happened that night, with several stating additional training in emergency responses is still needed.
Constantine, who toured the plant 12 days after it flooded, told The Times that unlike the 2009 event, "I am confident people acted to the best of their ability under the circumstances and consistent with their training.
"They reasonably assumed the float switches in place for the circumstance would back them up and trigger a bypass as needed as they were going about the plant trying to get it up and functioning again. The fact those didn't work is what caused this."
The Metropolitan King County Council has commissioned an independent investigation of the disaster. The state Department of Ecology is determining if it will fine the county for dumping a total of 235 million gallons of untreated wastewater near one of Seattle's popular beaches during the flood and two other rainy days, and for violating its wastewater permit for months because the plant was so damaged.
The department will examine the nature and number of violations, and whether they could have been avoided.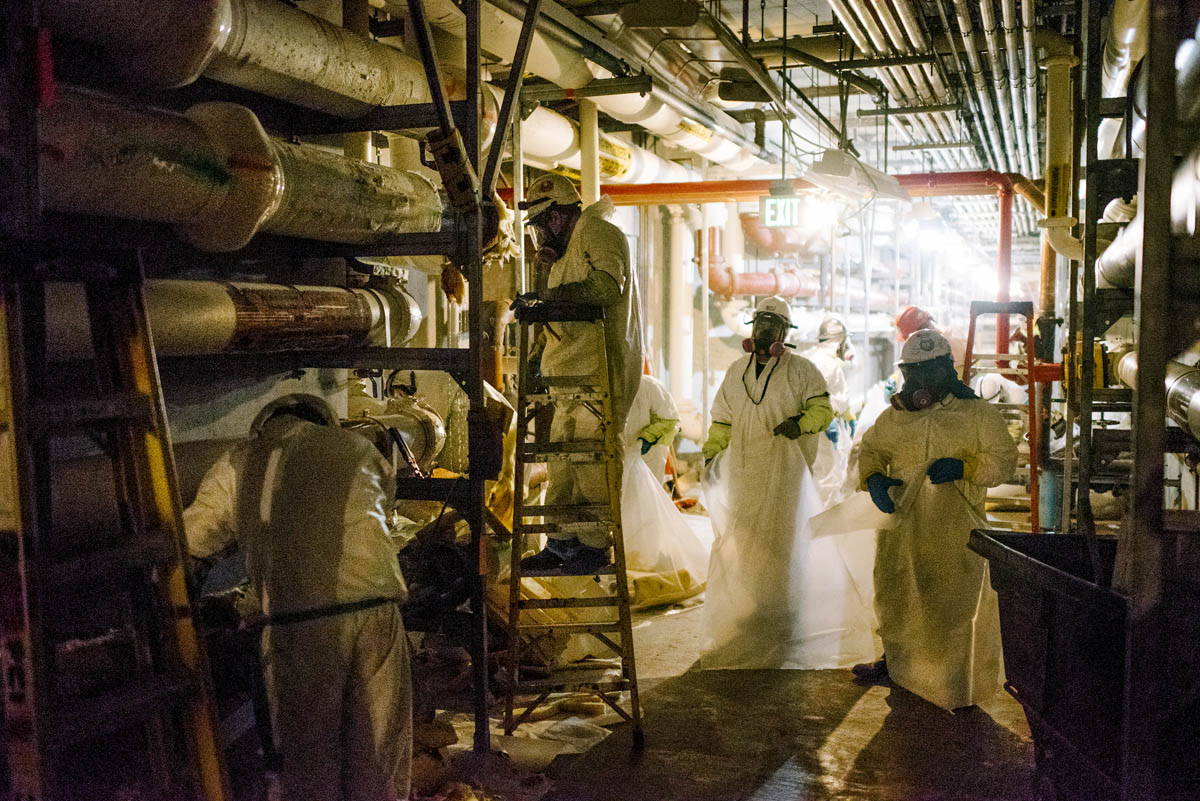 Paul Israel / King County Wastewater Treatment Division
A matter of priorities
The county wastewater-treatment division's internal investigation found cleaning and maintenance of the troubled float switches dating back to 2000 contributed to the catastrophe.
Laying the devices — installed in 1996 — down on concrete decking to hose them off caused the rods to bend under the weight of the suspended ball, the investigation found. "You could say they were maintained to a fault," David Kelly, a CH2M project manager leading the investigation, told the Regional Water Quality Committee during an April 5 public hearing.
Continuing investigations also will focus on why workers kept jamming obviously bent rods that operate the float switches back together, apparently never wondering if they would work properly.
The float switches have been replaced with a new device intended to eliminate the problem in the future.
Questioned by local officials in the hearing about why — with electrical-power disruptions, equipment failures, alarms going off, and the plant taking maximum flow — operators didn't open the emergency bypass gate more quickly to protect the plant, Kelly said his interpretation was that operators were trying to avoid a bypass, to protect the environment.
But operators need to be just as concerned about protecting the plant, he told the committee.
"A mistake of bypassing the plant perhaps is not as bad of a mistake as putting major infrastructure in jeopardy," he said at the hearing.
Training is needed for employees, said Christie True, who leads the King County Department of Natural Resources and Parks, with authority over the wastewater-treatment division. "That is something to home in on, what are conditions to go to bypass," True said. "And when they do, we have to support them."
Meanwhile, work continues to get the plant back to normal operation. It took an unprecedented effort by staff and contractors — including restoring or rehabilitating a mile of tunnel, 151 electrical motors, two miles of insulation, 125 electrical panels, 25 electrical transformers — to repair mechanical systems at the plant.
The secondary treatment system remains too fragile to take the usual load of waste at the plant. So the county is trucking about 20 loads of sludge to the South Treatment Plant in Renton per day for processing, at least until mid-May. The rest continues to go into Puget Sound.
Yet many admit it could have been much worse.
"We were very lucky no one died," said Mark Isaacson, director of the wastewater-treatment division. His email, sent days after the flood, reflected on what could have happened if it had occurred during the daytime, when employees would have been in the tunnels.
"It was apparent to all of us that staff would have been trapped and not survived. It was chilling."
How this story was reported
This Seattle Times reporting is based on more than 7,000 documents — including emails, correspondence, voice messages, texts, manuals and reports from consultants, King County and the Department of Ecology, obtained through public-records requests — as well as interviews with current and former King County Wastewater Division employees and personnel from the King County executive branch, Metropolitan King County Council, wastewater experts, Department of Ecology staff, investigators and testimony during public hearings. Much of the crew's quotes and information about that night is from written statements made to investigators.