A YEAR OF PANDEMIC
FEAR
|
RESILIENCE
|
LOSS
|
HOPE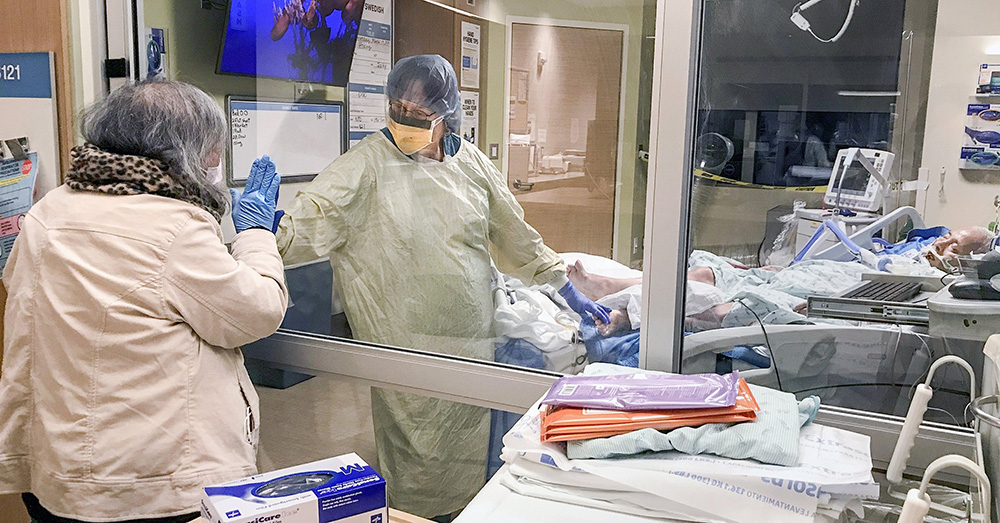 COVID-19 changed our lives forever
Published March 14, 2021
A year ago, we embarked on a journey none of us chose.
We've suffered from the virus — or fear of it. We've learned to mask up and adapt. We've wept for family members lost, dreams dashed and businesses closed. We've grown hopeful — for vaccines, for an end.
These are the stories of our year with COVID-19 — one that has changed us all.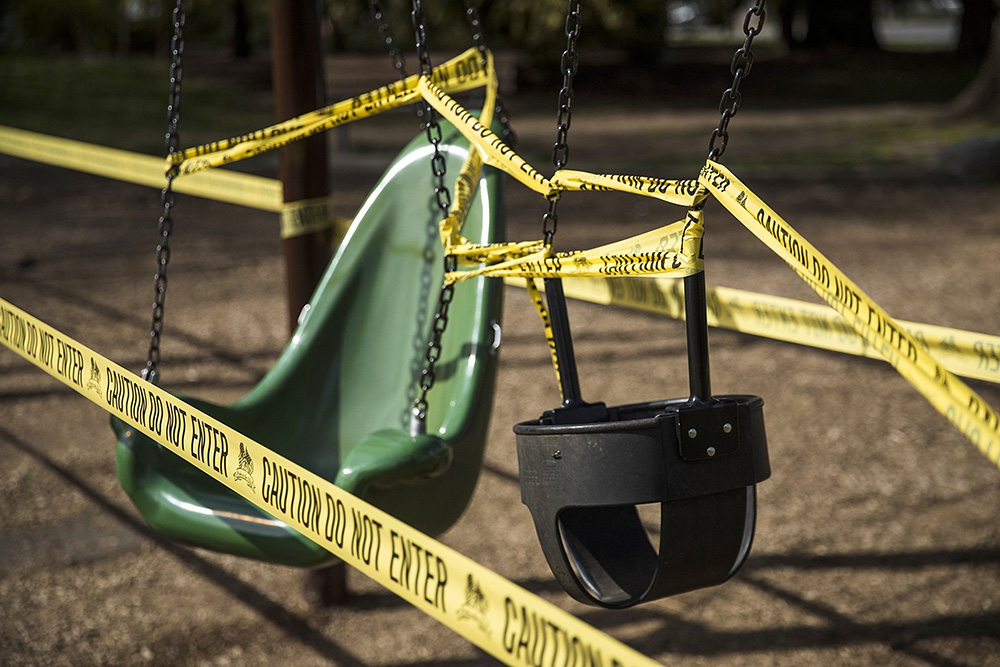 Washington COVID-19 deaths by day
(7-day average)
Feb. 28, 2020 - Feb. 28, 2021
M
A
M
J
J
A
S
O
N
D
J
F
M
Cumulative counts
Through May 31
22,033 cases
1,128 deaths
Cumulative counts
Through Sept. 30
89,498 cases
2,123 deaths
Cumulative counts
Through Dec. 31
250,614 cases
3,776 deaths
Cumulative counts
Through Feb. 28
340,680 cases
5,063 deaths
15
30
January-May 2020
A mysterious virus sweeps through the city of Wuhan, China.
Health officials announce the first confirmed COVID-19 case in the United States in Snohomish County on Jan. 21.
All remains quiet, until EvergreenHealth doctors on Feb. 28 discover an outbreak among several patients. The next day, the Kirkland hospital announces a death. Scientists would later determine the virus had likely spread undetected for weeks.
Over the next month, Gov. Jay Inslee uses emergency powers to limit crowds, shutter bars and cancel hospital surgeries. He orders most Washingtonians to simply stay at home. Schools close. Streets empty. The federal government sends a field hospital to Seattle. Local health departments establish testing sites, though supplies would remain short for months.
The state confirms 4,896 cases of COVID-19 by the end of March. The state's death toll rises to 195.
Experts fear rising transmission could overwhelm hospitals. Medical providers, who do not have sufficient protective equipment, fear infection. Many Washingtonians fear their neighbors or fear for them.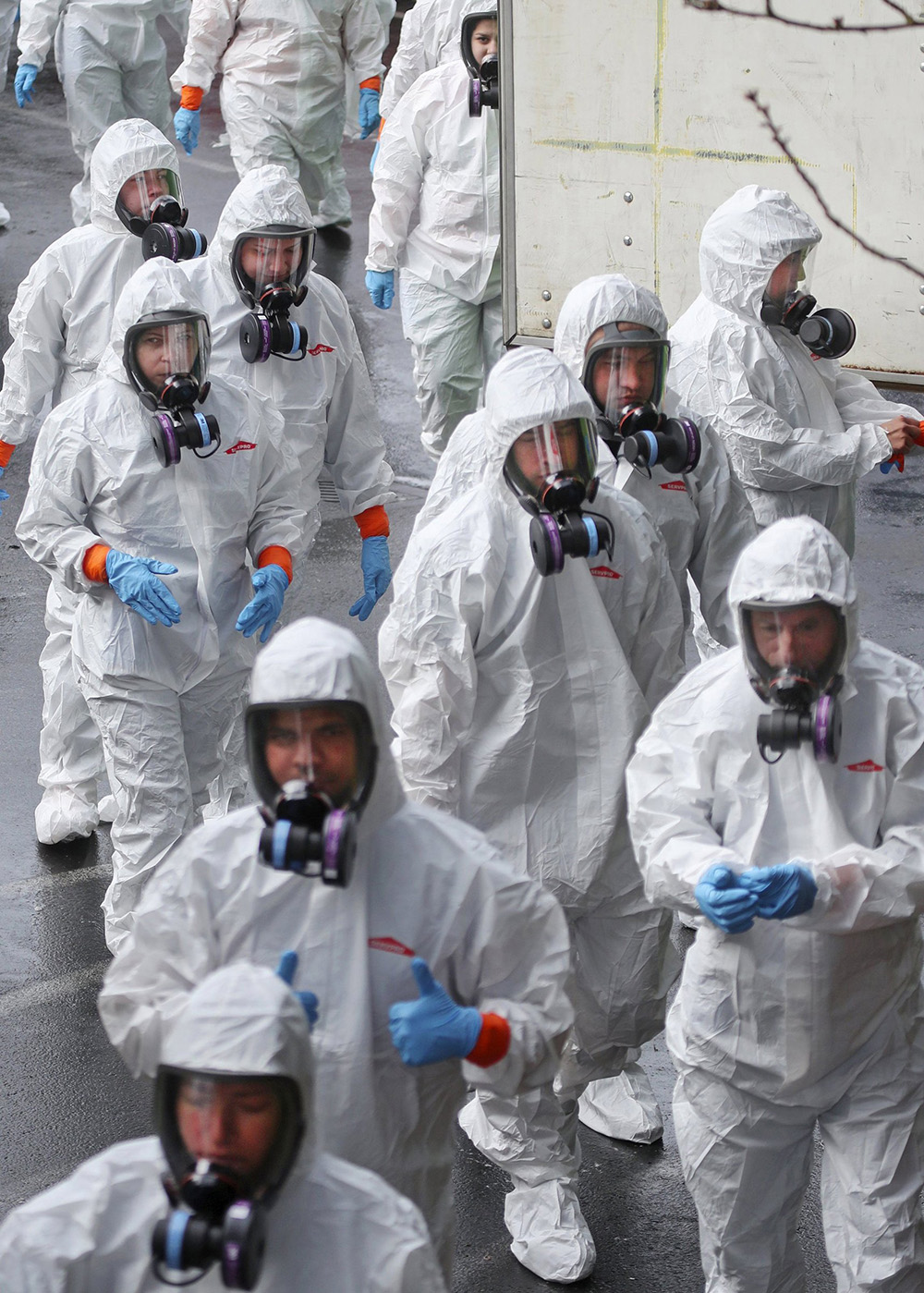 Fear
Chapter 1
From the window of her room at the Life Care Center of Kirkland, which faced the parking lot and overlooked the putting green, Patti Taylor watched emergency responders load neighbor after neighbor on stretchers and into ambulances.
A swarm of cameras captured every movement, trying to give the world a view of what was happening inside a care facility suddenly at the center of an outbreak.
Days earlier, Taylor, a former nurse, had gathered with her neighbors for a belated Mardi Gras party. A 1920s-style jazz band played. Staffers served hot hors d'oeuvres. Taylor, 95, who was named Mardi Gras queen, flaunted a big hat and purple, green and gold beads.
Now, the number of fellow residents began to dwindle as tests came back about the mysterious coronavirus: Positive, positive, positive. And Taylor had a lingering cough.
A week after the first COVID-19 deaths in the U.S. were reported at Life Care, Taylor became the first resident to test negative for the virus. After the test, staffers stripped her of her clothing and moved her to a room by herself. Her daughter, Lauri Taylor, didn't know in which room they had placed her. A few days later, after her former roommate tested positive, staffers shook Patti awake in the middle of the night for another test. Again, negative.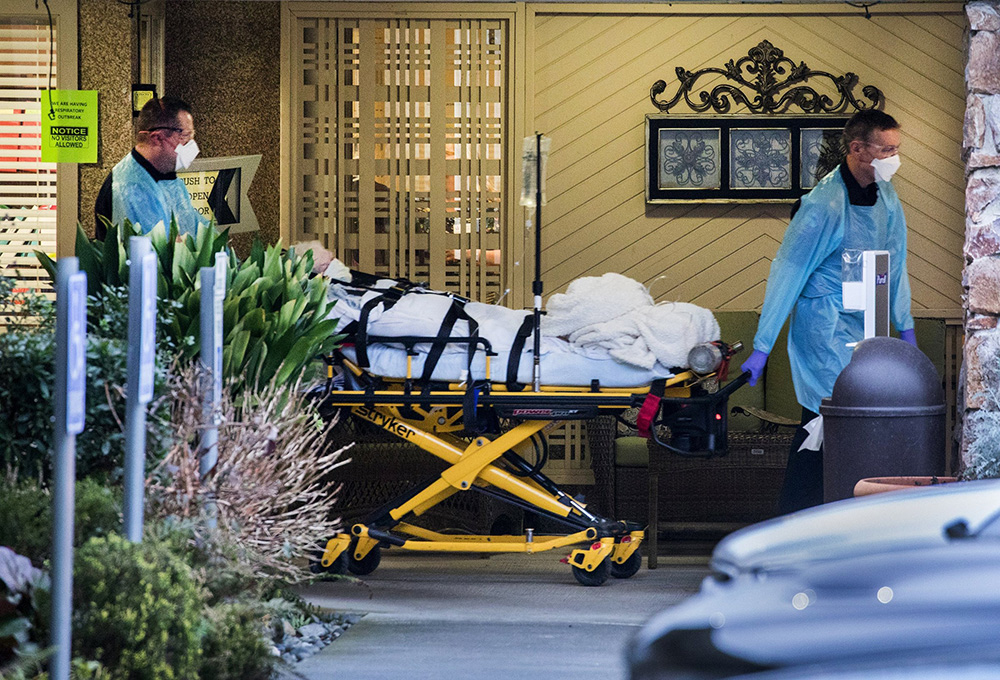 Families updated one another in a message thread. They only knew there was a sickness they didn't understand spreading quickly through the building. They didn't know how.
Day after day, Lauri would read names of residents whisked away to nearby EvergreenHealth, fearing her mother would soon be next.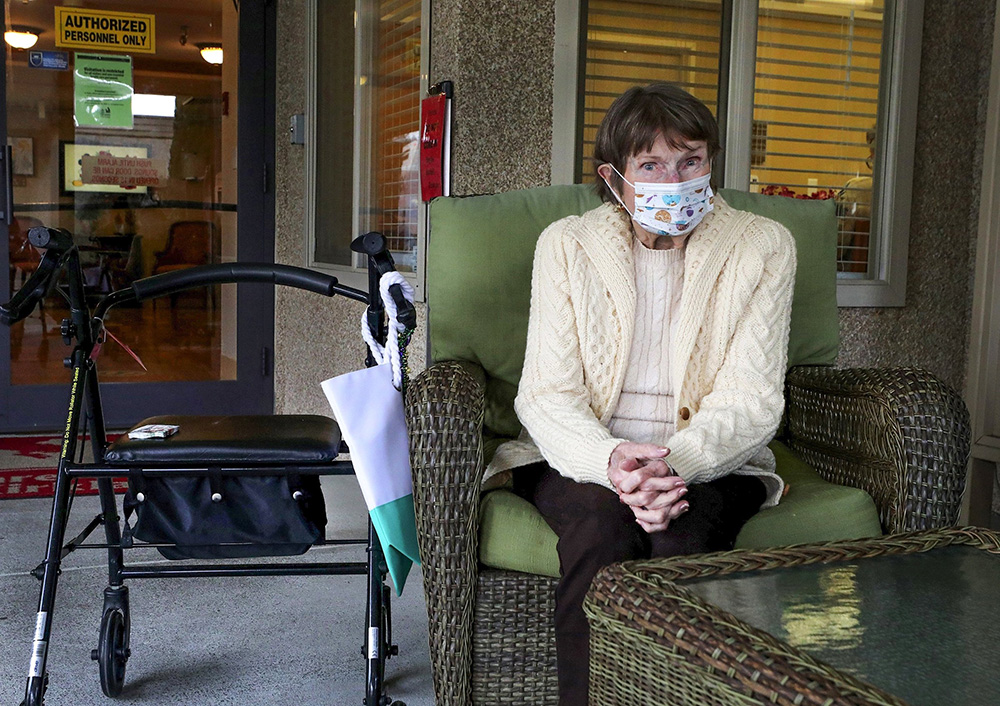 At EvergreenHealth, Dr. Ryan Padgett reported on March 3 to the emergency department. The hospital, a little more than a mile from Life Care, had become the first in the U.S. to deal with a known outbreak.
Half the unit had been sealed off and outfitted with negative pressure, so infectious air couldn't escape. Colleagues he knew so well were now obscured beneath protective gear more familiar from sci-fi movies than his training.
Padgett, an emergency physician of nearly two decades, snapped a quick picture of his frowning face behind the plastic shield of his new hooded respirator and dashed off a text to friends before stepping into the unknown.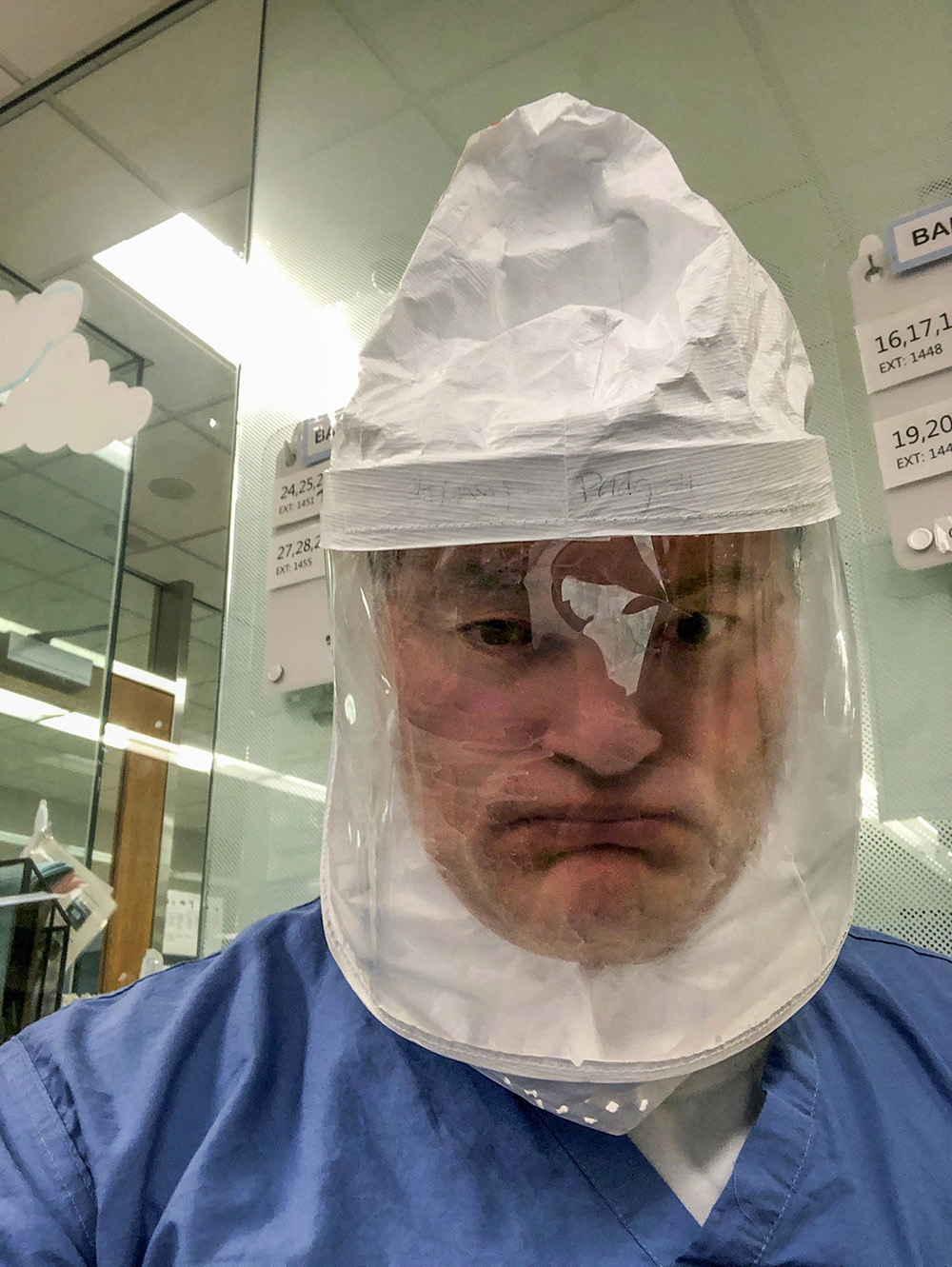 A surreal quiet hung in the air.
This wasn't his first night in the ED with COVID-19. On the night of Feb. 28, he had been running up and down the stairs, responding to "code blue" calls and dropping into patients' rooms to insert breathing tubes.
He learned of the outbreak next to an ice machine in the patient nutrition closet. He wouldn't soon forget the deer-in-the-headlights look a fellow physician shot him as they contemplated what was to come.
Later, staffers seemed to go down like dominoes, forced to leave after contact tracing revealed possible exposures that first night.
By March 3, the known outbreak had expanded to engulf more than half the ED with suspected COVID-19 patients.
Padgett walked into each room with trepidation, knowing all he could provide was the most basic life support.
A bond began to form with his colleagues. Padgett, who played as an offensive guard in the 1996 Rose Bowl, later likened it to being in a "foxhole" together, and that donning protective layers reminded him of suiting up before the game.
"I saw you on the schedule, and there's no one I'd rather work with today," Dr. Kevin Hanson had told him, with Padgett replying in kind to his colleague of almost 20 years.
The day became a blur of sickness and sadness. Every patient he admitted was under investigation for COVID-19. A pattern had developed: Fragile, sick, older patients would spend two days in the ICU. Then, they'd suffer an isolated death. Those images of loneliness, soon to become personally familiar, would later bring tears to his eyes.
On March 7, Padgett developed a headache. Two days later, a fever hit. He began to cough. A physician friend advised his fiancee, Connie Kinsley, to monitor his oxygen levels with a pulse oximeter attached to his finger. One night, Padgett lay in front of the fireplace in his living room, wrapped in three blankets, with a 104-degree temperature. He felt ice cold.
It was Connie who forced him to go into EvergreenHealth for treatment.
On her way home from a second hospital visit, as her daughter navigated the 520 Bridge, Connie received a call from Padgett. She could hardly understand him through his wheeze. He wasn't receiving enough air, she thought.
She panicked as he rattled off passwords, the code to his safe and the name of his financial adviser, before telling her he loved her.
Doctors would soon intubate and place Padgett on a ventilator. Seeing one of their own so sick would shake colleagues at their core.
"I remember reading my daughter a book at night and thinking if I go to bed and spike a fever, it might be the last time I see her," Dr. Bryan MacWilliams would say later.
Padgett wouldn't wake up for 16 days.
Fighting COVID-19 as a doctor, then as a patient
In late March, chef Tarik Abdullah stood in his friend's kitchen at Soulful Dishes and watched the donated food pour in. Meat. Vegetables. Napkins. Food containers. Restaurants were closing. And they were emptying their refrigerators.
"Nobody knew anything," Abdullah would say later. "It was just a city full of questions."
Decades ago, as a teenager, Abdullah had fallen for food during a visit to Palomino restaurant in downtown Seattle. He loved the open kitchen, the way cooks mixed with customers, and the rotisserie chicken. He went back and asked for a job, which led to kitchens in Los Angeles, touring as a cook for Cirque du Soleil, and a year cooking and eating in Europe.
When Abdullah returned to Seattle in 2010, he began to make a name for himself as a cook with a love of community. Most recently, Abdullah, 47, had been teaching cooking classes to children and hosting pop-up events like "A Cook and a DJ."
Then the virus struck.
No one could know how long disruptions would last, but one thing seemed assured to Abdullah — people would need food.
He scrapped his classes to join the Seattle Community Kitchen Collective, a network of restaurateurs, and began to offer free meal boxes to those in need. Abdullah called it "Feed the People."
In the year to come, he'd cook most every day.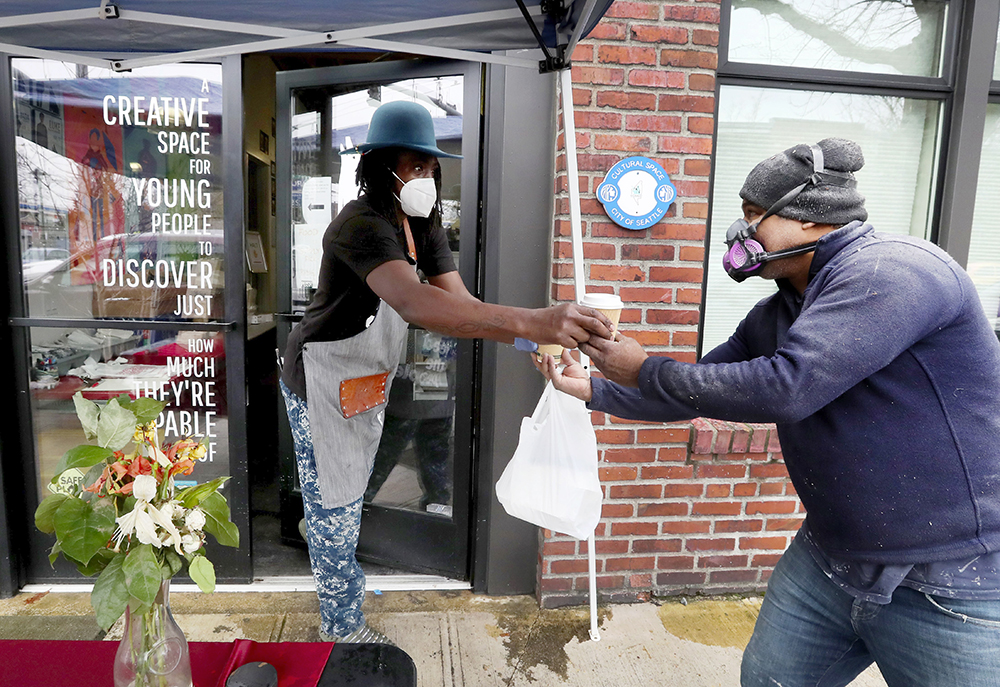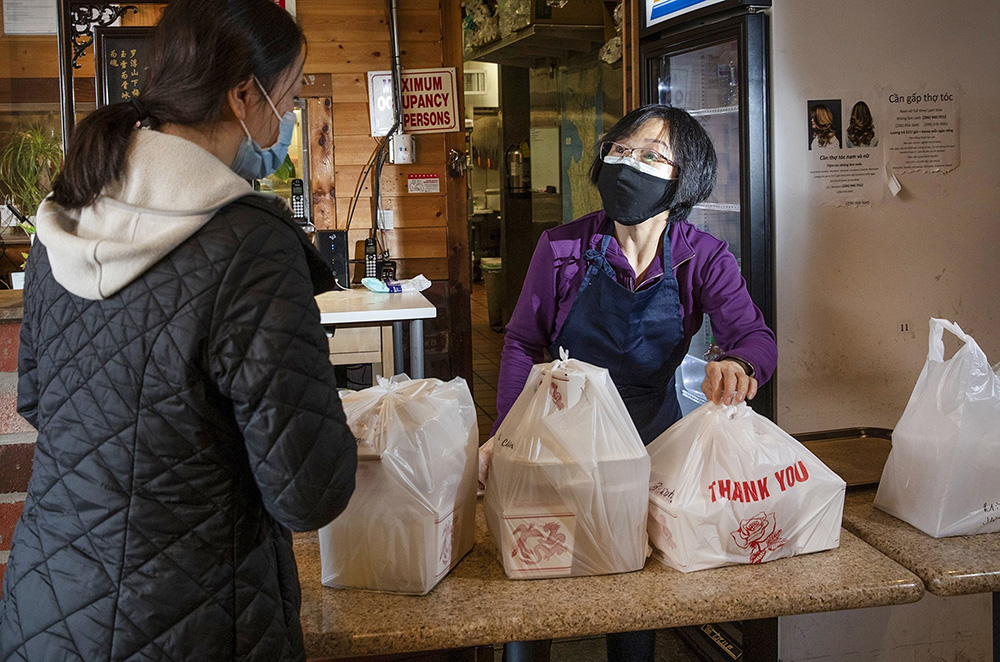 On an April day in Seattle, Trinh Ong found herself crying in front of a stranger — a customer who stopped by to pick up some seafood noodle soup.
It was almost closing time at Ong's restaurant, Mi La Cay, and she had earned less than $100 in revenue for the day. As Ong described her business struggles, tears punctuated the story.
"It just came out," Ong would say later. "I just didn't know what to do."
Ong had come to America with little, joining her brother at Mi La Cay in 1993, a year after he opened its doors. The restaurant, which specializes in Vietnamese street food like egg noodles and barbecue pork, has become a fixture in Seattle's Little Saigon neighborhood.
But business had begun to slow at the end of February, after the first coronavirus deaths were reported, and when xenophobic terms like the "China virus" and "kung flu" started circulating. In Seattle's South Lake Union neighborhood, two customers had walked out of Zheng Café after learning the owner was from Wuhan.
In mid-March, the governor's orders to halt indoor dining and stem the virus' spread had come as a shock to Ong.
Then, in early April, she arrived to work and found shattered windows, later watching surveillance video that showed a man smashing a rock against Mi La Cay's door. She couldn't know the man's motive, but wondered if racism had contributed.
How could her business continue?
Two weeks after the vandalism, as Ong's anguish poured out to her customer on that April evening, she could not have imagined the turning point that night would become.
Across the Cascades, at a giant meat packing plant southeast of Pasco, Jose Trinidad Corral met with a manager, who quizzed him about his contact with Guadalupe Olivera Mendoza, a 60-year-old worker and the first of many at the plant to fall ill.
At Tyson Fresh Meats, Corral wielded a knife to cut bone hundreds of times a day on a beef processing line. He took pride that his work helped to feed the nation. He earned enough to buy a four-bedroom home in a new suburban development — his slice of the middle-class dream.
Corral had come into contact with Mendoza during the daily lunch break where the two men often shared the same dining table, a welcome respite from the grueling job. Still, Corral wasn't too concerned about the new disease. It was one more risk in a job where there were plenty of ways to get injured, and flu and colds often circulated among the tightly packed workers.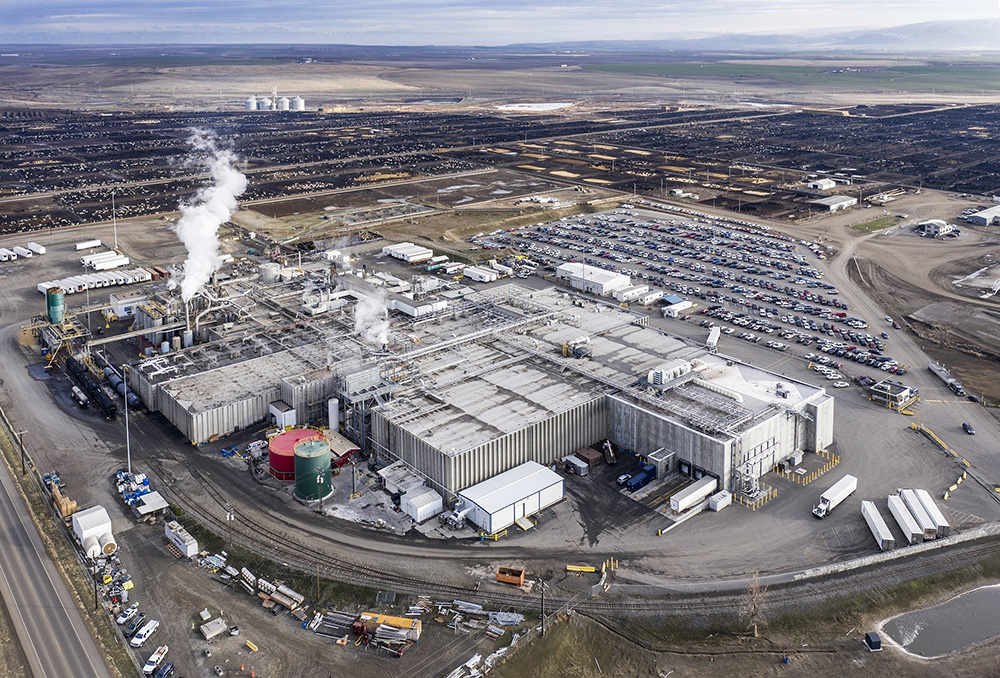 The COVID-19 outbreak began to grow. Corral noticed many more workers missing from the line — he was unsure whether they were sick or isolating — and managers were forced to slow production.
Meanwhile, Mendoza, a diabetic, struggled. The infection invaded his lungs. In early April, he could barely talk. He died on April 19.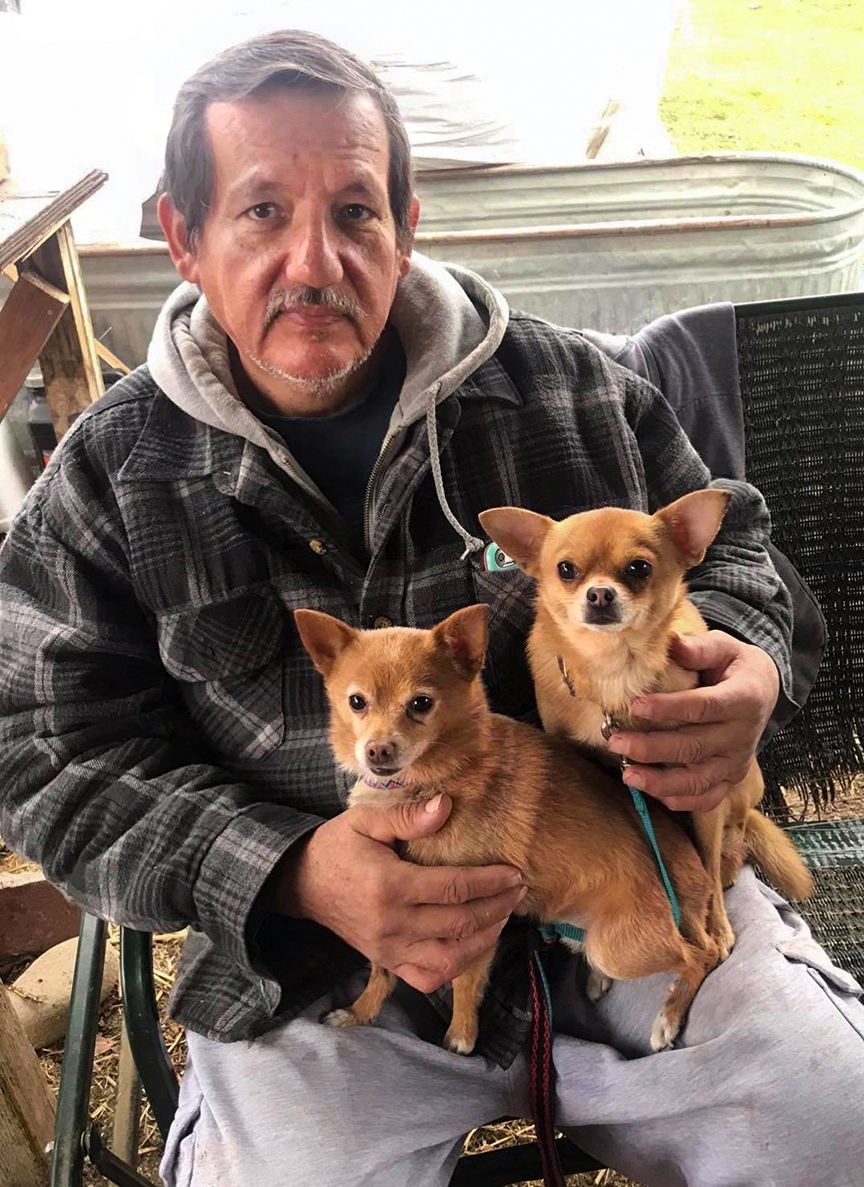 At the plant, Corral was stunned to learn of his colleague's death. This virus was something different.
"When you have someone die, that's when people got scared," Corral would later say.
On April 24 the plant shut down, staying idle for 12 days so all of its workers could get tested — more than 1,400 in total.
Corral spent his days at home in Pasco, restlessly waiting for test results and longing for a visit to his mother's apartment to give her a hug.
By May, more than 270 workers had tested positive. When Corral returned to work that month, staffers would scan his temperature, he wore a mask and goggles and plexiglass separated workers in the lunchroom.
Still, case counts edged higher.
On May 15, farmworkers and other supporters of the Tyson employees organized a vehicle caravan and a vigil outside the plant for victims of the virus. They made three posters that displayed photos of those who had died, and placed them beneath a big Tyson sign that said, "Thank you for working safe today."
Over time, the wind tore at the posters and they were taken down.
By summer's end a fourth co-worker would die after contracting the virus.
May-September 2020
In May, some counties begin to reopen. At peak, the state pays 565,764 unemployment claims. Hospitals weather a spring surge of cases. Gov. Inslee allows all medical procedures. The police killing of George Floyd in Minnesota sends protesters into Seattle streets, where they're met with tear gas, pepper spray and police hostility. Some worry protest crowds, and chemical agents, could spur viral transmission; others say racism is an epidemic of its own and there's no time to waste.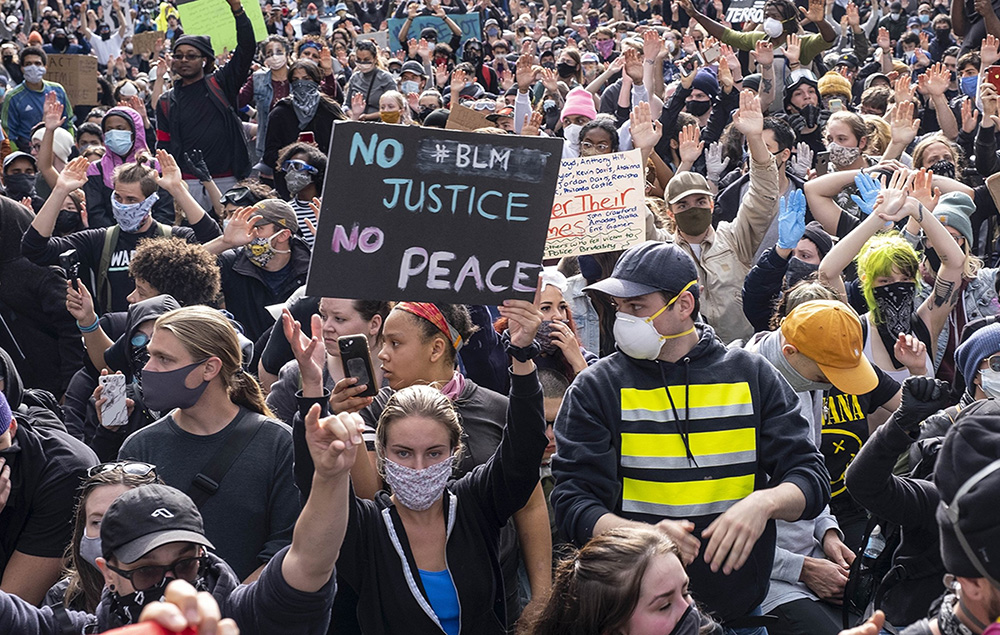 Over summer, cases spike in some parts of Washington, including on farms and among workers at harvest. Protective equipment becomes more readily available to health workers. Testing broadens, as lab workers at UW Medicine and elsewhere churn through samples. Public health officials coalesce on a message, preaching that masks, physical distance and outdoor air can allow people to get together more safely.
On June 23, Gov.Inslee orders Washingtonians to wear masks in common spaces. They flock to campgrounds, beaches and local parks. Some businesses reopen, boosted by federal loans.
Resilience
Chapter 2
Karla Petersen fought to keep her children's trauma at bay.
Adopting and fostering children had drawn in Petersen long ago. Now a full-time mom, the former nurse practitioner had started by adopting one little girl, but saw so much need. Petersen knew she had the skills to help.
The three siblings she took in most recently were supposed to spend only a few days in her care. But if they had left, they would have been split up. And so they stayed in Petersen's three-bedroom home in Seattle's Northgate neighborhood.
But the pandemic presented new challenges for Petersen and her seven live-in kids.
When children enter foster care, they are dropped off in a new place, often never to return. They lose their whole world in a moment.
In spring, coming home from school one day and suddenly not returning had mimicked that loss. It brought anger running back for the children, who range in age from 6 to 17. Suddenly, they began to cry, argue or tell Petersen they liked her less.
"I was watching my kids go through yet another loss," she would say later. "We went way back to the beginning of healing."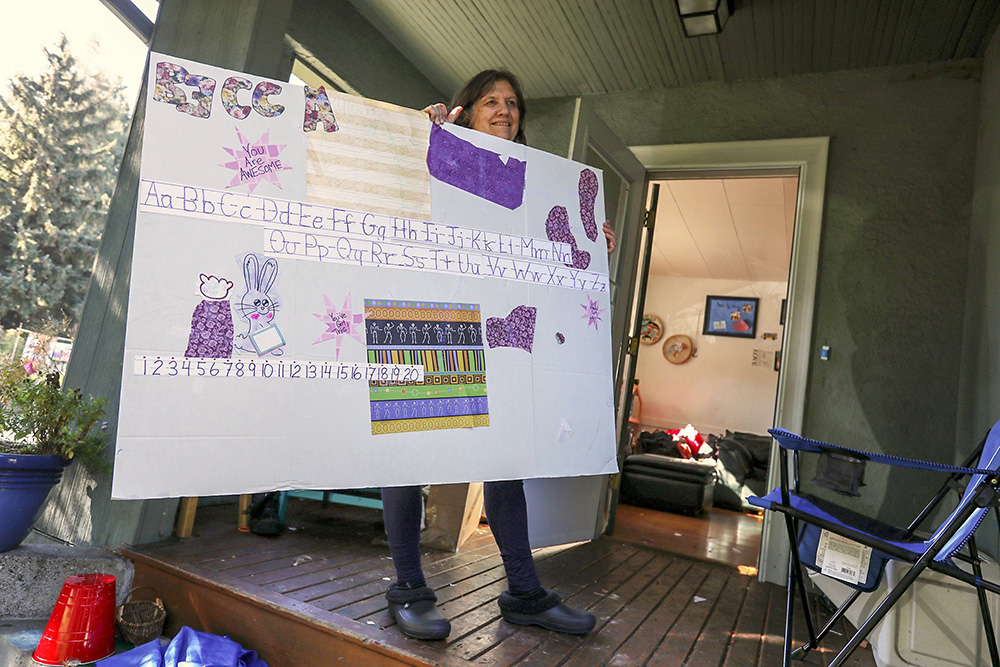 Petersen set up routines like a new chore schedule to enforce that her children's home was stable. She reminded the children of what they could control. She taught them to wear masks and formed a COVID-19 bubble.
When summer arrived, it began to fly by in a stream of activities: They painted with watercolors and acrylics. The young children watched caterpillars turn to butterflies, twice. Dance classes. Beach visits. Plants. She found new ways to pique their curiosity.
The family spent time together and rebuilt a sense of safety. And the sunshine didn't hurt.
A family of eight rethinks school by screen
North of Seattle, in lush Skagit Valley, Eduardo and Gabriela "Nena" Sanchez tried to play it safe. Both were older than 65. Nena had a history of health issues, including diabetes, congestive heart failure and kidney failure.
The couple had met in the 1970s while working in an Eastern Washington beet field, then moved to Mount Vernon, raised six children and saw their family grow to a tight-knit clan of 40-plus.
But family gatherings were no longer allowed. And now, for the most part, Eduardo and Nena stayed inside. They wore masks everywhere and avoided seeing friends and family they missed desperately.
As the months passed, the couple developed a routine. Nena — who used to cater quinceañeras and other celebrations — busied herself in the kitchen, making rice, beans, burritos, canned salsa. Eduardo sometimes joined her to whip up his famous carnitas, and stayed occupied operating his 25-year-old landscaping business, Cousins Lawn Care. The couple settled in.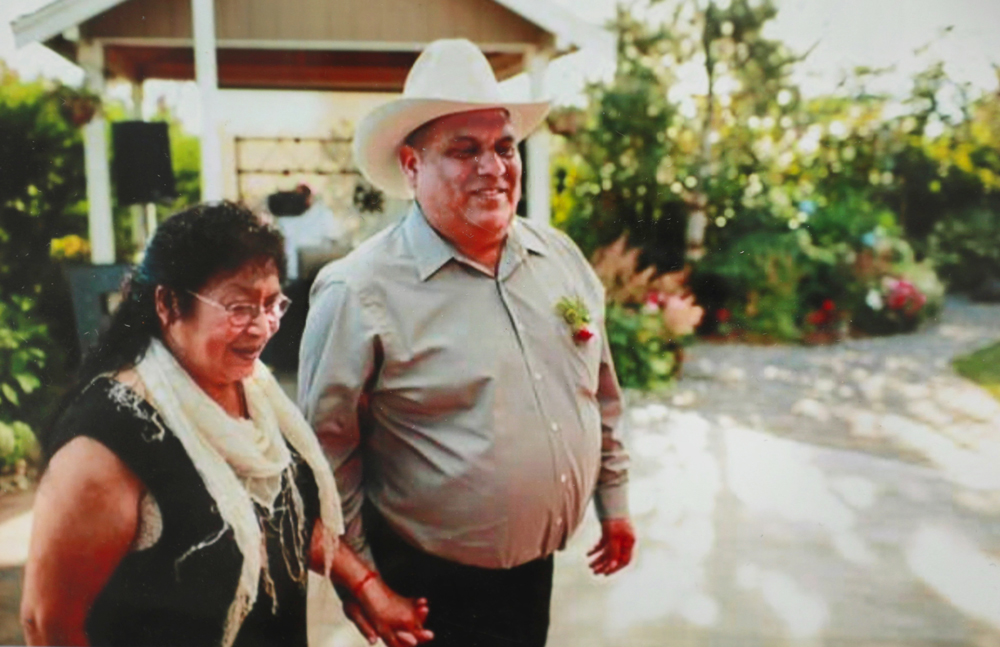 Over summer, as protests rumbled through Seattle streets, city workers visited Trinh Ong's Mi La Cay to fasten boards over windows to protect against vandalism.
Community members — some from the group Seattle Asians for Black Lives, who joined in protests against George Floyd's killing — saw the boards as an opportunity for beautification in the Chinatown-International District.
At Ong's request, artists who had launched a community mural project in the CID decorated the boards on her restaurant with palm trees to match those on its sign. They painted her door teal and added an orange sun. The color added another reason to be thankful.
After Ong's tearful outburst in April, the customer in whom she had confided, Hong Torrez, had logged on to a Facebook group called "Support the ID," urging others to patronize restaurants like Ong's. Hundreds had liked and commented. Some had recommended favorite dishes or promised to order takeout.
Ong would later describe Torrez as "an angel that got sent down to give me a hand to lift me out of the dark hole."
The support of a community had begun to envelop her.
Later, Friends of Little Sàigòn, a local association, told Ong they had organized a fund to support local businesses.
The association sent her a check. Ong hesitated to cash it right away.
"I was afraid it was a dream," Ong would say later.
She realized there was a community that had her back.
During shutdown, a restaurant owner finds support in her community
At home in Seattle, Dr. Ryan Padgett had defied all odds. He was growing more healthy by the day after his bout with COVID-19. But questions remained: Could he be a doctor again? To his knowledge, no physician had returned to EvergreenHealth after such a traumatic illness.
During his hospital stay in the spring, Padgett's heart, lungs and kidneys had failed. So EvergreenHealth sent him to Swedish Medical Center, which offered a rare, specialized form of life support called an ECMO machine that draws blood out of the body, and oxygenates it for return.
Concerned Padgett would die in the ambulance, the transport team asked a physician to ride along with them to Swedish.
Padgett rallied with the new treatments, emerging from death's doorstep in late March. But 16 days unconscious had taken its toll.
When he woke, his tongue was stuck to the roof of his mouth because it was so dry. His brain felt foggy. He'd lost 20 pounds, his frame left shriveled and weakened. He had longed desperately for human contact, feeling like an outcast that everyone had to be wrapped in plastic to touch.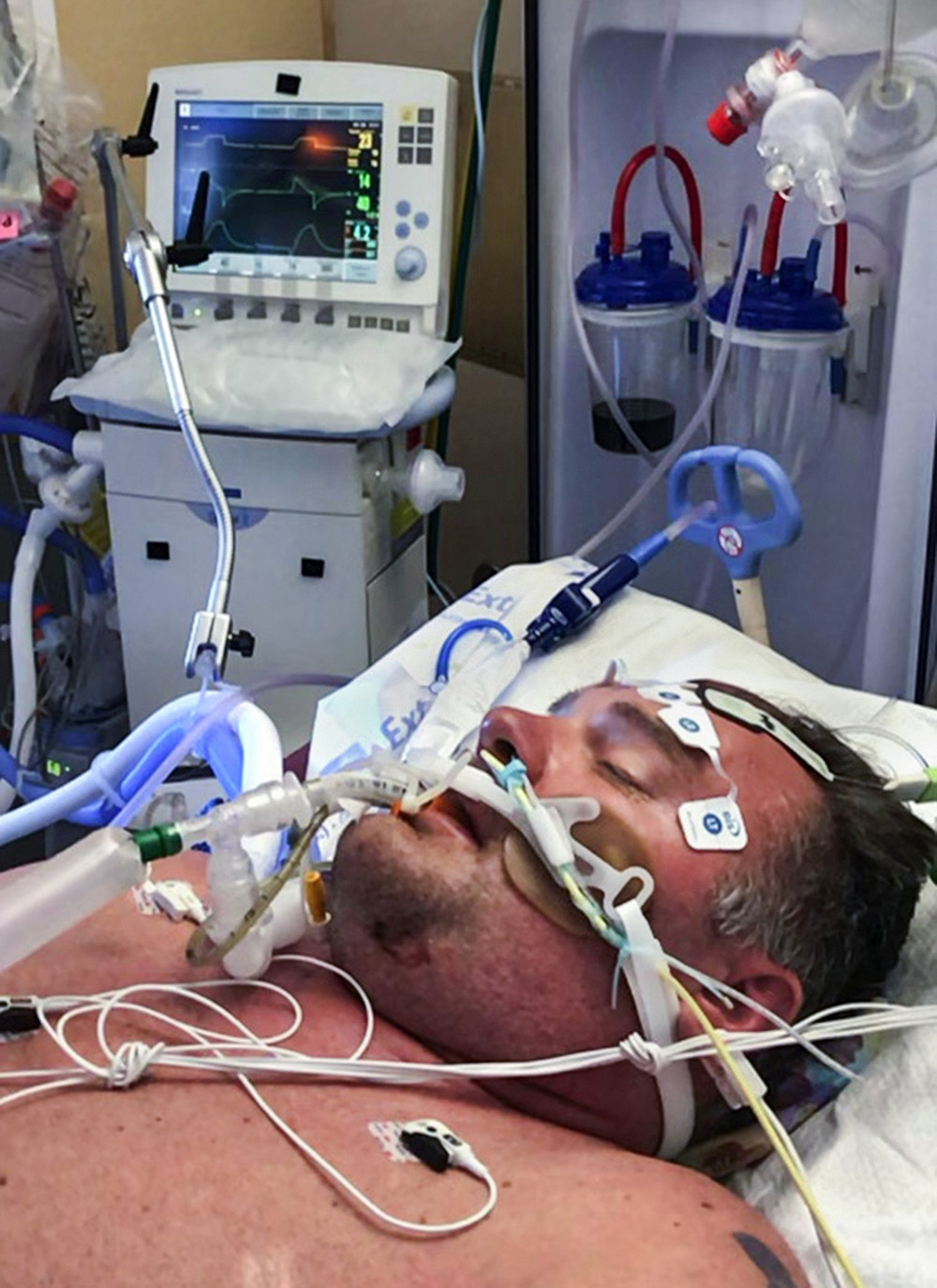 One night, he had wept while contemplating his future. A nurse at Swedish took his hand and held it for 10 minutes — a needed connection.
It's going to take time, the nurse told him another evening. You set yourself up for a rainy day. Here it is. And that's OK.
Padgett took on tasks one at a time. On his 45th birthday, he stood for 45 seconds on his weakened legs and successfully ate an ice chip.
Despite tremors that shook his hands, he learned to brush his teeth, using both hands.
On April 5, Swedish staffers wheeled him through empty hospital halls and into alien Seattle streets, which during his time unconscious had become nearly silent of life. At home, Padgett's hands trembled so badly, Connie gave him a lid and straw for his drink.
The couple married two weeks after his release, in a tiny ceremony on "Cats and Dawgs," the boat he and Connie share with friends.
His life became a blur of doctors' appointments and physical and occupational therapy sessions. Connie carved out Wednesdays to try to feel normal. He baked bread with his buddies, Shaun and Doug, experimenting with bagels, focaccia and sourdough.
Later, he'd treasure this time, when middle-aged men ditched work to just hang out, when his stepdaughter, Emily Kinsley, chauffeured him to appointments and when life slowed down so he could connect with friends and family.
Doubts lingered. At night, he'd share his worries with Connie. Could he remain a physician? What did life have in store?
On Memorial Day, Padgett piloted "Cats and Dawgs" through the Ballard locks, proving to himself he could handle such a complex task.
And on July 1, Padgett returned to tearful greetings at EvergreenHealth to shadow a colleague to prove he was capable of practicing medicine independently. At first, he felt lost.
It would take him months to regain his composure, his place in a world forever changed.
September-December 2020
Protests persist and wildfire smoke from damaging blazes smothers the Northwest. After peaking over summer, confirmed COVID-19 cases drop to a new low in September.
But experts worry cold weather will prompt transmission and warn against gathering for Thanksgiving. Cases, hospitalizations and deaths soar through early December, when nearly three dozen Washingtonians die each day of the disease.
Anti-lockdown and anti-mask advocates continue to hold demonstrations against Gov. Inslee's orders. Washingtonians reelect Inslee as governor. Americans elect Joe Biden president.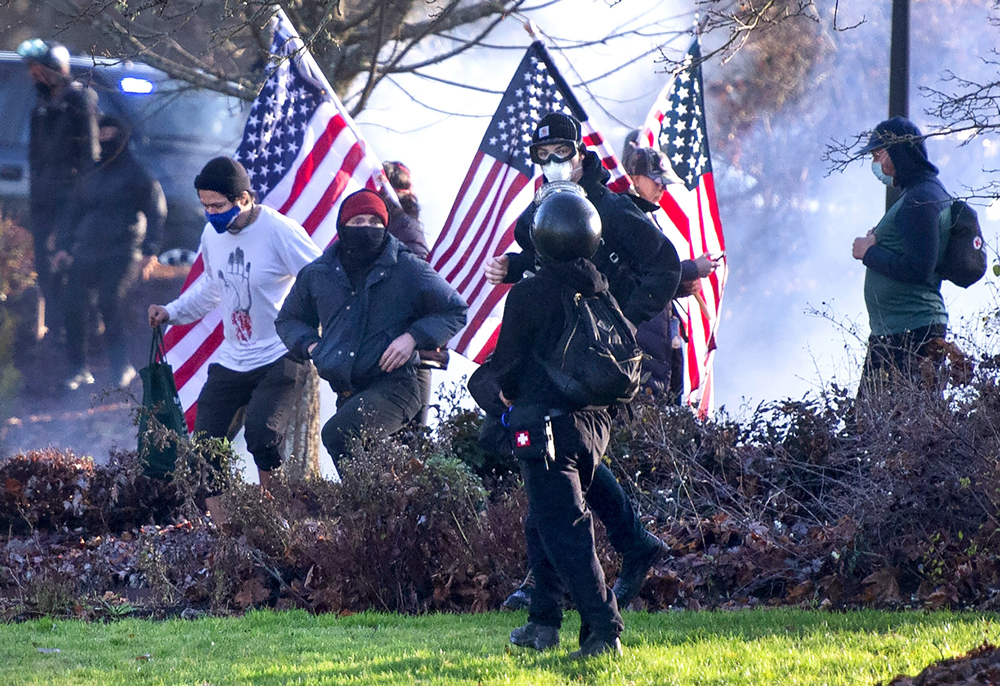 By mid-December, 300,000 Americans have died from the coronavirus, more than 100 times the number killed in the terrorist attacks on 9/11.
Grief, loss and isolation compound.
Loss
Chapter 3
Eduardo and Nena Sanchez followed news of the pandemic closely, watching in fear as infection tallies increased and businesses shuttered.
As the months passed, they grew more and more afraid. Despite their best efforts to stay healthy — waving at family members through windows, filling their pockets with hand sanitizer, cutting out beloved routines like Sunday breakfast at a nearby diner — the couple started to feel sick in September.
Eduardo tested positive for the coronavirus and was admitted to Skagit Valley Hospital in Mount Vernon on Sept. 23.
A few days later, Nena was placed in the hospital room next door and intubated within the week. They couldn't see or talk to one another, and both struggled with low oxygen levels. Doctors put Eduardo on a ventilator Oct. 3. While Eduardo struggled, Nena's condition improved, and she returned home Oct. 27.
The next day, on a cold, blustery morning, dozens of his family members and employees rushed to the hospital. Eduardo neared death. They knew COVID-19 protocols barred them from going inside, but they wanted to say goodbye.
The group stood on the sidewalk outside, quietly creating a makeshift memorial with prayer candles underneath his second-floor window. They hoped he would be able to sense their presence, even though he had been on a ventilator for nearly a month.
"It was just heartbreaking," Patsy Martinez, the couple's eldest daughter, would recall. Martinez led the family in reciting the Our Father and Rosary prayers in English and Spanish.
The hospital let two sons, Jerry and Cris Sanchez, up to their dad's room to see him one last time. He died with them at his side.
Family and friends stayed outside for hours, praying and crying, so long that a hospital cafeteria worker brought down a cart of coffee and cookies for them. Security guards told them they couldn't continue to gather there, but family members couldn't bear to leave the sidewalk.
Before the group left that afternoon, Eduardo's workers led a procession down the street in their landscaping trucks, briefly slowing traffic so they could honk in honor of him.
Meanwhile, family members had converted Nena's living room into what felt to the family like hospital quarters, where they began 24/7 shifts to check her vitals, give her medication and bathe and feed her.
When she learned of Eduardo's death, she didn't say much at first. But at night, she began to call out his name in her sleep and couldn't stop crying.
Three days later, Nena died from what her family said was a combination of COVID-19 and a broken heart.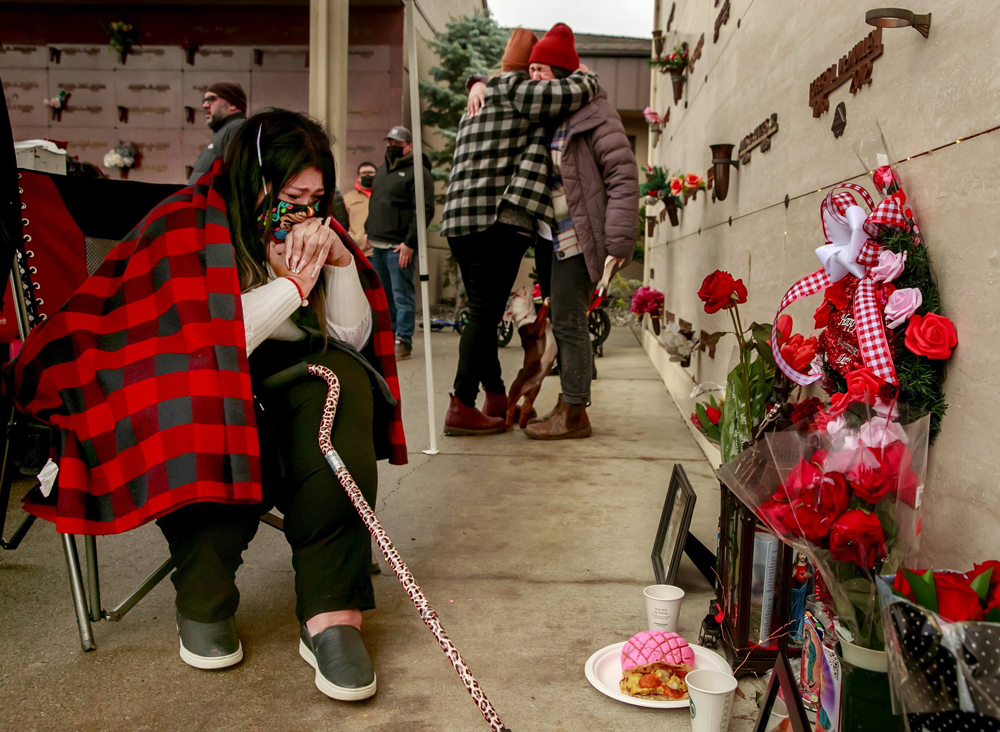 For months, the family would struggle to cope with the loss, made even more difficult because close friends and relatives could not join them for a funeral. At the time, the state's pandemic restrictions limited services to 30 people. The church would have been filled with hundreds of mourners otherwise.
"Part of losing someone is being able to say goodbye," Martinez would say later. "But if you can't go to the hospital and can't go to their funeral, then what do you have?"
Parents died from COVID-19, leaving 'a huge hole'
Fall in Seattle became a struggle for Karla Petersen, as her children returned to Seattle Public Schools' distance learning program.
Petersen tracked logins for her children's classes on a giant whiteboard — 32 in a single day among them. Space remained tight and the children spoke loudly into their headphones at once. A district-provided Wi-Fi hot spot kicked them offline and out of class six to eight times an hour.
The loss of in-person schooling worsened their anxiety and trauma, and Petersen couldn't bear to watch it. They spent more time stressing over technology than laughing or sharing home-cooked meals. School by screen was not as nourishing.
She knew they couldn't go on.
So she wrote a letter telling SPS that she was quitting its schedule. Instead, she let her kids log in at their own discretion, and supplemented with her own loose curriculum of activities.
"Not much education is happening now," she said in October. "But that's OK. It's not normal times."
Teachers were understanding and checked in on special needs. Some of the kids found balance. One made the switch to a behavioral day school.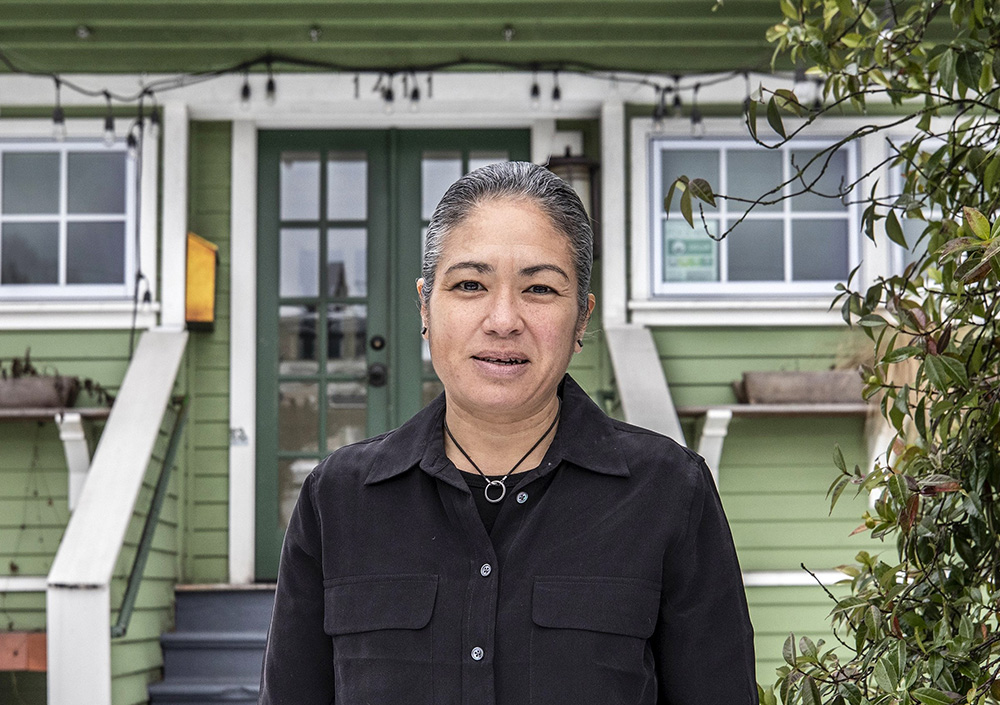 In Seattle, chef Maria Hines closed her restaurant, Tilth, for good on Oct. 30, ending a seven-month struggle after 14 years in business.
Tilth first went quiet on March 15, as Washington halted indoor restaurant service, forcing her to lay off all but three of her 17-person team. Those who remained scrambled to revamp the menu, offering upscale family-style takeout with dishes like bake-at-home salmon en papillote. She and her new, tiny crew wore coats and beanies as they worked without heat to save money.
She went to bed most nights afraid.
"I cannot lose this restaurant. This is my life," she would later recount thinking. Her staff, her local suppliers, the community she'd built over a decade — they were counting on her.
She had tried everything to keep Tilth operating — selling granola, offering online classes with ingredient kits, running wine specials and downscaling the menu to feature comfort food like mac and cheese. In her spare time, she had slogged through paperwork for a federal Paycheck Protection Program loan, which in April offered a lifeline that had lasted — for a time.
After restrictions lifted, Tilth had reopened at half capacity in July, also offering a summery, socially distant patio, but the small space couldn't support the restaurant.
By fall, Hines stopped paying herself. She began dipping into her retirement and savings for bills. Sales were down 70%. Finally, as the loan expired, she had no choice. She shuttered Tilth.
Compared to what others have lost during the pandemic, it felt downright trivial, but she grieved. It was the end of an era of her life.
December 2020-February 2021
Washington state receives its first doses of vaccine on Dec. 14, with cases remaining at a concerning plateau. Scientists warn that fast-spreading mutations of the virus could lengthen the pandemic. The state races to first vaccinate health workers and those in long-term care facilities, but nationwide the rollout gets off to a rocky start. Federal vaccine supply lags demand.
Health workers receiving vaccine shed tears of relief after their shots.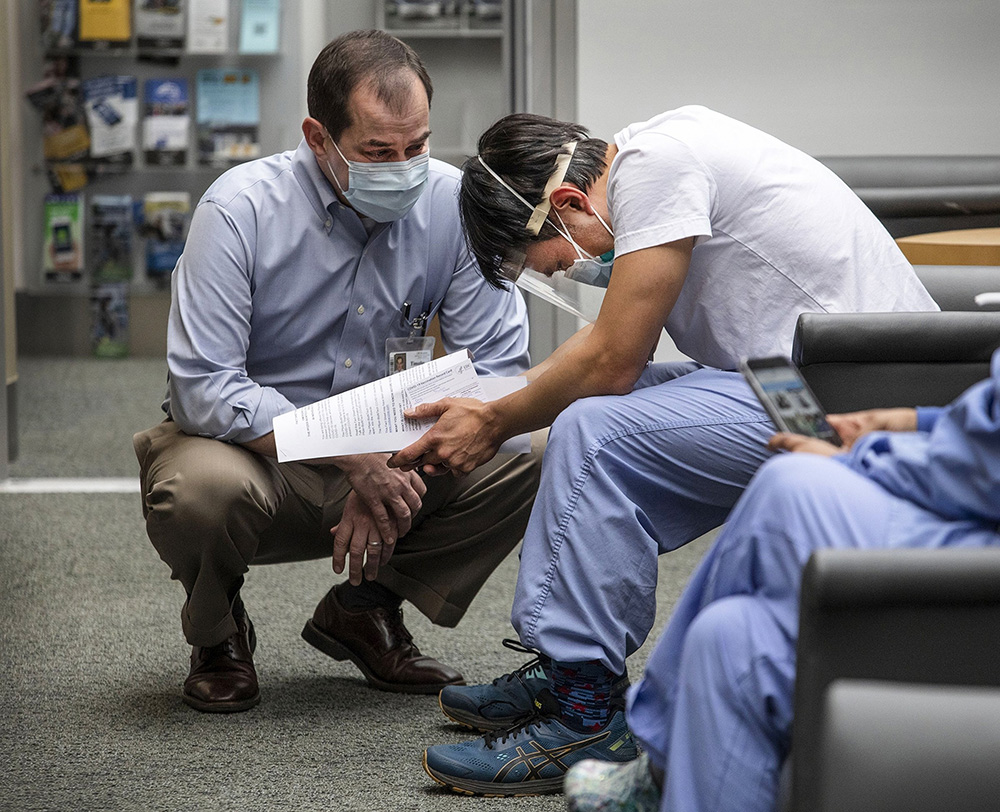 Seniors scramble to schedule their own immunizations. People begin to plan in-person events, even concerts. For many, a vision begins to form of how the pandemic could end.
Hope
Chapter 4
Two days after Christmas, Dr. Ryan Padgett rolled up his sleeve for a dose of Moderna's COVID-19 vaccine.
He expected to feel overwhelmed by the gravity of the moment. Instead, he found two longtime friends at the vaccine clinic, smiling and cracking jokes. They snapped a few photos. It helped take the edge off.
That night, his body — primed after his spring infection — reacted. He spiked a fever, his body shook and his muscles ached. He couldn't sleep.
It didn't trouble him. He knew it was just the vaccine doing its work.
For Connie, though, traumatic memories from March flooded back. She spent the night trying to calm a creeping sense of fear.
Padgett had returned to the emergency department in early October, with clearance to practice independently again. His organs had recovered in full. His mental sharpness and physical stamina were back.
When he had picked up that first chart, he smiled. He felt himself glow.
But his experience changed him as a physician.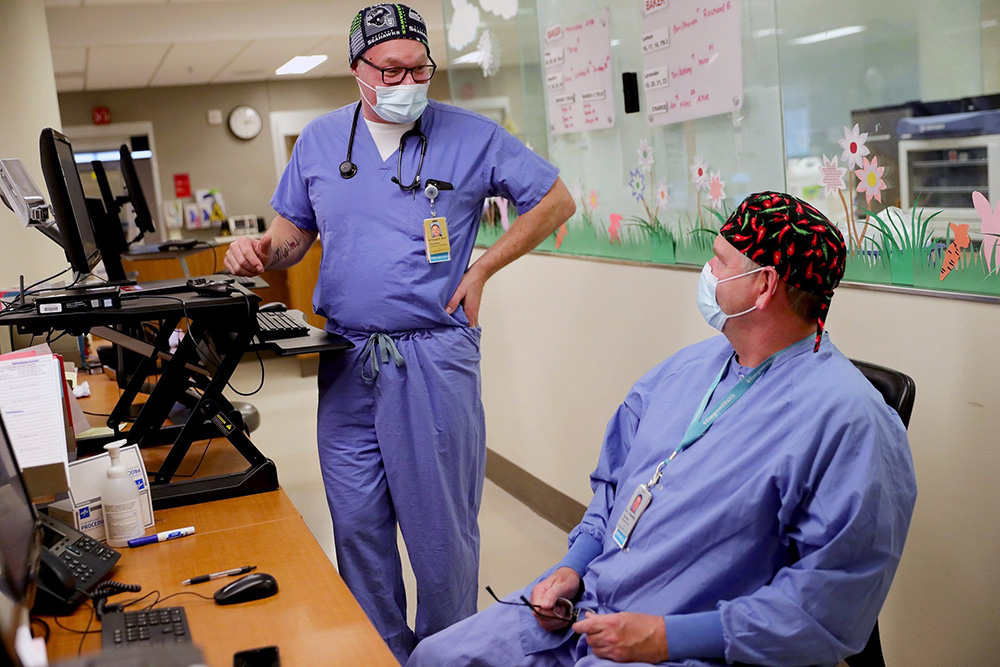 He feels more deeply patients' fear. Knowing what Connie went through, he takes more time to reassure families or deliver news with a gentler touch. And he has quite the tale to offer those COVID-19 patients whose attitudes trend cavalier about the disease.
When he left the hospital after more than three weeks of isolation, the world had changed.
In those early days at home, stories about the outpouring of help — people cheering on medical workers, donating food and caring for each other — had resonated with him.
Since, he's seen pandemic fatigue, mask pushback and political division. He prefers a different narrative.
"I like the story of: We're thrown back on our heels by this incredible contagion and within 10 months, we had vaccines, we had developed new treatments," he said. "When called on, people step up."
In Pasco, Jose Trinidad Corral embraced a nightly ritual to protect himself from infection. In a pot on top of his stove, he carefully steam cleans one of two medical-grade N-95 masks that he now wears to work. They were a gift to his church from a doctor.
"They are a blessing," Corral said.
He's waiting for a bigger blessing: the vaccine.
At the plant, many of his colleagues remain skeptical of taking these shots. Some repeat a false narrative that vaccines contain fetal tissues.
Corral tells them those rumors aren't true, but he's not sure he has overcome their skepticism.
"What I hear is that: 'You go first. I'm going to see what happens to you,'" Corral said.
Corral is eager to be immunized so he can finally hug his mother.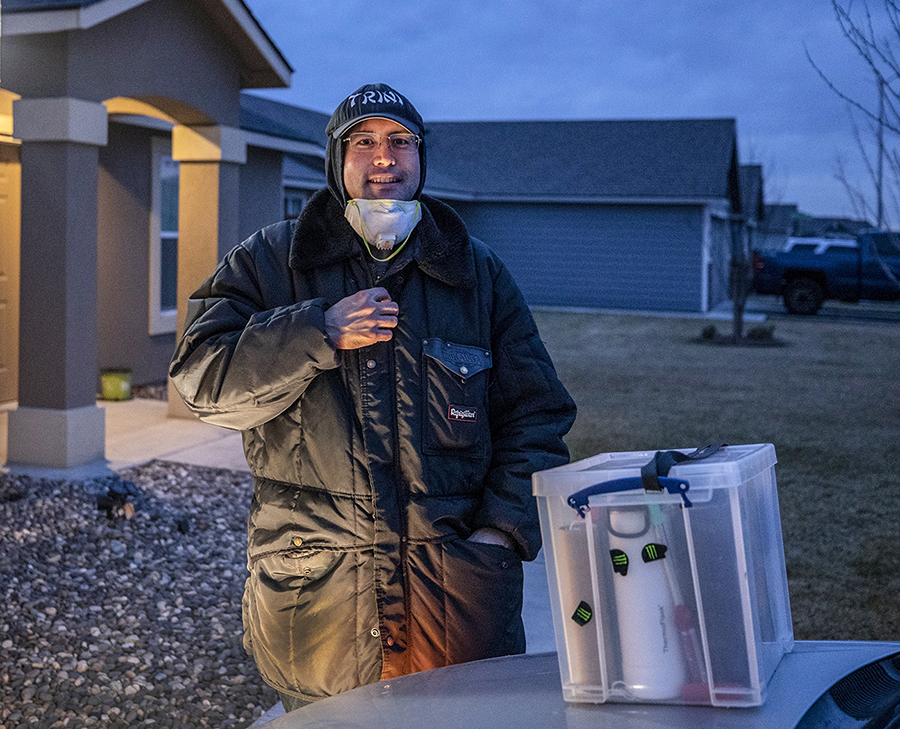 For chef Tarik Abdullah, donations of food continued to flow month after month. And his mission to feed people only expanded.
On a February morning this year, Abdullah chopped and chatted inside the kitchen of Coyote Central, a nonprofit in Seattle's Central District, which had become his base of operations.
Mixed berries simmered on the stovetop beside a pot of bubbling beef shawarma.
Conversation with his helper that day, chef Philippe Thomelin, drifted from the best kitchen tool — the garlic peeler — to how chefs must learn and evolve.
Abdullah's evolution pulled him closer to his community. In summer and alongside a local artist, Abdullah had created an outdoor gathering space on Beacon Hill called "Feed the People" plaza, which features a giant, colorful mural painted by community members of all ages. Each week, people gathered there — masked and socially distanced — to eat, listen to music or attend Sunday services hosted by an Orisha priest and healer.
Now, three days a week at Coyote Central, Abdullah pores over food donations, standing at the spice rack and dreaming up menus. Protein on Thursdays, vegan on Fridays and vegetarian on Saturdays. Abdullah often feeds 100 people a day, or more.
Volunteers like Thomelin help him craft the kind of food that nurtures people — braised beef shawarma with roasted beets, beet greens and broccolini. Preserved lemons in yogurt.
These are the kind of dishes that people struggling with the virus' upheaval deserve. All free.
"We're here making really good food and nobody has to pay for it," Abdullah said. He paused. "Man, I love that. I love saying that."
Patti Taylor, now 96, stayed at Life Care. Throughout the past year, she took more than 20 tests, all of them returned negative. She made the days go by fast with crossword puzzles and her daily newspaper. Taylor cut her own hair and painted her own nails.
Except for one medical appointment, Taylor refused to leave Life Care, determined to stay healthy and meet her new great-grandbaby.
Through winter, Life Care remained largely locked down, but Taylor can still meet with visitors outside the building. Her granddaughter brought Samantha, born in June, for socially distant visits once a week.
On Dec. 28, Taylor received her first dose of vaccine, completing the regimen three weeks later.
From the window in her new room on the opposite side of the building, she views not reporters and cameras, but pampas grass, pine trees and birds visiting a birdbath. Her walker remains wrapped in the Mardi Gras beads she flaunted a year ago.
Epilogue
Trinh Ong's restaurant, Mi La Cay, has weathered two bans on indoor dining. Community support has helped the restaurant pull through. She's trying to stay optimistic. Her customers, many of whom have become friends since the pandemic began, have made that easier.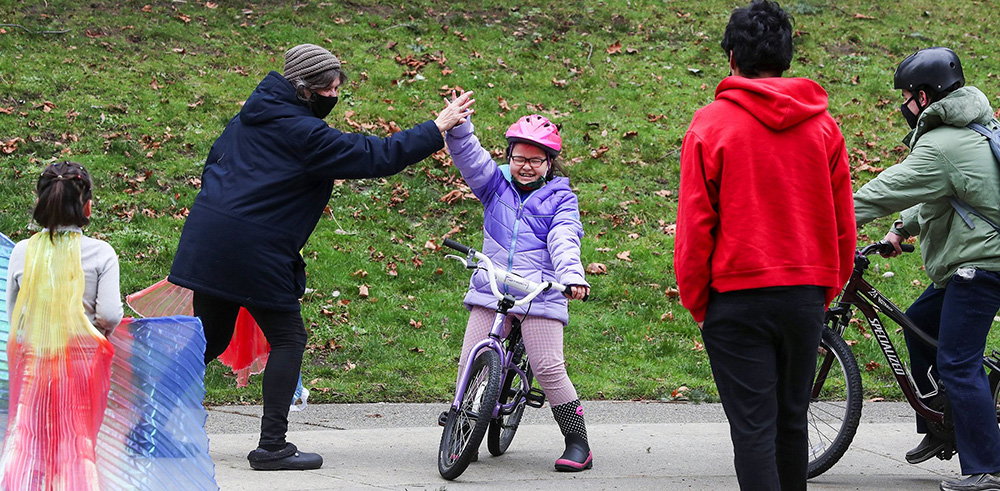 Many Washington students are returning to in-person school. Karla Petersen's three youngest won't be among those going back right away. For now, Petersen told the Seattle district she'll keep them home. There are too many unknowns. The kids haven't stopped growing, learning and reaching new milestones. On a gray January day, Elizabeth, 8, let out a squeal of delight as she completed her first bike ride without training wheels.
The new year brought new projects for chef Maria Hines. A plan to sell organic energy bars started moving forward and other business partnerships evolved. Hines and her wife plan to relocate full-time to their rural Mazama cabin this spring. In January, she posted on Instagram a video of herself, lying on her back, stuck in a culvert with her cross-country skis crossed. She was laughing.
"Sometimes our biggest teachings come from failure. I used to be terrified, embarrassed, ashamed of failure," she wrote. "But it's a part of life."
Tarik Abdullah marvels at what the Kitchen Collective and others have done for a full year to provide free, healthy meals from donated food that would have gone to waste otherwise. But he also wonders:
"There's no reason in the world that we can't have community kitchens established all the time… we can do it with donated food, really good food. And feed the people."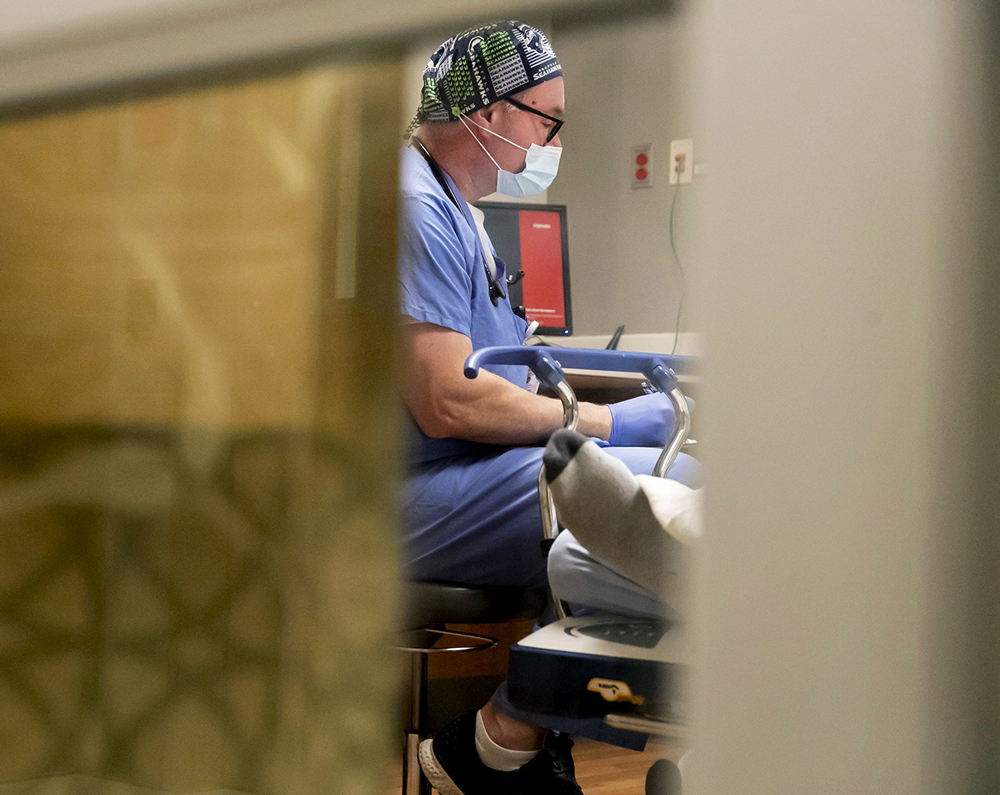 On a February day in the EvergreenHealth emergency department, a male patient in room 25 hacked away with a gravelly cough. The patient was nearly the same age as Dr. Ryan Padgett.
"Doesn't sound good," Padgett said, before walking into the room to treat the man at bedside.
Patti Taylor crocheted Samantha a baby blanket; it's Samantha's favorite in her stroller. She looks forward to holding the infant close one day.
It will be nice when she can come over for Sunday dinners, said Lauri Taylor, Patti's daughter. Hopefully soon. A year later, Lauri marvels that her mother survived a year in a building filled with the deadly virus.
"My mom is a miracle," she said.
Jose Trinidad Corral was angered to learn that Tyson management officials in Iowa — now fired by the company — had formed a betting pool to wager on the number of workers who would test positive for the virus. He was assured in December nothing similar had happened at his plant.
As of January, Tyson officials say they have invested some $540 million in protective measures across its plants. At the time, 1% of its national workforce had COVID-19.
Corral was still waiting for his vaccine in early March, when Tyson ended its $15 per day pandemic bonus pay.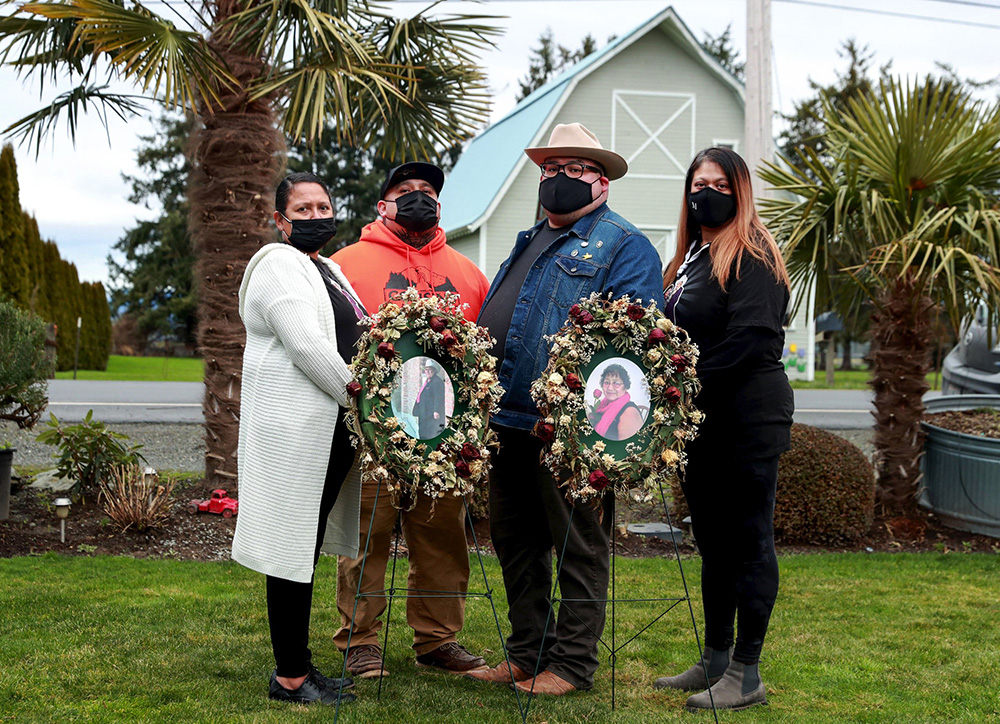 To honor Eduardo and Nena Sanchez, their grandchildren established a Day of the Dead-inspired ofrenda — a home altar — in the living room of their Mount Vernon home.
The assortment of photos, candles, tissue-paper flowers and keepsakes barely fits on the table. A can of Coke Zero sits in one corner, an homage to one of Eduardo's favorite drinks. Another part of the table features Nena's "spicy candy," as one of the great-grandchildren says. Images of the Virgin of Guadalupe, one of Nena's favorite saints, also decorates the altar, along with pictures of Eduardo in his trademark white cowboy hat and Nena with a silk bandanna wrapped around her head.
"Little by little, it got bigger and bigger," said granddaughter Melissa Garcia. "It looks so beautiful now."
View

Comments