OWOSSITSA CREEK, Nootka Island, B.C. — The creek, cool and crystalline, winds around hunks of downed logs gradually melting back, over centuries, into the soil.
The water's glittering surface is alive with bugs.
Side channels glow with sunbeams that find their way through the hemlocks, firs, cedars and ferns.
The stream is so wild the dark mud around it is pressed with wolf tracks, and the beach where it meets the saltwater is piled with white clam shells.
The forest and native plants nourish and protect this stream from its banks to its depths, from freshwater to salt.
This is what all of the healthy coastal rainforest streams here used to be like.
It's the last uncut salmon stream in Nuchatlaht territory — where only their top chief was allowed to fish. When logging began at the head of the stream, around the lake where sockeye spawn, Nuchatlaht leaders fought to protect it.
The tiny Nuchatlaht Nation, with fewer than 200 enrolled members, in 2017 filed suit in the Supreme Court of British Columbia, to reassert their right and title to the territory on northern Nootka Island they had never ceded. The case went to trial in March 2022 and a decision is pending. The litigation is closely watched in a province where First Nations see the lands and waters that have always sustained them threatened by industrial development.
Leaders of the Nuchatlaht Tribe and Mowachaht/Muchalaht First Nations want to heal and protect their territory with salmon parks, a new, Indigenous-led conservation initiative.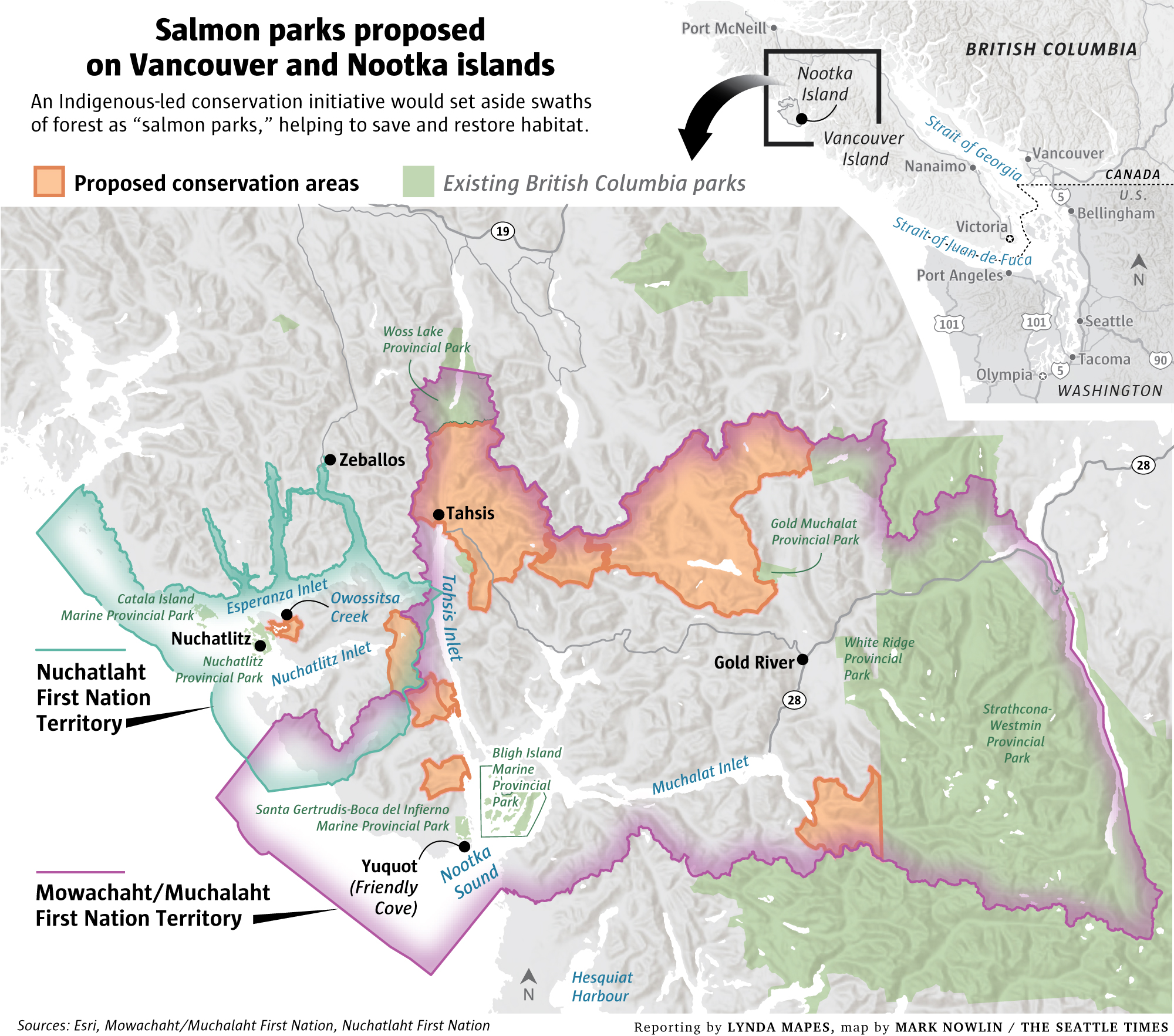 Within these proposed protected areas in key watersheds on Vancouver and Nootka islands, industrial logging would be stopped or greatly restricted to allow the forests to recover and salmon to return to creeks that in time — a lot of time — could begin to look more like Owossitsa Creek, where the movement started.
The tribes now want the parks, already declared under traditional law, recognized and honored by the B.C. government.
---
"We are looking for solutions, not blame," said Archie Little, 73, of Port Alberni. He is House Speaker and a councillor for the Nuchatlaht. Bringing the court case is a matter of duty under the teachings of their ancestors, Little said. "They provide the guidance, the strength, the knowledge, the wisdom and the gifts."
These teachings enabled the Nuchatlaht and other First Nations to live for thousands of years as healthy, prosperous governments and cultures, Little said. "We have a saying, that everything is connected," Little said. "What happens at the top of the mountain has a direct effect on the estuary."
Wealth came from the abundance of their land and waters, and was for the community measured by how much could be given away — not kept for individual profit. Sustainability is a core belief and a teaching.
"It was always about management for tomorrow," Little said. "Not access for today." That changed with the arrival of the newcomers. They came for the furs and stayed for the trees.
Contact, then death
Before there was a British Columbia, or a Canada, or a United States, there was this beach. Yuquot — or Friendly Cove, as the newcomers called it — on Nootka Sound, where Captain James Cook in 1778 dropped anchor and began trading with the First People of this place.
Word of the prices the sea otter pelts fetched when later sold in China ignited a boom in "soft gold." By the time it was over, within just 20 years — after hunting the local sea otter population nearly to extinction — the remote cove had become a center of world trade.
It was also ground zero for first contact in this part of the Northwest. An apocalypse of diseases brought by the newcomers reduced the local population of the Native people by as much as 90%.
Mowachaht families at Yuquot (also called Friendly Cove), Nootka Island, with Indian Commissioner I.W. Powell and seamen, 1873-1874 (Photographer Richard Maynard / Image C-07303 courtesy of the Royal BC Museum)
Friendly Cove has only one family living there today. An annual summer festival brings families back to their ancestral home in a commemoration of survival by the Mowachaht/Muchalaht people who, like their neighbors to the north, the Nuchatlaht, are still here.
"Captain Cook landed on my beach and that's when my problems started," said Jerry Jack Jr., 60, a hereditary chief of the Mowachaht/Muchalaht.
No stranger to extractive industries, he worked in Alberta's tar sand oil fields before working until retirement as a police officer at the Makah Nation, the Quinault Indian Nation and the Royal Canadian Mounted Police. His career choice was simple, Jack said: He knew logging was not sustainable at the rate it's continuing in B.C., "but there would always be criminals."
He supports the salmon parks concept and the Nuchatlahts' cause to protect the forests that are left. "It is disheartening to see how much has been taken out," Jack said.
Roger Dunlop, lands and natural resources manager for the Mowachaht/Muchalaht, estimates that every drainage in the Nation's territory has been logged and, at current rates of harvest, all the old growth will be gone in lowland productive areas in 17 years. "This has all been mowed down. It's basically grazing, on a larger scale," he said with a sweep of his arm at cutover forests marching nearly to the ridge tops around the tribes' reserve near Gold River.
Clear-cut logging destroys the natural stream hydrology, with flows reduced by as much as 50% in summer as water is sucked up by young plantation trees, scientists have found. The water deficit can last decades, and it is not avoided even with better logging practices leaving stream bank buffers.
Removing the big trees from the banks also can take away the stability those roots provided. Unstable banks erode silt into streams that can smother salmon redds, or nests. It also takes centuries for old-growth forests that have been cut to regain their carbon storage capacity in wood and soil, scientists have long known.
On Nootka Island and mainland B.C., most of the unprotected old growth is already logged and the harvest now is in second-growth. "Guts and feathers" are all that's left, Dunlop said.
500 years from now
Ray Williams was the last Mowachaht elder at Yuquot, and head of the only family left here. Everyone else was pushed out by the Canadian government in the 1960s with the formation of Indian reserves — even though the Native people did not cede their lands. It's a move many families now inland near Gold River still resent.
Williams resisted.
"Nobody was going to tell us to move. I love living along the ocean," he said, settling into his chair by a window that looks out to Nootka Sound, during an interview just months before he died at 80. A logger himself as a young man, he helped load the trucks that would wind down the logging roads. The logs were so big, only a few would fit. "It was a job — I was young and didn't think about what we were doing," Williams said.
"I regret it."
Across Vancouver and Nootka islands, thousands of cedar trees and logged stumps today bear the scars of use by the First People: stripped bark, planks, and test holes made to sample the quality of the wood. Some living trees bear truly ancient witness to the intertwined lives of the First People and trees of this region. Jacob Earnshaw, of Victoria, B.C., reported in his 2019 article, "Cultural Forests in Cross Section," that deep within the stump of a cedar (at least 1,165 years old when it was felled in 2011) at Barkley Sound was a scar from bark harvested when it was just 57 years old, in AD 903.
So many culturally modified trees have been disrespected, cut and logged for lumber, Little said. "That was so rude, to our history and our culture. Then we have to go to court to prove we were here?"
The trees have always helped his people, Williams said. Western red cedar, traditionally known as the Tree of Life, was used from birth to death: shredded bark for baby diapers, twined bark for fishing nets, woven bark for clothing and baskets, carved and split wood for tools, house planks, dishes and boxes, and trees felled for canoes — some used for burials, hoisted in trees. "The coming of the outsiders, it changed it," Williams said. "It separated the connection, the same way logging separated the land and the ocean."
Carbon dating of soil charcoal in coastal temperate rainforests of western Vancouver Island shows some of the slopes in the region have not burned in more than 6,000 years.
But most surrounding forests are typically logged every 60 years on industrial plantations — a rate of disturbance 100 times faster and entirely different from natural disturbances, Dunlop said. More than 71% of the Mowachaht/Muchalaht territory outside of parks has been logged at least once. The only solution now, Dunlop said, is to let the most damaged areas alone to recover.
On Nootka Island, areas of uncut forest show the abundance that was. These forests were the grocery store and apothecary, the garment district and hardware store, where food, medicines and the wood for everything was to be found.
As they work to create salmon parks, Little said, the goal isn't to stop all harvest, but to make it more in line with how it was when the chiefs managed the forest for the good of the community. There can be no ecological restoration without restoring the cultural teachings for these lands, Little said, under the cultural principles of hishuk-ish-tsa'walk: Everything is connected. Isaak: Respect for all. And uu-a-thluk: Taking care of.
"We won't see the benefits, but we have to start," Little said. "Five hundred years from now, there will be little creeks full of salmon."
Reporting for this story was funded with support from the Institute for Journalism & Natural Resources and Gordon and Betty Moore Foundation.

Lynda V. Mapes: lmapes@seattletimes.com; on Twitter: @LyndaVMapes. Lynda specializes in coverage of the environment, natural history and Native American tribes.
Reporter: Lynda V. Mapes
Photographer: Erika J. Schultz
Videographer and video editor: Lauren Frohne
Project editor: Benjamin Woodard
Photo editor: Angela Gottschalk
Digital designer and developer: Frank Mina
Engagement editors: Jeff Albertson and Qina Liu
Project coordinator: Laura Gordon