In its ambitious rise to become one of the largest hospital systems in the country, Providence Health & Services struck a deal in 2011 to claim a Seattle-area rival, Swedish Health.
Providence added five hospital campuses in the process, including Swedish-Cherry Hill, an institution with a storied history and a budding reputation as a global center for neuroscience research, treatment and clinical trials.
Just a few years later, Providence and Swedish had overhauled the way Cherry Hill's neuroscience program approaches the business of medicine, enriching the nonprofit institution and its star surgeons.
A steady churn of high-risk patients undergoing invasive brain and spine procedures allowed Cherry Hill to generate half a billion dollars in net operating revenue in 2015 — a 39 percent increase from just three years prior. It also had the highest Medicare reimbursements per inpatient visit of any U.S. hospital with at least 150 beds.
By those metrics, Providence's acquisition of Cherry Hill has been a rousing success story.
But the aggressive pursuit of more patients, more surgeries and more dollars has undermined Providence's values — rooted in the nonprofit's founding as a humble home where nuns served the poor — and placed patient care in jeopardy, a Seattle Times investigation has found.
The Times spent a year examining more than 10,000 pages of records in four states, analyzing federal and state databases containing millions of records, and interviewing more than 100 people, including more than 30 current and former Cherry Hill medical staffers.
Among the findings:
The doctors in the neuroscience unit are incentivized to pursue a high-volume approach with contracts that compensate them for large patient numbers and complicated surgical techniques. Of the six top-producing brain and spine surgeons in Washington state in 2015, five were part of Cherry Hill's neuroscience team, averaging $67 million in billed charges.

The hospital touts its star surgeons to draw patients from hundreds of miles away, but six current and former staffers said those doctors will sometimes do little in the operating room once the patient is under anesthesia. Instead, the surgeons will leave less-experienced doctors receiving specialized training to handle parts of a surgery. That allows the primary surgeons to be in another operating room — a practice known as "concurrent surgery" — to maintain high volumes. It is not prohibited but can test the limits of Medicare rules.

Hospital leaders recruited one doctor from another institution as he dealt with an internal investigation and allegations that he had high rates of complications and may have performed unnecessary surgeries. At Cherry Hill, more allegations of patient care problems emerged about the doctor, but administrators promoted him to a top leadership position.

Cherry Hill patients have undergone surgeries that are more invasive than available alternatives. That's particularly the case in the treatment of aneurysm patients, where data show a pronounced spike in a technique that requires opening a patient's skull and working on the brain instead of utilizing a less-invasive procedure that does not require a craniotomy.

The increased volume of patients has left medical staffers from the operating room to the intensive-care unit with massive caseloads, dividing the attention of ICU nurses who would otherwise provide one-on-one patient care. A loophole in a Washington state law designed to enhance patient safety has forced some nurses at Cherry Hill to be on duty for 20 hours in a day.

There are indications that the high-volume model is taking a toll on patient care. In benchmarks tracked by the federal government, Cherry Hill was flagged for having high rates of blood clots, collapsed lungs and serious surgical complications. State data show a rise in other problem indicators over the last several years, including aneurysm patients with high numbers of strokes.
There is no doubt that the surgeons at Cherry Hill have routinely improved and saved lives, and the data The Seattle Times analyzed shows only a partial picture of what's happening inside the facility. But the most troubling findings in the Times' investigation came from the doctors and other medical staff members who have witnessed the changes inside Cherry Hill's Swedish Neuroscience Institute (SNI).
Internal records obtained by The Times, and interviews with current and former staffers, reveal an array of concerns communicated directly to the institution's top administrators. The complaints include explicit warnings about inadequate patient care, inappropriate surgeries, poor documentation, a lack of accountability for postoperative complications and dubious decisions that resulted in patient harm and death.
Those objections have been largely suppressed by a leadership team that has been accused of disregarding clear problems, according to the records and interviews. Instead, medical staffers who have spoken out about their concerns reported facing intimidation and retribution. One memo cited these problems as a reason that more than 60 staff members had departed the facility in the span of two years.
"This toxic, repressive environment has already negatively impacted the ability of the SNI community to provide the quality care (to) our patients that they deserve," wrote one neurosurgeon, Dr. Charles Cobbs, in a memo to Swedish CEO Tony Armada last year.
In an emailed statement, Armada touted Swedish's unwavering commitment to high quality patient care. He said SNI and Swedish work to ensure that caregivers have a safe and respectful working environment.
"To maintain a culture of safety, each and every caregiver is supported and empowered to raise safety concerns," Armada said in his statement. "Any concerns about quality of care are addressed immediately and thoroughly reviewed with oversight from medical committees, senior leadership and third-party experts, when needed."
Providence and Swedish officials declined repeated requests to be interviewed for this story. In January, a Providence spokeswoman emailed to say that the institution was launching an investigation into an allegation that a Seattle Times reporter had improperly obtained medical records in violation of federal laws protecting patient privacy.
The only patient records obtained by The Times came from the patients themselves, such as Jeff Sproles, a Marine Corps veteran who shared his Cherry Hill records with a reporter. Sproles checked in for surgery at Cherry Hill in September 2013 to address a spine problem. He recalled his doctor — Rod Oskouian, one of the state's most active brain or spine surgeons — saying that his fusion surgery was so simple that he could do it with his eyes closed.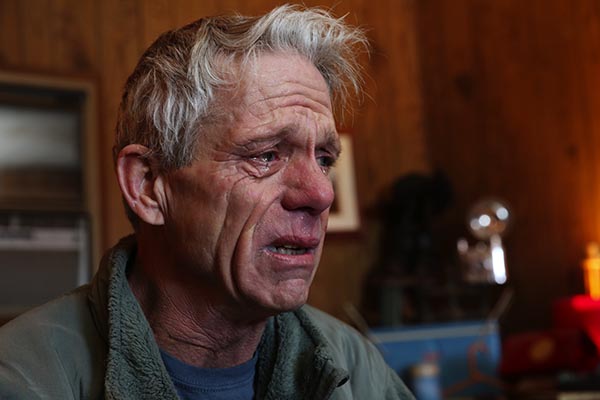 Ken Lambert / The Seattle Times
But when Sproles returned home from surgery, he had difficulty breathing and swallowing. He returned to the hospital and later learned the surgeon had cut too deep into his throat, Sproles said. He spent months recovering and needed a peg tube to feed himself through his stomach.
A reporter contacted Sproles last December to ask if he was certain that Oskouian, who did not respond to interview requests for this story, had performed his surgery. Sproles was taken aback — Oskouian had been his doctor, and he never considered that the surgery had been done by anybody else. Sproles contacted Swedish and requested his complete medical file.
He reviewed his records in tears. They show that another doctor, a fellow, played a large role in his case. It's unclear from the files how much time Oskouian himself spent in the operating room or which procedures he performed.
"Who do I turn to?" Sproles asked. "There is nobody to go to, to say, 'This isn't right, this isn't fair.' "
---
Internal clash
As the Swedish Neuroscience Institute was shifting toward a high-volume practice, Providence recruited Dr. Johnny Delashaw, a star surgeon known around the West Coast as a top producer. In just the first 16 months after his arrival in Seattle, state data show Delashaw handled 661 inpatient cases totaling more than $86 million in billed charges for the hospital — more than any other brain or spine surgeon in the state.
But over that same time, Delashaw faced 49 internal complaints from alarmed staff members concerned about the quality of his patient care and alleging unprofessional behavior, internal records show.
Delashaw, in an emailed statement, highlighted his credentials as one of the leading experts on the treatment of complex tumors and aneurysms. He said he and his colleagues were doing amazing work that could "change the world" by helping cure paralysis. He acknowledged the growth at SNI has faced resistance by some staff members who have not embraced the changes.
"Some have become disgruntled and some of these health care providers have left," Delashaw wrote. "When there is a change in culture it is commonplace for individuals to complain through the anonymous complaint system" at the hospital.
Those complaints are "vetted and dealt with effectively as necessary," he wrote.
The internal clash between Delashaw's growing production and the perceived disruption came as Providence and Swedish administrators searched at the end of 2014 for new SNI leadership.
Providence CEO Rod Hochman, who oversees the system's 50 hospitals in seven western states, called a meeting of about 15 top decision-makers, including hospital administrators and the group of SNI neurosurgeons. Hochman, a doctor himself who previously specialized in rheumatology and internal medicine, had led Swedish Health before the merger elevated him to lead Providence.
Hochman's group gathered on the sixth floor of Cherry Hill's James Tower, in space run by a nonprofit affiliate.
Some of the surgeons had been waiting for administrators to conduct a national search for a new SNI leader, but they learned at the meeting that administrators were now looking to appoint someone from within, according to four people who attended the meeting, speaking separately and on condition of anonymity due to fear of retribution. One of the surgeons suggested they take a vote to decide how to approach the issue.
Hochman ended the discussion. "This is not a democracy," he said, according to the people in attendance. He said they would appoint someone internally.
To nobody's surprise, Delashaw was the guy. Swedish wrote in an emailed statement that Delashaw's promotion came with the support of his neurosurgery colleagues.
Dr. Eric Vallieres, the head of Swedish's internal committee on surgical quality, stepped down from his position in protest. Vallieres wrote a January 2015 memo, obtained by The Times, telling Swedish and Providence leadership that he couldn't do the job when administrators were promoting "an individual that has shown very little respect for the Culture of Safety and related processes."
The "number of negative reports submitted by so many different individuals is, in my judgment, a serious indicator of deficiencies that will not make him a good leader for Neurosurgery," Vallieres wrote. He declined to comment.
Despite the concerns aired about Delashaw, the hospital's administrators moved ahead with a plan to revamp surgical contracts in a way that would incentivize the high-volume approach in which Delashaw excelled.
In the past, the SNI surgeons pooled a portion of their pay and redistributed it among each other. It was a system designed to encourage doctors to pass along patients to their peers when they thought a co-worker might be a better specialist to handle the patient's procedure. In some surgical settings, all income is pooled this way.
The revised contracts at Cherry Hill's SNI program ended the pooling system, according to records and interviews. Surgeons would be paid almost entirely on their production, as measured by Relative Value Units, or RVUs. RVUs are part of a Medicare reimbursement formula that assigns a value to each procedure.
Volumes had been rising among SNI's top surgeons in 2013 and 2014, and they continued rising under Delashaw's stewardship and the new contracts, according to state data that track details of each inpatient hospital visit in the state. Among the institute's brain and spine surgeons, the average billing per case also jumped.
Swedish neuroscience doctors surge to lead state in billings
There has been a dramatic shift in surgical volume at the Swedish Neuroscience Institute (SNI), based at Swedish's Cherry Hill campus. Five of the top six high-dollar brain and spine surgeons in the state are now part of SNI.
2010 total charges by attending physician (in millions of dollars)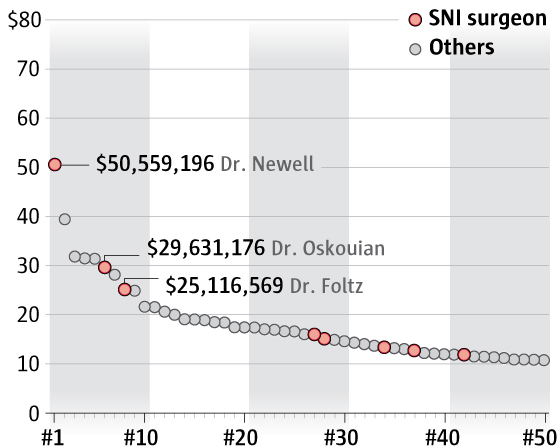 2015 total charges by attending physician (in millions of dollars)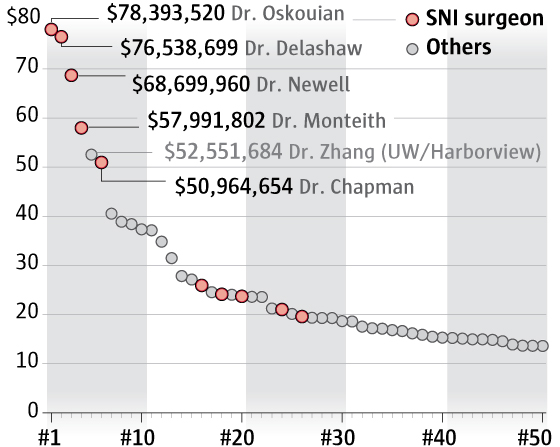 Source: Seattle Times analysis of the state's Comprehensive Hospital Abstract Reporting System (CHARS) data
Emily M. Eng / The Seattle Times
By 2015, five doctors at SNI ranked among the state's top six brain and spine surgeons, as measured by the total billed charges for patients in which the doctors were listed as the attending physician. The top two doctors — Delashaw and Oskouian — each exceeded $75 million in billed charges, almost $25 million more than the state's nearest brain and spine surgeon outside of the SNI group.
Understanding the business
Neurosurgeons handle a range of life-threatening medical issues, excising a brain tumor in one case and then responding to a burst aneurysm the next. Along with specialized orthopedic surgeons, they may also handle invasive procedures of the spine.
It's a high-stakes job that can involve patients on the brink of death. As a result, neurosurgeons are more likely to face malpractice claims than any other medical specialty. Research published in the New England Journal of Medicine shows that one in five neurosurgeons will face a malpractice claim in a given year.
During Delashaw's final 14 years at Oregon Health & Science University, 12 different lawsuits named him as a defendant, with allegations that included an operation on the wrong part of the spine and a surgery for a tumor that turned out to be a benign cyst. Those cases and three others later resulted in settlements, although court records don't describe the terms. Six of the cases appear to have been dropped or ended in Delashaw's favor. Available court records do not indicate how the 12th case was resolved.
Delashaw, in his emailed statement, said he wasn't aware of 12 lawsuits but said "none resulted in any findings of culpability or breach in the standard of care."
Officials at the University of California, Irvine, saw Delashaw as a potential asset. Internal memos from 2011 show that university officials specifically mentioned that Delashaw was someone who "has mastered many of the skills necessary to understand the 'business' of health care." The memo also cited his potential to build a major referral network and lead the Irvine department to national prominence.
"There are distinct possibilities that he will encourage greater productivity from other faculty members so that the amount of income generated by the Department will make it a leader within the institution," Dr. John Kusske, then the interim chair of the Department of Neurological Surgery, wrote in one message.
UC Irvine offered Delashaw a salary of $900,000, plus the chance to earn much more, according to university records. The deal would pay Delashaw based on his RVUs, the Medicare metric that assigns a value to each procedure. And he would be paid more if his department's RVUs also grew.
Delashaw began the UC Irvine job in March of 2012 and immediately made changes. Within months, one colleague, Dr. Mark Linskey, filed a grievance that accused Delashaw of cutting his compensation while hoarding patients for himself and another doctor, according to records.
Delashaw later explained, as part of his testimony in Linskey's case, that he had concluded some of his peers weren't doing enough work to support their salaries.
"I wanted all my faculty — as I said to them many times — I want them to be rich," Delashaw testified, according to records in the case. "But in order to be rich, you have to work and you have to do clinical volume or you have to have other kinds of financial support."
Other allegations from the case centered on patient care. In records filed by the university as part of a lawsuit Linskey is pursuing, Linskey reported that a group of neurosurgery residents had come to help him with a major brain-tumor case but were redirected to help Delashaw, who was running three operating rooms simultaneously. Two professors who reviewed matters in the Linskey dispute reported in an August 2015 confidential memo to the university's chancellor that they had "heard disturbing testimony about incidents related to patient care that if true could have resulted in serious liability for the University."
In response to a public-records request filed by The Seattle Times, the university refused to release hundreds of documents related to Dr. Delashaw. An individual with direct knowledge of the case provided to the Times, on the condition of anonymity, documents that include the testimony from internal university hearings stemming from Linskey's grievance.
The records show that Dr. Scott Goodwin, the chair of the Department of Radiological Sciences at UC Irvine, testified that doctors in his department had flagged more than 40 Delashaw cases that concerned them. The flagged cases included surgeries that were potentially unnecessary and others that involved significant complications for the patient.
The doctors had also seen scans of Delashaw patients who had undergone brain-tumor surgery "where so little of the tumor was removed you couldn't tell the difference pre- and postoperatively," Goodwin said. He declined to comment for this story.
Dr. Hamid Djalilian, a surgeon, described how Delashaw pressed to do a procedure against a patient's wishes in one case, according to records. Djalilian also said in his testimony that Delashaw's complication rate was "higher than anybody else I've ever seen in my life." Djalilian declined to comment, referring questions to a UC Irvine spokesman.
Another doctor, who had been a resident under Delashaw, testified that Delashaw wanted to get rid of a patient whose family wasn't coming to get him, according to the records. The patient was an undocumented immigrant, so Delashaw instructed residents to call U.S. immigration officials, said the former resident, Dr. Alexa Reeves Smith. Smith, who declined comment for this story, testified that she didn't initially make the call but ultimately did after Delashaw ordered it. She said Delashaw later denied making the demand.
Delashaw wrote in his statement to The Seattle Times that he could not discuss the immigrant case due to privacy rights but said there was a successful medical outcome. He said the other accusations against him during his time at Irvine can be blamed on professional jealousy.
"Everyone does not always appreciate growth and success. The former neurosurgery chair and the chairman of radiology were unhappy with and envious of our success, all too human frailties, as it had not been achieved prior to my arrival," he wrote.
Delashaw faced scrutiny beyond the turmoil at UC Irvine. In April 2013, the board of directors of the American Association of Neurological Surgeons voted to censure Delashaw for questionable testimony he gave in a malpractice case where he was serving as an expert witness, according to the association. The organization declined to provide details about the case, including what Delashaw had said.
The problems weren't enough to tarnish Delashaw's reputation as a high-volume star. Before the year was out, Providence lured Delashaw away from UC Irvine to come to Seattle.
Choosing a method
No matter where he has practiced medicine, one issue in particular has been a flashpoint for Delashaw's patients and co-workers: the treatment of aneurysms.
Brain aneurysms are sacs that grow over time and protrude from arteries in the head like a slowly inflating balloon. Blood flow into the sac puts pressure on the aneurysm walls, which can eventually cause the sac to burst, causing a potentially fatal rush of blood into the brain.
Surgeons typically treat aneurysms in one of two ways:
In a "coiling" procedure, a doctor makes an incision the size of an eyelash into the patient's groin. A tiny catheter is then fed into the incision to follow the patient's arteries to the aneurysm ballooning in the head. Once there, the doctor feeds narrow metal coils through the catheter and into the aneurysm, filling it and closing it off from the rest of the artery.

In a "clipping" procedure, a surgeon cuts into the scalp, peels it back and saws out a palm-sized portion of the skull. The dura membrane covering the brain is opened so the surgeon can push brain tissue aside until the aneurysm is found. The surgeon places a metal clip over the base of the aneurysm, cutting off blood flow to the sac. The patient's head is then put back together, with metal plates and screws securing the skull and sutures securing the dura and scalp.
Doctors may choose a method based on factors including the location, size and shape of the aneurysm. Coiling has grown in popularity due to research — such as the International Subarachnoid Aneurysm Trial — indicating that the less-invasive option can be better for patients. And patients often prefer coiling because it avoids having part of their skull removed.
Delashaw, however, specializes in the clipping procedure.
In his testimony from the UC Irvine case, Goodwin expressed concern that Delashaw had steered the facility into performing the more invasive clipping procedure at an unusually high rate.
A Seattle Times analysis of patient data shows dramatic shifts in aneurysm treatment as Delashaw moved between jobs. Before his 2012 arrival at UC Irvine, the university's medical center performed clipping surgery in only about 13 percent of cases. After Delashaw's arrival, 62 percent of aneurysm patients undergoing treatment at Irvine received a clip — the highest rate among California hospitals who had at least 20 aneurysm cases, according to state data analyzed by The Times.
When Delashaw moved to the Cherry Hill hospital in Seattle, that campus jumped from 36 percent of cases getting a clip in 2012 to 57 percent in 2014. The statewide average remained under 40 percent during that same time.
Delashaw wrote in his statement that he has "a national referral practice and wherever I go, complex vascular patients follow. It was natural and expected to see a rise in vascular surgeries with my arrival in Seattle."
Dr. Joe Eskridge, an interventional neuro-radiologist who specialized in coiling procedures during his 11 years at the Cherry Hill campus, said before Delashaw arrived he worked with Dr. David Newell, who had handled many of the aneurysm clippings.
Eskridge said he and Newell often discussed aneurysms to assess whether the patient would have better results with a clip or coil procedure. Newell would come over to Eskridge's office or lab, bringing images to discuss with him. At times, Newell and Eskridge would both discuss the options with the patient.
"Delashaw never did that," said Eskridge, who said he was forced out of Swedish after complaining about a different surgeon's level of care.
Dr. Michael Myint, the vice president of quality and patient safety at Swedish, said medical staffers are currently developing plans to improve how the organization evaluates and chooses the best treatment options for aneurysm patients.
"We are continuing to work on delivering best practices around this," Myint said.
From the time Delashaw arrived at Cherry Hill in October 2013 through the end of 2015, 9 percent of the aneurysm patients treated at Cherry Hill developed an ischemic stroke during their stay, compared with 4 percent at all other hospitals in the state. When looking at just clipping procedures, Cherry Hill's stroke rate was twice that of other hospitals — 14 percent to 7 percent.
In one of the Oregon lawsuits, a 40-year-old firefighter named Erik Rosendahl alleged that Delashaw rushed him into surgery in 2011 for an unruptured aneurysm and never offered him the coiling option. Rosendahl's aneurysm ruptured during the surgery, according to his case file, and has left him with physical, psychological, cognitive and speech impairments. That lawsuit was settled. Rosendahl, through his attorney, declined to comment or disclose the terms.
Tonia McLinn, 49, had been having occasional headaches and blurry vision for a few years. She learned she had an unruptured aneurysm and was referred to Cherry Hill in the care of Dr. Delashaw.
McLinn, who made the trip to Seattle from her home in Alaska, said Delashaw explained the clipping procedure and showed one of the clips during a brief meeting.
After her surgery, McLinn experienced complications that included swelling and an infection. She needed another surgery in Alaska to remove the flap of bone that had been cut away for the aneurysm surgery. A year later, surgeons put a plate in her head to cover the opening in her skull.
McLinn still deals with pain, and her family says her personality has changed. She's paranoid, anxious, has short-term memory loss and has panic attacks in random public places.
"My head is deformed. It's uneven, and it's noticeable," McLinn said. "I hate looking in the mirror."
McLinn said she doesn't recall Delashaw ever mentioning that there was a less-invasive treatment. She said she never knew about the coiling option until months after her surgery, when another doctor asked her why she had selected the clipping method. Medical records show her aneurysm was small and located in the ophthalmic segment of the internal carotid artery, where research shows coiling is an option.
Growing the numbers
Surgeons with production-based contracts can increase their revenue by adding more stages to a surgery. That's particularly true when it comes to spine cases.
For example, a common procedure to relieve back problems is a spinal decompression, in which a surgeon will remove a portion of the vertebra to give more space to the spinal cord or surrounding nerves.
Doing the procedure on one vertebra can total 15.37 RVUs. Doing another level of the vertebra can add a modest 3.47 RVUs.
But a surgeon can dramatically expand their numbers by adding a fusion, which uses hardware to give the spine more stability. Fusing two vertebrae would total 23.53 RVUs. A surgeon can add 6.43 RVUs for each additional vertebra and even more by adding more devices.
All those RVUs equate to more reimbursements for the hospital and, under the Swedish contracts, more money for the doctors. And, with the help of spine cases, Cherry Hill has drawn more Medicare spending for every inpatient visit than any other hospital in the country that has at least 150 beds.
A growing body of research suggests that, though lucrative, spinal-fusion surgery is not the best option for lumbar stenosis, a common condition of degenerative spinal changes, when the patient doesn't also have a displaced vertebra, said Dr. Richard Deyo, who researches spine surgeries at OHSU.
Swedish saw an increase in the number of lumbar-fusion surgeries in 2014 when the patient had a primary diagnosis of lumbar stenosis and did not also have a displaced vertebra. Delashaw and Oskouian ranked tops in the state that year among brain and spine specialists, with 24 cases each.
A typical neurosurgeon performs about 9,400 RVUs per year, according to the Medical Group Management Association, a firm used by Swedish and other hospitals to monitor compensation levels. Documents obtained by the Times show Delashaw and Oskouian have each exceeded 27,000 annual RVUs in recent years.
When he testified in the UC Irvine case, Delashaw boasted that his RVU prowess dwarfed the output of his colleagues in the year before he joined the institution.
"Yeah, the whole department's terrible," he said. "I did 35,000 work RVUs myself that year."
Around the country, the median neurosurgeon earns about $772,000 a year, according to data compiled by MGMA. Once a neurosurgeon makes $1.4 million, they have reached the top 10 percent of their peers.
In 2014, Delashaw nearly broke $2 million in compensation, according to Providence's tax filings as a nonprofit. (Public records show Delashaw is also the largest recipient of Oregon public pension money, at $663,354 per year, from his past work in that state). Oskouian earned more than $2.3 million, the tax records show.
With a push from the federal government, the health-care industry in recent years has been shifting to a model that compensates hospitals based on efficient and effective care, instead of rewarding overall volume, said John Romley, an economist focused on health policy at the University of Southern California.
There is evidence that physicians respond to volume incentives by adding more procedures — perhaps unnecessary ones — to a patient's visit, Romley said.
Simultaneous surgeries
To manage their caseloads, Cherry Hill's top doctors will run multiple operating rooms at a time, according to six current and former staffers.
Concurrent surgeries aren't prohibited by law. Medicare allows simultaneous surgeries if the attending physician is present during "critical" portions of each procedure.
It's a common practice to have residents and fellows perform basic tasks, like stitching up a patient, when the surgery is largely complete. Fellows may also take on larger tasks while the attending doctor supervises.
After The Boston Globe published a story in 2015 that explored a controversy over concurrent surgeries at Massachusetts General Hospital, the American College of Surgeons developed guidelines stating that doctors could start a second surgery when the key portions of the first surgery have been completed.
"In general, the patient's primary attending surgeon should be in the operating suite or should be immediately available for the entire surgical procedure," the college wrote in its updated Statements on Principles.
At Swedish, surgeries are often scheduled to run at the same time, the six current and former staffers said. Four workers expressed concern that Delashaw would only be in the room for less than 15 minutes during a surgery.
One of Delashaw's former fellows, Dr. Peter Bouz, said Delashaw was clear about which parts of the cases were critical portions that the fellow could not handle alone. For an aneurysm clipping, the fellow could open the scalp and remove part of the skull, but Delashaw would need to be there for putting the clip on the aneurysm, Bouz said.
For other cases, such as the removal of portions of a patient's vertebrae in a laminectomy, Bouz said the procedure was simple enough that there was no critical portion. He said Delashaw would come to check to make sure it had been done correctly. Bouz noted that the fellows had completed their residency and were now qualified to work on their own but had come to Swedish for specialized training.
Four current and former staffers who asked to remain anonymous expressed concern that the OR would have to pause to wait for Delashaw in the middle of the surgery, with the patient's body opened up and under anesthesia. Bouz said there were times when there was a pause but that it would typically last no more than 15 minutes. Another former fellow, Dr. Prashant Kelkar, said Delashaw always came in a timely fashion.
Three of the workers who asked to remain anonymous expressed concern that Delashaw would be off in a clinic while simultaneously having multiple cases in the OR. Bouz said that would occur only when one case was beginning and another was ending.
Delashaw wrote in his statement that his surgeries are staggered so the attending surgeon is available for the critical parts of the operations. He said the practice is common at hospitals and that Cherry Hill data shows no measurable difference between outcomes for patients with doctors who run multiple rooms and those who don't.
"As I have remarked before, not all staff are in favor of change and will express concern when it is different. I can assure you that quality is our number one priority and we have great data to back us up," he wrote.
Consent forms that Swedish patients sign include small print saying that their attending physician may use associates "to perform and/or assist with part or all of my procedure(s)," according to a copy of the form from 2014.
Sproles, the patient who didn't realize that Oskouian's assistant had played such a large role in his surgery, doesn't have a copy of such a form but suspects he probably signed one. He said what bothers him is that when he met with Oskouian, the doctor made it sound like he would be the one handling the procedure.
In his postoperative note, however, Oskouian used the word "we" to describe the steps of the procedures that were used. At the end of his summary, he wrote that his assistant "helped perform the exposure, the diskectomy, as well as placed local bone into the cage, as well as did the fusion at C4-C5, C5-C6 and placement of the hardware."
Such practices escape attention when everything goes as planned. But the increased caseloads at Cherry Hill have coincided with a rise in some indicators that suggest patient care is declining.
In 2011 and 2012, state data show, just 0.1 percent of Cherry Hill neuro or spine patients who were admitted electively developed problems with accidental cuts or other issues from surgery during their stay, according to a Times analysis of state data. That has climbed each year, to 2.6 percent in 2015.
Myint, the patient-safety leader at Swedish, said the state data depends on the reliability of medical coding, which has its flaws. He pointed to data Swedish uses internally that shows Cherry Hill cranial and spine cases often performing better than national expectations in recent months. Swedish said a patient in 2016 was 31 percent less likely to die while undergoing a craniotomy at Cherry Hill than the national expectation.
Myint said Swedish is always monitoring benchmarks and working to improve them, and he noted that the organization's goal is to be in the top 10 percentile of hospitals when it comes to quality metrics.
Among 10 patient safety indicators published by the federal government, Cherry Hill ranked below national levels in three areas in the data through the middle of 2015: blood clots after surgery, collapsed lungs and serious complications.
Only one other hospital in the state — Tacoma General — was also behind on three national benchmarks.
Strain on staff
To protect patient safety, lawmakers approved a state law in 2003 prohibiting hospitals from requiring nurses to work overtime except in unforeseen emergencies. Jenae Knapp, a Cherry Hill nurse who represents her co-workers as the co-chair of Swedish's multi-campus Joint Oversight Staffing Committee, said hospitals can exploit that exception by summoning on-call nurses for cases that aren't actually emergencies.
It's frequently a problem at Cherry Hill, Knapp said, where the high patient volumes and the exodus of staff has strained the available resources.
It's not uncommon to see some nurses who support Cherry Hill's operating-room work 20 hours in a 24-hour period, Knapp said, despite research showing that long shifts can lead to more mistakes.
"If the caregivers are completely spent, they're not going to be able to take care of you," Knapp said.
Meanwhile, post-op areas have also been overwhelmed. In the ICU, Knapp said, patients who would typically get one-on-one care are watched by nurses with a second patient. Charge nurses, tasked with administrative duties, are now forced to take on patients as well, she said.
With the ICU packed with patients and lacking nurses, patients linger in the post-op recovery room for hours when they should be in the ICU, Knapp said.
Cobbs, the neurosurgeon, included in his memo that staff members believed Delashaw had decimated the ICU infrastructure and failed "to adequately staff the unit with trained providers." Other internal memos obtained by the Times say Delashaw exacerbated the situation with a caustic demeanor that created a toxic and hostile environment.
"Fundamental issues including respect for others, patient safety, appropriate surgery, and quality of care have been rebuffed by the leadership, in particularly Dr. Delashaw," Cobbs wrote. He declined to comment.
Delashaw said some surgeons have expressed anxiety because they see new peers as competition.
"While I expect excellence and unswerving commitment to our goals I am not a bully and have not produced an intimidating atmosphere," Delashaw wrote in his statement.
Early last year, records show an anonymous whistleblower contacted the state Department of Health outlining a range of concerns at Cherry Hill — inappropriate surgeries, increases in complications and infection rates, fellows who were doing unsupervised surgeries, and staff complaints that had been ignored. After a two-day investigation, the DOH investigator said the allegations were "not substantiated due to lack of evidence."
But pressure inside Swedish continued to mount through 2016. Dr. Ralph Pascualy, then the chief executive of physicians at Swedish, confronted Hochman, the leader of Providence, about Delashaw's issues in a November memo obtained by The Times.
Pascualy wrote that the Cherry Hill neurosurgeons felt intimidated to bring up what they considered to be Delashaw's unsafe practices and errors during the usual morbidity and mortality conference, a common gathering at hospitals around the country designed to be an open discussion for peers to give feedback on cases to improve future quality.
He told Hochman that he heard stories of Delashaw making decisions that led to significant patient harm and death.
"You are perceived as giving him special privilege and honor when he is held in extremely low regard by every other physician on the medical staff," Pascualy wrote. "It has created a perception that what really matters at Swedish is vast RVU production without concern for the means by which it is achieved." Pascualy declined to comment.
Ten surgeons and staff members joined together for a meeting with hospital leadership in October, with some making desperate pleas, according to minutes from the meeting obtained by The Times. The surgeons reiterated concerns to Armada, the Swedish CEO, and two other administrators.
The minutes show the group warned that a Seattle Times reporter had been calling staff members. They feared that a news article could damage the institution's reputation.
They were clear in their message: All the problems that had been ignored were poised to burst into the open. Swedish's proud culture of safety was at risk. Delashaw needed to go.
To this day, Delashaw remains in charge.